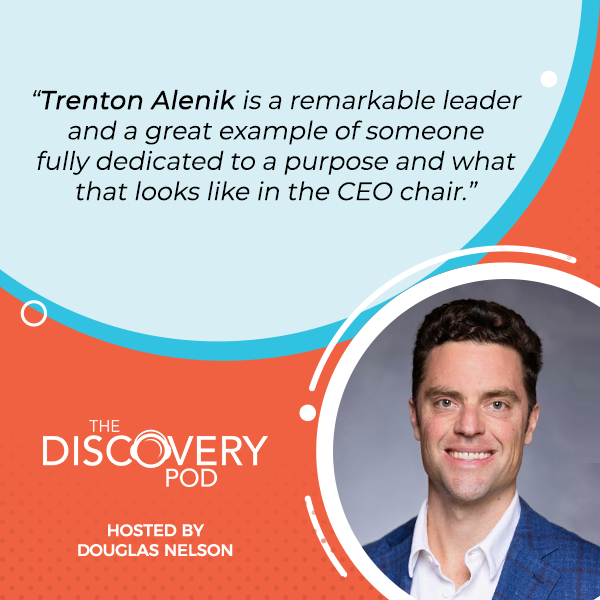 The youth is the catalyst for change in the future. But what kind of future will we have if the catalyst of change grows in an environment flooded with insecurities, violence, and trauma? A foundation came about to equip and transform the lives of our youth. In this episode, Trenton Alenik, the CEO of Inspiring Children Foundation, brings us an overview of their foundation's efforts to turn suicide into smiles. He takes us into his journey of growing his organization and working with celebrities to build the brand and the future of Inspiring Children Foundation. Let's emphasize the importance of the conversations around the mental health of adolescents and children and equip them for their future endeavors. Tune in to this episode, and let's walk along with Trenton on his journey.
—
Listen to the podcast here
Inspiring Children Foundation With Trenton Alenik, CEO
In this episode, we have Trent Alenik. Trent is the CEO of the Inspiring Children Foundation based in Las Vegas, Nevada. He was the second graduate of that foundation's leadership program, which he started when he was only fourteen years of age. Working with the Inspiring Children Foundation, Trent earned a scholarship to play college tennis at Villanova instead of heeding the call to go to Wall Street to work for an investment Bank upon graduation. He returned home to Las Vegas first as a volunteer then work it as way steadily through the organization until he was named CEO in July of 2023.
In our conversation, he goes deep into his journey of growing an organization, working with celebrities to build the brand while staying focused on the purpose of the organization, and his excitement for the future of not only Inspiring Children Foundation but the important conversation around adolescent and youth mental health in the United States and Canada. Trent is a remarkable leader and a great example of someone fully dedicated to purpose and what that looks like in the CEO chair. I look forward to seeing more from Trent over the next decade and you're going to enjoy our conversation.
—
Welcome, Trent.
Thank you, Doug.
Trent, it's great to have you on. We've been looking forward to this conversation for a lot of reasons, and we're interested in your unique personal story because it's inspirational. It's a great example for our audience of social profit leaders from across Canada and North America. Before we get into that story, I want you to tell us a little bit about Inspiring Children Foundation, what its mission is, and who you're serving.
The Inspiring Children Foundation has been around for many years. Our mission is to transform the lives of at-risk youth through a whole human approach to youth development that includes physical, mental, emotional, and social health. It's teaching young people who have gone through a variety of struggles from trauma to financial hardship, to abuse. They might be suffering from anxiety, depression, self-harm disordered eating, or suicidal ideation. We provide a wraparound community, a curriculum, and a team to help them go from surviving to thriving. The result is young people are getting scholarships to college, finding their passions, and being set on a trajectory of success, both inwardly and outwardly in life.
That's great. It works not only because you see it as CEO but you are a graduate of the program. You are one of the initial people who benefited from the Inspiring Children Foundation when you were fourteen years old.
When I was fourteen, I met our Cofounder and President Ryan Wolfington. He was from Philadelphia and moved out to Vegas to run a big casino company. In his early 30s, they had exited from the company. He was starting to play tennis as a hobby just to get back into shape and to get his health improved. I met him at the local park where we still have our program. It's called Lorenzi Park. I was playing a local tennis tournament and he was helping run it. He saw something in me that I didn't see in myself.
I was a bit lost in life and not knowing which direction I wanted to head. I was at a crossroads and he helped me see a bigger vision for my life. He said that if I work hard and commit to doing the right thing, I can use tennis, education, mentoring, entrepreneurship, and earning my way as a way to earn a scholarship to college. I have more opportunities than I would here in my neighborhood and in the small group that I was surrounding myself with.
It was pretty cool being there in the early days because it was just a vision. There was no program. There were no graduates before me that came that I could say, "They listened and let things turn out good for them." I went all in and I ended up being the second graduate of the program. I earned a college scholarship to Villanova and then was in the business school there studying finance and working in finance in the summers. I ultimately decided to come back here after graduation to help Ryan and the team as a volunteer and then a manager. I've come full circle now as CEO over the last few years. It's been a great ride.
That's powerful. One of the challenges we hear in a lot of organizations that we work with through our work here or the leaders we get to talk to through this show is that it's convincing kids at risk to take that first step. Ryan said, "If you do all of the right things, good things will happen." You said okay, but I'm sure it was more complicated than, "Sure." How does the program work with kids to get them to take that first step or take that first step in the right direction?
We all know innately that change has to come from within. Whether you're a parent or a teacher, we all have to deal with people in our lives. A lot of times, we might want something more for that person than they want from themselves at that stage. For us, we have a lot of conversations up front with students who join our program. We're very clear that if they want to take their life to the next level and if they want to commit to their growth and their healing and being the best version of themselves they can be, then we're the best program for them we feel in the world.
Change has to come from within.
Click To Tweet
If they're not quite ready to go all in and they still want to have a foot here and there, and they still want to do some of the things that are causing them the pain that they've been going through at times, it doesn't work. It has to be an all-in effort and an all-in commitment. Sure, there are going to be bumps along the way and some mistakes, but there needs to be that earnest effort to want to change and be your best. We have a lot of students who come to us who had a rock bottom, had a challenging circumstance, or went to a treatment center for a variety of things and then came to us as that aftercare that wraparound community of support to help them continue to stay on the path and get all of the tools to be operating at their best.
You got the scholarship to Villanova and you're interning in some prestigious financial institutions. For a lot of people, that next step would be to go to New York or work in high finance. Tell us about the decision to not pursue that and to come back and start to work with the foundation.
It was a couple of things. I knew that interning in New York and working for some of these large investment banks in the summer, there are so many incredibly smart and talented people, and I wasn't innately a numbers person. If I was going to head down that path, it was honestly going to be for ego reasons to have a good story and to make my parents proud. It would end up being something that wasn't true to me. It wasn't the right fit. I had that experience and I came to that realization.
I was also very motivated and excited about small business and entrepreneurship. I graduated college in 2011. From 2007 to 2011, we saw a lot of innovation and a lot of tech companies that changed the world like social media, Netflix, and other things. I got excited about that. Ultimately, we talk a lot about intuition or that gut sense. I had a sense that it was right to come back home primarily to get myself right because I had swayed away from some of the principles and values that I learned here in the program that was able to help me get to college and do these things that I never thought I could have. I can come back home, I can hit a reset, and I could double down on my health and build that foundation for my life.
Ryan Wolfington, who's our Founder, has been a mentor of mine since I was fourteen that day that I met him. I knew that there wouldn't be anyone better for me at that time to learn from and to get that mentorship, guidance, business, and in life than him. I like to say he has the business acumen of a Fortune 500 CEO. He has the principles and values of a very spiritual person like a priest, a rabbi, or something like that. It was an incredible blend of the two. It was also motivating knowing that as a young person at 22, I could wear more hats at a young age in a smaller organization than being one of 100,000 in a bigger organization.
I was committed to learning and growth. I also had a brother who was eight and a half years younger, and he was just starting to get involved in the program. It was also a higher motivation to be able to come back and be there for those formative years from his eighth grade through his post-grad year. He ended up coming through the program and was in the Air Force Academy in Colorado Springs for a year, transferred to UNLV, ended up being mentored and coached by Andre Agassi, the local legend here in Vegas, and got worked out with his trainer. It was amazing to see everything work out for him.
He was recruited by Hudson Bay Company and Saks Fifth Avenue Chairman, Richard Baker. They saw what we're doing around health and wellness and wanted to bring that to the workplace. My brother ended up going straight from college to being able to work in New York City with a couple of other alumni and bring a lot of these principles and values to the workplace, which was amazing for him.
For me, it's been an amazing ride. Honestly, when I set out in the working world after college, I never pictured or imagined that I would be working for a nonprofit or eventually running one and helping grow one for years. It's something I'm proud of. My higher mission or purpose is to create better opportunities for the students than what I had when I was coming up. In the early days of any organization or in the early days of being a parent, everything is new. Hopefully, the program and the organization are growing and evolving to the times. Where we are now is what we're all very proud of.
You sounded like a very proud older brother. That's pretty awesome and very proud of the work of the program. I'm curious. In the sector, we see so many, and I count myself in this, people just fall into the sector. I've worked in the social profit sector for many years, just like I planned it without ever having the plan. You had the connection to the program, and you came back with intentionality. Over the years, you take on increasingly more responsibility culminating in 2023 becoming the CEO. What was that transition like when you think back over your journey of being the volunteer, coming back after finishing school, to getting the keys to the executive washroom or whatever the charity equivalent of that is?
I'm not going to lie, it was hard. For many years when I came back, we were still very grassroots, very small budget. I lived at home for nine and a half years. In my first year, I made $7,500 on the year. It was never about the money. It was always about the mission. I sacrificed my health and relationships. I've given everything I can to this organization because I believe so deeply in the higher purpose. For me, being the only staff member for the first eight years of my time here was hard. You're handling every detail, every trip, and every parent meeting. It felt like detail overload sometimes running the program, the administrative side, the events, and all of that.
It was a lot for one person to take on, especially as a young person, because not only do you have your work responsibilities, but you're also trying to figure out who you are as a person. You're also digesting the first 20 to 25 years of your life and you're starting to piece things together. You're like, "How did that happen? That didn't make sense." You start to go on your healing journey, and that takes space.
My twenties were very hard, but it felt almost like this Navy SEAL training where if I could get through this, and if I cannot give up just because I'm a little tired, or I might be emotional one day, or things might be hard, I know I'm going to be a better, stronger person who has the capacity to do anything in life no matter what I'm doing, for-profit, nonprofit, or any group. I was doubled down on the growth.
Over the last years, we had these different organizations or groups that would come in and help give us a bump that we needed to get to the next level. That bump in 2017 was with the Sands Corporation. They're a big casino conglomerate here in Vegas, and they're headed up by Rob Goldstein, who's on our advisory board, an amazing man. He saw the work that we were doing. He created the Sands Accelerator Program, which was a three-year program where we got a grant each year. They underwrote our gala. They paid for a performer to come. It was an amazing opportunity to have such a big local organization get behind us and get to our next level.
With the funds that we raised, through those events and their support, we were able to hire more people. The team went from just one, myself, along with our Cofounder, Ryan, who's been a full-time volunteer and still is from day one. He's never gotten paid for his time. We got another alumni and then another one. We were able to go from one staff team to four, and that was huge. Another thing that stands out is we do a lot of leadership talk series. We've had so many incredible ones from Billie Jean King to presidents and CEOs, and a lot of great people. One of the best leadership talks was with Jason Strauss, and he's the Founder of the Tao Group.
They have over 70 venues around the world. They're the largest hospitality group in the world. He helped us get started decades ago. He donated Tao Nightclub as a venue to host our annual charity event and Tony Bennett would perform. It was amazing. Without their support, we wouldn't be here. Jason gave an incredible leadership talk. I know he has done some classes at Harvard Business School as well, where he comes in as a guest speaker and shares what he's learned in his journey. He said that to grow an organization and to truly be a leader, you have to fully know each of the roles, be immersed in it, and own that.
He was saying how he went from a promoter, to the barback, to the server, to the bartender, to the manager. He's done so well because he knows each role so well. Those eight years made me go so deep in the weeds on so many aspects of the organization, that as we grew, I had the knowledge and the expertise could train myself out of those roles and maintain the quality of that role, even though I'm not in there. Ninety percent of our staff are alumni, so they fully know the culture, which is our number one asset. They have a lot of these soft skills because, from the age of fourteen, most of them have been in the program, involved in the projects, the events that they're sharing their story, and they have all these tools.
You've mentioned the culture of the program a couple of times. What is the culture that you aim to foster that is a part of the experience that the students are going through?
I'd say it's a culture of excellence. It's a culture of growth, openness, connection, and kindness. Those are a few words that stand out. We're big on the CEO mindset, having people take the lead and being the CRO of their own life, of their projects, of their work, of their relationships, and empowering the staff and our students to take charge.
That sounds great. We had one of the things we've had several guests on who lead social profit organizations that have that connection to celebrity. Certainly, in the case of Inspiring Children Foundation, you mentioned Tony Bennett appearing. You've had tremendous support from several other celebrities. What are the challenges when the primary supporters have been celebrities? The advantages seem pretty obvious, but how do you balance that we have access to these celebrities with the day-to-day work of the organization?
For us, the work has always been number one. We still don't have a full development team or a lot of nonprofits as they grow, small, medium, and large. Typically, they have a large development team that has full-time grant writers and marketing. We still get a lot of people even here in Vegas that say, "I never heard about you guys. I never heard the work that you're doing," because the focus has always been on the students. We always felt that if we committed to doing the right thing and committed to doing the work, we would always have enough to get by.
I feel like we're at the stage now where we need to take a little bit more of a proactive approach because the team, the operation, and the amount of kids that we're serving is growing. A huge game changer for us is Jewel, who's one of our cofounders getting involved in the organization. Her involvement, her support, and her advocacy have taken us to new heights and new levels that we never thought possible. It's been nothing but a benefit for us as an organization because we still get to do what we do. The core of what we do has been and has always been the same, but her advocacy, her opening doors, her bringing her network, and her relationships to the table have been incredible.
Some of those relationships have been with Steve Wozniak, who was Cofounder of Apple. He loves our program. He and his wife Janet have been amazing. They've done so much for us over the years. When COVID hit, we only had a three-month runway to keep the organization alive. We had nine fundraising events scheduled for the year 2020, which all get wiped out in a matter of days. We have no idea what the future holds. Jewel advocated for us and introduced us to Woz, he dedicated his 70th birthday to us. We did this amazing virtual online event that brought in close to $500,000, and we were able to get through the year.
In addition, when COVID first hit, four days later, in early March 2020, Jewel did an online concert for us that raised also a similar amount. Without those two events, I don't know if we'd still be here now as an organization and would've survived COVID. That's a few examples of the power and the effectiveness of having people of influence and celebrity at the table.
One of the things we often see is that having that celebrity founder, endorser, or fundraiser is helpful, but it can't cover up a program that isn't strong. It won't sustain a program that can't sustain itself. You can certainly amplify or get through a very difficult time like the pandemic, but you really got to have the core business pretty locked down, both to attract those individuals but also to sustain those kinds of relationships and that fundraising.
It sounds like you've been able to be focused on the program and let the dollars more or less look after themselves. I'm sure you're quite involved in that, too, but those connections and relationships have been very beneficial. You've mentioned mentorship a couple of times. You mentioned Ryan. Maybe including him, but when you're having a hard day, who do you go to for advice now that you're the CEO?
We have an incredible board of directors. Ryan is the President and Cofounder, as I mentioned, who's been someone who's always taken my call for anything in my life that I've gone through. It has been such a game-changer for me. We also have Dr. Neal Mills, who's the Chief Medical Officer at Goldman Sachs, he joined our board this 2023. He has been very active in the organization. He comes to our retreats. He personally mentors several alumni and has been such a game changer for us and someone that I know I could always call. I've had many conversations with him this 2023 to get me through some challenging times in my own life.
We have an incredible advisory board as well. Bob and Mike Bryan are the winnings double teams in history. They support our tennis program. They've become very close friends and people that I know I can always go to and count on. They've also been there for us. Talking about that COVID year, they dedicated their birthday to us as well. They hosted a fundraiser. They've been incredible.
Between our board, our alumni, our students, our families, our supporters, and our partners being so entrenched in the organization over the last years as a staff person, and then twenty as a member and everything, everyone is an extension of family and close friends. Everyone has each other's back, and we're always trying to support each other however we can. I'm very fortunate that through the network that this organization has provided, I have so many amazing people that I can go to from so many different backgrounds.
Trent, it's remarkable to get to talk to a leader whose own personal development matches so closely with the development of the organization. It's a unique position that you're in. Often, we talk to leaders who are growing up in an organization, then to be the CEO, they need to move to another organization to get a promotion. You've done every job in the organization. You're the CEO. Could you ever imagine working somewhere else?
Honestly, I couldn't. I've had a couple of opportunities to do some cool things in the last few years. One was to work with another very large nonprofit organization here in the US. It paid a lot more than what I'm making. Another one was to work with an A-list celebrity who's known worldwide and to come on as a business management type role that, at the time, sounded so incredible. It is coming back to listening to the gut or the intuition and getting quiet. We're big believers in meditation, yoga, and mindfulness. When you can quiet the mind, tune into the truth inside of you, and let that be the guide, it can never lead you astray.
Quiet the mind, tune into the truth inside of you, and let that be the guide because it can never lead you astray.
Click To Tweet
In those moments of temporary excitement and pondering what that experience might be like, I would get quiet. I knew that my mission wasn't done here. When I set out for that two-year commitment, that helped me navigate the running mind that would be wanted to balance and have all these ideas to do everything other than what I was doing. That helped me get through that period.
As you said, as I felt like my growth was plateauing, even if it was for a couple of weeks or a month, like a very short period, all of a sudden, a new door would open, a new opportunity would come in, or a new avenue for growth would occur for me. My growth matched the growth of the organization. As I grew, the arena grew. I've continued to be challenged and learn. It's been cool. It's been exciting to be on the ride. It's hard to imagine even being somewhere else because the people I work with are some of my closest friends and alumni. It's all so interwoven and it fills that interpersonal cup that we all need as humans.
The uniqueness of your journey is remarkable. I'm curious what advice you would have for somebody who was in their early twenties and was working in a charity or a social profit that mattered a lot to them. They're looking ahead to what might come next for their career. What advice would you have for them?
There were two things when I started. I told myself that the US dollar is not my currency, or here, the Canadian dollar might not be your currency. For me, I made a commitment myself that I was never going to trade my time for money. That just didn't seem right for me. I'm going to trade my time for something that I believe in. I know that if I'm committed and I'm working hard, I'm going to become valuable in that organization or for another organization, and I'll have skillsets and competencies that I can bring to provide value and support for whatever group or team I'm a part of.
It is that growth mindset, not trading time for money, believing in the mission, and finding someone who can give you honest feedback and critique like that mentor role. Without that growth mindset, getting critique, and without seeing your failures, where you're messing up, and then learning from them, I see a lot of people, especially the younger generation, are much more short-term-minded. I've always been long-term, so what am I doing now in my early to mid-20s that's going to make me do well in my early to mid-30s? I was always thinking, "What can I do now to be a better me in ten years?"
I do that in all areas of my life, including my health. What decisions can I make now? I'm feeling a little stressed. Let me get the foam roller out. That's not doing it. Let's get the lacrosse ball and feel some of that pain. I don't feel like working out now, but I'm going to do it. That ice cream looks really good, but maybe I need to eat that quinoa ball first. It is all these investments in yourself. The higher road comes to mind.
Going back to that point having that feedback was so important because I see a lot of people that shy away from feedback and critique. They don't want to see their errors. They don't want to see where they're wrong and don't want to learn from them. They just want to be patted on the back, things to be light, and not work hard. That doesn't get you where you need to be. Lastly, try to work a little bit of every role that you can because in year one of working for any organization, you're trying to figure out how to survive and how to manage the schedule. Everything is brand new. It's a cycle in itself.
I also always try to maximize learning opportunities. I was in a fundraising event with Jewel earlier in 2023. I was being myself and connecting with some people. I came across the Chairman and CEO of a Fortune 50 company here in the US. We hit it off and had a great conversation. He offered to mentor me in business, which was a huge honor. I just met him for ten minutes and he gave me his cell phone number. We've been in touch. I've had a couple of calls with him. I'm going to see him next time he is in Vegas. Always take opportunities to learn from people and never think that you know it all is another really important trait.
I like that idea of looking down the road ten years to better you and better your organization. "What impact do I want to have in the world ten years from now?" Trent, what are you looking forward to?
COVID exposed and put on the map the mental health in particular. For the first time, the whole world had to shut down and people had to be with themselves. They had to be in their homes with their families. There was no more outward race, escape to this vacation, or go to this party. Everything just got slow and quiet. That was hard for a lot of people. We lost a lot of great people, unfortunately. For some people, it was a great reset. They started becoming aware of some of the deficiencies or struggles that we all face as humans these days, less than a second video cuts on commercials, constant pings on the phone, and computer overstimulated.
This idea of mental health and even having conversations about anxiety, depression, emotions, and feelings has been great. For our work, for a while, it was hard to describe what we do when we talk about doing inner work or helping people. We couldn't even use the word meditation a few years ago because people thought it had a connotation with a certain religion or group. For us, I'm excited that I can go out and meet people for the first time and for it to be perfectly fine, to have meaningful conversations, and to talk about our struggles and our emotions because, for the generations before, that was taboo. That was a no-no. We don't talk about that stuff. We don't bring that up at the dinner table, that type of thing.
It's perfectly fine to have meaningful conversations about our struggles and emotions. Because generations before, that was taboo.
Click To Tweet
It's cool that we're at that place. I'm excited because we've been in the incubator. We've been in the lab. It's like when Steve Jobs introduced the iPhone. It's like, "This is brand new." Now it's standard for people to have a smartphone. I feel like we're in the early stage of mental health as a society. There are a lot of great people and organizations that have been breaking the stigma, but there haven't been many people who have decades of experience being in the game and solving this, for young people, high performers, and people all across the spectrum. That's what we have. We have that lived experience. We have the knowledge. I'm most excited about bringing that to the world.
Jewel was on the Joe Rogan podcast, and there were three million listeners. This was right when COVID happened. We had over 500 organizations and people reach out saying, "I heard about the work that you're doing. How can we bring this to our city? How can I bring this to my organization, to my group, to my school, to my church, or wherever?" We are raising funds to professionalize and productize our curriculum. We have a ten-step program. We have 40 tools and 100 activations. A lot of it is still in our heads. It's in our Google Docs. It's not where it needs to be to deliver in print and digital to these organizations. I'm most excited about being able to finish that process and to be able to get it out there to the world.
That's exciting. We have a slightly fewer audience than the Joe Rogan show, but hopefully, you'll get some people reaching out. Before I let you go, could you tell our audience a little bit more about how they can learn more about the Inspiring Children Foundation?
We're very active on social media, so you can find us on Facebook at Inspiring Children Foundation. We're on Instagram @InspiringChildren, and we have a great website, InspiringChildren.org which has some links. We're also on YouTube as well @InspiringChildren. Those are a few ways to check out the work that we're doing.
Trent, I appreciate you sharing so much of your journey as a leader and starting as a participant in the program. Growing up professionally in this organization, it's remarkable to see the work that you're doing now. I look forward to seeing the work you're doing ten years from now.
Thank you so much, Doug. I appreciate it.
Important Links