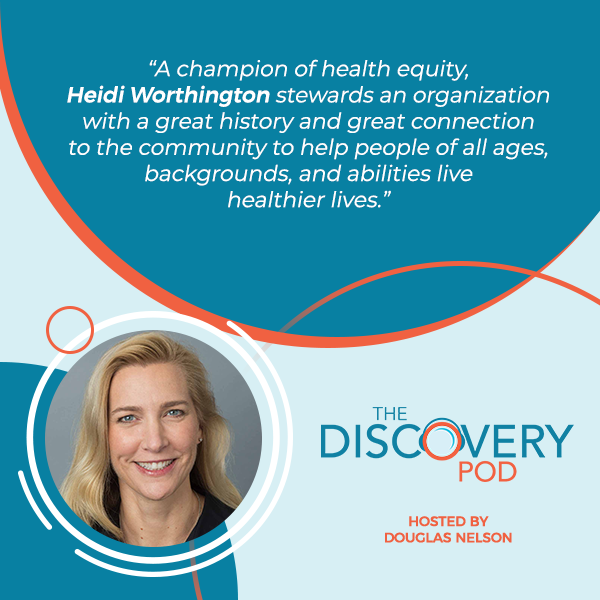 A community transforms and thrives when everyone's health and well-being are top priority. Strengthening that foundation strengthens children, families, and seniors to thrive in the future. In this enlightening episode, Heidi Worthington, CEO and President of YMCA BC, vividly illustrates efforts to create vibrant and healthy communities by bringing everyone equal access to health. Covering a broad spectrum of regions and guided by a comprehensive leadership approach that caters to the unique needs of each community, the YMCA's mission is clear. In her role as CEO, Heidi invites us into the heart of the YMCA community, where the transformative power of health equity takes center stage. Tune in to discover how you can stand as a pillar of support alongside the YMCA, championing the cause of health equity for all.
—
Listen to the podcast here
YMCA BC With Heidi Worthington, CEO & President
I am very happy to share this great conversation I had with Heidi Worthington. Heidi is the CEO of YMCA BC. She shares her experience as a CEO who started with a few things going on on her first day. The organization was coming together in a unification of three YMCAs across British Columbia. Reporting to three boards and charged with mounting a comprehensive strategic plan right out of the gate, Heidi shares her experiences and the lessons she learned. She also shares advice for leaders who are undergoing similar changes within their own organization. You're going to enjoy this conversation. I hope you enjoy it as much as I did. Thanks for tuning in to the show.
—
Welcome to the show, Heidi.
Thanks very much, Doug.
We've been waiting to get you on. Now we're near the beginning of season eight, we're able to finally sit down and have this conversation. We've got a lot of ground to cover. I am interested to hear about the changes that have happened in the structure of the YMCA in British Columbia and, more importantly, some of the changes that you're making to the wonderful work that the organization does right across the province. As we get started, a lot of our audience probably think they know what the YMCA does. What does the YMCA really do?
You're right. Most people think that they know what the YMCA does because they see our fitness and community centers in their community. They think that's all of what we do, but the services that we provide to communities are much broader than health and fitness. In general, we would say that our focus is on fostering belonging in the community.
For that, that means providing people of all ages, stages, backgrounds, and abilities with inclusive spaces and programs where they can live healthier lives and connect with others in the community. That means that we serve children, youth, adults, families, and seniors with a broad range of programs, including things like employment and training, a newcomer to Canada services, preventative health programs, mental wellness, camps, and childcare. Many people know that we do have expertise in child and youth development, but they don't know that we're the largest childcare provider in the province as we are across the country.
It is a remarkable breadth. Having the chance to spend a little time with your organization earlier this 2023, One of the things that jumped out at me is the number of people who are involved in your boards, as senior volunteers, or as donors that have been involved with the organization pretty much their entire life. Also, this deep connection that you have to the community and the connection that the community has to the YMCA. How does that history show up in how the YMCA does its work?
First of all, I am indebted to our volunteers. You mentioned our governance volunteers. They are extraordinary leaders in the community in so many ways. It's inspiring to work with them. I have quite a few governance volunteers because the structure is a bit complicated. We have three boards for YMCA BC. We have our operating board as any organization would. We have a foundation, which we're very lucky to have. We also have a property foundation board for our facilities and our real estate assets. It is quite a cohort that helps steward the organization.
As far as volunteers go, for our entire organization, we have about 2,000 staff members, but I have 700 volunteers. That's a lot lower than it was pre-pandemic. Even now, 1/3 of my workforce is volunteers. I'm indebted to those. They support the Y because they see what we do in their community. They're incredibly committed to their community and the work that we do. That's one of my wonderful delights with my role at the YMCA. Seeing the level of commitment is pretty extraordinary from those that I get to work with.
What do you think it is about the work of the Y that keeps people involved for so long with that connection? I know you have people who've been involved because their parents were involved or three generations of the families learned to swim through the Y. I know you do more than swimming. There is that deep, long commitment. It's something that a lot of organizations aspire to, but it seems to be part of the starter kit with the Y. What makes the Y distinct in that way?
There is this wonderful dynamic of that sense of belonging. There's a real humble nature to the work that we do. We are here to serve. We do want to ensure everyone feels like they belong, which is more than included. You can include people but that doesn't necessarily mean that they feel like they belong. Also, there is the quality of our programming. The level of professionalism in the organization is quite high. There's a lot of expertise and that's been honed over decades of experience. There's a lot of trust that the communities give to the Y because they know that we've thought through the programming before we bring something to them. We're grateful for that support. We do work hard at it.
I want to go to something you said right there that is relevant to the work that a lot of our audience do in their own organizations. You said you can include people, but that doesn't mean they feel that they belong. What is the difference? How do you walk that line or make sure you're crossing that line at the Y?
One of the things that we try to do is to meet people where they're at and understand what their needs are. The staff and the volunteers at the Y are genuinely interested in helping others. They spend time to get to know individuals so that we know what their needs are. One of the things that's great about the Y is that needs are complex. That's where all of the different programs that we have to offer come in handy.
If you happen to be at a fitness center but we know that you're a newcomer to the community, then we have a whole bunch of programming that we can open up. If we know that you have particular health concerns or some of your family members do, whether or not that's mental health or physical health, we can offer those up as well. That's part of the dynamic that provides that stickiness with that relationship because there are so many ways that we can help.
One of the points you keep coming back to is that connection to the community and the needs of the people that you're there to serve. You talked about a complex governance structure. You've added another layer of complexity as an organization by bringing together three YMCAs from around the province. The YMCA-YWCA of Kamloops, Greater Vancouver, and Northern British Columbia all came together. It was the culmination of a lot of work by a lot of people over a long period of time. How did this merger come about? Why is it so important that these organizations came together to be unified?
Those are some great questions that have led to a lot of insights for me, certainly, in my role of leading the unified organization. It did take a long time. This started several years ago with the governance family and the CEOs across the province sitting down and talking about why we would consider getting together. I had the benefit of being a board member at that time and at the table.
It was a very open conversation and quite positive because none of the Ys in the province were in crisis. Quite often, it's because an organization is in crisis that they need to join with another or merge. That was not the case for us in BC. What we recognized was that the level of complexity in the community was increasing. Costs were increasing and we wanted to get ahead of it.
We thought that we would be stronger collectively together than we would be trying to do all of this on our own. That's what I'm working towards, which is ensuring that we are stronger together because we have unified and that we're getting smarter and leaner in how we work so that we can provide more service to the communities we serve and expand the number of communities that we're serving.
It is a step that I know a lot of different organizations have explored. There have been mergers and unifications happening in the Y movement across the country. The benefits seem obvious on one side of the coin. The other side of the coin is it's difficult for a number of organizations to get their heads around coming together and unifying. What do you think made the difference in getting people to say yes and making this happen? If you look across the sector, there are lots of conversations that started that don't go anywhere. This one crossed the finish line. What was the secret sauce that made that possible?
There are probably a few different opinions on that, but mine, if I recall, the big a-ha moment in the room was when we collectively aligned behind the desire to do more. It seemed fitting that if you feel a collective ability getting stronger and you have trust in the leadership of the organizations, you can do more together. I'm a big believer in that. I'm a huge fan of teams. There's no one individual that's stronger than a team of individuals. You could say the same for organizations that have very like-minded leaders and missions that are similar. We were aligned with what we wanted to do and we knew we could do it better together.
There's no one individual that's stronger than a team of individuals.
Click To Tweet
Serving those three distinctive regions unified into a single organization, it's important that it still feels local and community. Whenever someone encounters the Y, as the CEO, how do you make sure that it feels local for participants in your programs and members?
That is part of the magic that needs to happen. On one hand, we need to leverage the benefits of scale. How we're doing that is by having functional leadership across the entire geography. For example, if you're the leader for childcare, you lead childcare across the entire region. At the same point in time, every community is different.
We also have senior leaders in the organization who act as regional advisors. Part of their role is to understand their community needs and to weigh in with that feedback when we make decisions at the senior leadership table. We're trying to leverage scale and best practice and take excellence from one part of the province to another, but we also have people there who will remind us of the similarities and differences between communities to make sure that we think about those before we go ahead and execute.
That's great to hear. You called it magic. I don't think it's quite magic, but it may involve some sleight of hand from time to time. From the outside, at least, it looks like you're doing a good job of keeping all of the pieces moving in that direction. One of the other pieces that I've heard you talk about a number of times and is an important issue that certainly wouldn't be top of mind for people who only have a casual knowledge of the Y is the importance of health equity as a pillar of the work that you do. Can you share how you're bringing that focus on health equity to the organization and how it's going to serve the communities that you serve?
One of the things that's a struggle for people is trying to understand the broad range of services that we provide and how all of that hangs together. For me, it's quite simple. It hangs together because we are a champion of health equity. That is addressing the gaps in health outcomes that come from things that are unavoidable, unfair, or can be remediated.
When you break down the dynamics of health, health is broader than physical health because there is emotional health and mental health, one of the things that's important to know is the socioeconomic factors that drive health outcomes. In actual fact, if we think about our own health outcomes, only 1/3 of our health outcomes, which is 30%, are driven by our health behaviors. That is eating well, exercising, sleeping well, and all that good stuff.
By far and away, the majority of it is around the socioeconomic factors. That is your income level, education, where you live, and access to care and support. That's where the other programming that the Y offers. We're uniquely positioned to be able to address all of them. As a champion of health equity, we have a really strong role to play. As a society, we are becoming more aware of the fact that we're not all getting equal access to care. We don't have the same prediction of our health outcomes. That should be more equal. We should try to close those gaps.
I'm proud of the work that the Y has already been doing in this area. I really want to scale it. In things like providing access, you will never be turned away from the Y program because you can't afford to pay. We will always find donor funds or whatever it might be to be able to ensure access to all the programs that we run. That's one, which is access.
We're active. We are right in the community. That's one of the great things about having that coverage. Unlike acute care systems, which are hospitals and clinics, we're right in the community and can help people with tough, hard ongoing work of health behaviors when it comes to prevention or recovery. Lastly, we have a real compassion and commitment to serving those who are disadvantaged, whether or not it's because of their income, their ability, or where they live. We're quite passionate about that in general. That's where it shows up in this space. It is helping people close those gaps. It's increasingly important for a community and a country like Canada that we recognize that it's not all equal and it should be better.
An inspiring rallying cry if ever there was one. One of the things that I find fascinating, and you touched on it in your answer there, was that a lot of the work that the Y has historically done and is already doing reflects a commitment to health equity, but it has never been called that before. As the new CEO, as part of your leadership, you see this as a vision for the organization. There are many in your organization that share that vision. How do you bring along the organization to reframe or refocus the work that they're doing with this lens of health equity?
We are all motivated to address things that are unjust or help out those who are disadvantaged. That is a really powerful motivation. It is collectively recognizing that there are a lot of different ways of addressing health equity and that we all have a role to play. Whether or not that's supporting someone with self-employment services, supporting newcomers, or supporting someone with diabetes management or heart health, all of those things play an important role in helping those individuals achieve their potential.
When you take a look at the word health, we know that health is not just physical health. Maybe decades ago, we would limit it to that. We know now it's so much broader. Those things are all connected. That way, people understand the role that they play in doing something even bigger and a little bit greater than what they are focused on.
Health is not just physical health. Everything is connected; it's so much broader.
Click To Tweet
Your team gets it. This isn't a comment on your team in any way. Using a broader perspective on the work of the organization, talking about the work, the benefit, and the impact of the organization in a different way can be challenging for leaders in the Y, in your experience perhaps. Certainly, we see it with other organizations we have the opportunity to work with where they are pivoting their focus or changing the way they talk about their work. It takes a while for that to seep into the DNA of an organization. How do you keep that gentle urgency going as it relates to this change in perspective?
We are getting started. There are a lot of opportunities out there. I'm excited about an upcoming conversation with the First Nations Health Authority and better supporting our First Nations communities. I'd love to sit down with the Ministry of Health and talk to them about being a partner in achieving better health outcomes for the province through preventative care and recovery care, which is what we can do versus acute care.
We have so many opportunities ahead of ourselves. One of the things that we're doing work is to identify where we think we've got strengths and then identify the gaps and prioritize where we want to focus. This is quite broad. That's wonderful in some ways and challenging in others. That's where we also have a task force with our board to help shape some of our thinking and our goals in this area. We have a leader who's our chief health equity officer. She's got a wonderful background to pursue this area. This is her focus. It needs time, attention, support, and resources. That's getting started.
It sounds like you're well on your way.
We have lots of work to do.
I don't know if anyone in the provincial government is reading. The way Heidi said, "I would love," that wasn't a question. It was a demand. I look forward to hearing how that conversation goes. I want to pivot a little bit to you as the CEO. You started your career in the private sector. You were very successful in marketing at Unilever and Pacific Blue Cross. You're leading important departments there. You made the transition over to the social profit sector. I'm curious what motivated that and what you found when you got there.
It's interesting. It's almost a bit unfortunate how we, in society, put the corporate for-profit sector in such a different bucket than social profit. There are a lot of similarities. I must admit. Even in my time with Unilever, I had the opportunity to work at a global level in my last years with the organization. One of the things that was so obvious to me is that sometimes having limited resources ups your creativity and your savviness at delivering results because you can't throw money or bodies at a problem.
In Unilever, I saw some incredibly great work coming from Ireland, Belgium, and Canada, and not always so creative coming from the States, Germany, or wherever that might be. Those were lessons I'd already taken working at that level. Certainly, within the social profit sector, there's some incredible work happening with really limited resources. A ton of creativity has to come at that, which is inspiring for me.
One of the things about my past life is it was good rigor in terms of being highly competitive. You had to deliver your results because there was a long lineup of people who wanted your job if you didn't. It could be a bit ruthless from that perspective, but it provided a lot of opportunities for me at a young age, which I'm grateful for.
In the social profit sector, what I value is you need to deliver your results, but how you go about delivering those results is valued as well. That is important, particularly in this context. We want to see authentic leaders. Teamwork is even more important than ever before because the world is increasingly complex. Those things that mean a lot to me make a good fit within the sector and certainly within the YMCA.
One of the statements I frequently hear from CEOs, particularly new CEOs that are within the first eighteen months of their role, is, "I knew there were some things that needed to be dealt with. When I took this job, I had no idea what that was." I'm not going to ask you to share that. Those are usually organizational secrets, but looking back, what do you wish you knew that first couple of weeks on the job that you know now that would've been helpful to know when you were still trying to find your parking spot?
Certainly, one of the things that I wish I knew more about and came with more expertise in this area is it's wonderful to have facilities and assets that you own. YMCA BC is quite fortunate in that way. I saw all of the positive advantages of that. I don't think I recognized enough how complicated and expensive it is to maintain assets that are particularly aged. I don't think I recognized the expertise that's required to appropriately work with facilities that are aquatics, which are high energy and challenging in a building. If you think about it, it makes sense.
That, to me, is a bigger part of my focus than I thought it was going to be. We have some beautiful new facilities. The Bettie Allard Y in Coquitlam is a great example. We also have some data facilities that are going to need a lot of work. That's going to require focus and donor support. We're building out a longer-term plan on that. That was something that I wasn't quite prepared for. It was one of the other things that I knew intellectually I would have to think about, but it is even more than what I thought.
Coming into a unification process that's already creating a whole ton of change, probably any leader and certainly any CEO needs to put a lot of thought into managing the pace of change. It is finding that sweet spot that is enough to keep the moment going because the world demands more from your organization and you need to step up but go at the right level of pace so that you can bring your teams along with you. You can't create the change on your own. That's something that is taking more effort than I realized and more feedback. I'm regularly checking in with senior leaders and staff on the pace and support for change. That's something I knew was coming, but it's even more of how I spend my time than I thought.
Finding the sweet spot where you are certainly moving forward but not losing people that you don't want to lose and that push forward is the art of leadership summed up very nicely. You replaced a long-time CEO who had done a tremendous job and made a remarkable impact on the organization and on the community. You come into the organization as a leader. You knew the organization as a board member. You stepped off the board to be a candidate for CEO. You move into this team. The people on your team, what do they need to do to earn a gold star?
I don't know if they need to earn it. They do that every day with what they're doing. My challenge is focus and burnout. The leaders are incredibly committed because they feel it from the heart. That motivates them. More so, I'm trying to make sure that I can focus on what they're working on because they'll go at it. Managing burnout is probably more of what I worry about.
Providing focus is dynamic in building out the strategy and helping people see why those are the most important things that they need to be working on. No matter who you are, there are only 24 hours in a day. That is something that I put quite a bit of my time into. I work with all the leaders in the organization to talk about that. I get input and constantly refine that. Part of our obligation back to the organization and the communities that we serve is that we are spending our time wisely. It can either hedge you further down the right path or waste resources, so I put a lot of thought into that.
In one of our first conversations, I have a vivid memory of you saying, "We, as an organization, need to figure out how we say no." Have you figured it out? Leaders all across the sector are looking for that answer. How do you say no?
It's easier to say no when you're clear on why you're saying yes to what you're saying yes to. It's easy to be busy, but not so easy to be productive. From that perspective, it's because you know why you're doing what you're doing and you know it's the biggest bang for your team's efforts and time. When we're thinking about strategy, that's important. We're putting quite a bit of effort into clarifying the top four pillars that we want to go after. It's only four, so if it doesn't fit in, then it's status quo or we need to talk about possible exit.
The other dynamic, which is challenging, is cost escalation. If we do have partners who are tuning in to the show who work in municipal, provincial, or federal government, the not-for-profit sector works incredibly hard to deliver programs at razor-thin costs. The costs are going up significantly everywhere. There is wage, inflation, facility costs, insurance, and materials. Everything is going significantly upward.
I'm not sure whether or not all of the contracts that we have recognized the full cost of what it takes to have quality programming in a way that manages all the opportunities and risks in terms of providing that programming. That's something that if I could give a shout-out, it's to be a little bit more attentive and open to those conversations because it's not going to get any easier in the years to come.
It's not a problem you're making up or something you're over exaggerating it. You see that right across the sector. Any provision of social services, not only the need but the basic operation of the programs as they are, has well exceeded the funds available to provide them. You are someone who was very accomplished in your career before you came into this role. When you were coming into your first CEO role in the social profit sector, who did you turn to for advice when you had challenges or things you were not quite sure what the next step is? Who did you talk to and get advice?
I'm lucky to have an amazing board chair, Greg D'Avignon, who is with the Canadian Strategy Partners and was with the BC Business Council. He is always available to me as I need him. As a volunteer, I really value that. There's a number of our directors. I won't name them all, but I am so fortunate. If I reach out to one of them and say, "Can we have a chat tomorrow?" they make themselves available. They're busy professionals and they have incredible expertise that they bring to the table. I'm indebted to our governance members because they have expertise that I don't have.
I'm also indebted to the culture that we have at the YMCA of Canada. I regularly reach out to the other CEOs, both past and present CEOs, for advice. What I love about the culture in the Y, which is different than the past organizations that I've worked for, is I found the CEOs in the Y are forthcoming with what to do as well as what not to do. They are willing to share their scripts. I find that so valuable because it's coming from a place of learning and support.
Sometimes, when someone tells you, "Don't do this because it didn't pay out for me. I wish I never did it," that's the feedback that you love to hear. Sometimes, it is even more valuable to hear because it will be fruitful for you. With the culture of the Y, there are some very humble but incredibly talented leaders across the country who give me some great advice and I'm grateful for it.
You've talked throughout our conversation about the team you lead, the organization you're a part of, the great support of the board, the connection to the community, and building the moment for health equity among a host of other priorities that the organization has identified. There is so much work to do. I almost hesitate to ask this question, but what are you looking forward to?
I'm very future-oriented. I'm goal-oriented. I love a challenge. I'm sure a lot of your audience and those leaders that you've interviewed are the same way. One of the things that I'm not always good at is grounding myself in the now. One of the things that I love about my work with the YMCA is that when I'm out in our centers, our programs, and our community, all of the people we serve bring me back to the power of the now. That's obvious with children. Those who interact with children are great. Having spent some time with some kids at camp on Friday brought back the value of what we do and the memories that we're creating for them for probably a lifetime.
Also, I'm speaking to a newcomer to Canada who has a fantastic business that they led in the country that they left and how excited they are about the support that they're getting to help do that here in the lower mainland. Talking to a single mom who is grateful for the fact that her children are in our care. She trusts us not only to look after her children but to educate them and get them ready for school while she's got to focus on providing for her family. Those conversations, to me, are incredibly meaningful. They make my work worthwhile.
That's great. That reminder to be in the moment is something all of us in the sector know intellectually, but to be mindful when it's happening and be in those moments can be challenging. That's a great reminder. It's one of the best answers we've had to the, "What are you looking forward to?" question. I'm looking forward to now. I love it. Before I let you go, please let our audience know how they can learn more about the great work that's going on at YMCA BC. You mentioned your strategic plan. You've got a lot of things coming up. How can people learn more?
You can always Google us and see what we're doing. I also encourage people to go to one of their community centers and find out a little bit about all the programming that is available. It's probably much more than they think. A lot of the programs that we offer are in partnership with other not-for-profits in communities. Some of the work that we do is invisible and might not be readily apparent, but if you talk to a staff person, they'll know exactly how to connect you with the support that you need.
I mentioned before that I think the YMCA is a humble servant of the community. I'd like to get more out there to talk to more community groups about the work that we're doing. That will help us do more work in the future. I'm hoping that the profile of the YMCA is something that we're not so much a latent recollection of your childhood in swimming lessons or camp but that we'll be more in the forefront and you'll hear more about the work that we're doing because we're making the impact we want to make.
The YMCA is a humble servant of the community.
Click To Tweet
What you've given us is a picture of an organization with a great history and a great connection to the community. Anyone reading our conversation has the chance to work with you. Your team knows the YMCA BC's best days are certainly in the future. I look forward to watching the great work that you and your team undertake in the months and years ahead. Thanks for being on the show.
Thanks for the invitation, Doug. It was a pleasure.
Important Links