In this world full of trials, shining light and supporting others who are facing huge ordeals is a great thing we could do. After all, the world is much bigger than us, so we must contribute and give back to the world. In this episode, Chantelle Krish, a passionate and experienced community leader, talks about her work in bringing people together to reach out and serve the community. Chantelle is the Executive Director of Big Sisters of BC Lower Mainland, a non-profit organization providing volunteer mentors to Lower Mainland girls needing a positive role model. Big Sisters is on the cusp of some significant changes. Tune in to this inspiring episode to find out what more needs to be done in the social profit sector and what Big Sisters is looking forward to.
—
Listen to the podcast here
Big Sisters Of The Lower Mainland With Chantelle Krish
In this episode, we have an extra special guest, Chantelle Krish. She is the Executive Director of Big Sisters of BC Lower Mainland, a great friend of the show, and an excellent example of what a get-to mentality can mean in a leader. Chantelle talks a lot about the mentorship that she's received and the mentorship that she provides as leader of her organization with the consistent theme of social justice throughout her work as a volunteer, as a professional communicator, and now as an Executive Director. Her advice on how to bring teams together to create space, build unity in those teams, and keep everyone moving in the same direction and pursuit of the organizational goal is a masterclass in how leadership works best in our social profit sector. Please, enjoy this conversation with Chantelle Krish.
—
Chantelle, welcome to the show.
Thank you so much for having me.
In this season, we are asking all of our guests to start the conversation by sharing their first memory of giving back to the community or philanthropy. What jumps out at you as an early memory of being involved?
My first memory takes me back to one of the first trips I made to Sri Lanka, where my family is from. I was visiting my grandparents. I was about 6 or 7 years old. We used to wake up every morning with my grandmother and go to the beach with my grandpa. It's such a beautiful place. That morning I woke up, and there was a long line of people out of my grandmother's home.
My grandmother and some of her friends, and the community were handing out rice packets, which in Sri Lanka, wrapped in a banana leaf, and there's rice, curry, and food to give out to the community. There's a long line of families down her driveway and around the block. As a young girl, I didn't understand what that was. I was a little bit choked that we weren't going to the beach like we usually did.
I was being an irritating young child at the time. My grandma took me aside, and she said to me, "Chantelle, the world is a lot bigger than you and me. You need to think about the contribution you want to make. That starts in ways like this or many other ways but think about that." That memory has been with me my entire life. That was a turning point for me at an early age to instill a sense of duty, engagement and giving back.
What beautiful imagery that story elicits. How did you apply that as you got a little older, that world is bigger than you?
It always stuck with me. There are always going to be communities, and people that may not have as much as I do or that may need support in various different ways. In university, I organized a charity fundraiser again for tsunami relief back in Sri Lanka. At the time, I was a singer in a band. I performed along with friends, and we put together a concert.
At the time, we raised $2,000, which felt like a lot at the time. That all went to an orphanage in Sri Lanka that my family had been supporting for a number of years. That connected me to volunteering. I started always volunteering with different organizations, whether it was at school or out in the community. That's translated into some great meaningful board opportunities. Instilling that. It's become part of my day-to-day in my career. I feel privileged to be able to do this work now professionally.
Walk us through a little bit about your career because you have worked in some impressive and amazing places before becoming the Executive Director at Big Sisters. How did you make that transition from volunteering and being active to making it your profession?
I found something that I was somewhat good at, and then I added meaning to it along the way. I started in public relations, communications, and issues management. I worked for an agency here in Vancouver called PR Associates, where we worked with a range of different clients. We did a lot of things around indigenous community relations and political work. I always had a bit of an opportunity to do some pro bono work.
My boss at the time allocated a certain number of hours a week. Those were the most exciting hours for me. I would go out and find organizations that needed help or were looking for, whether it was media training, strategy or marketing and bring them into the fold. Eventually, I was out doing some business development work. I happened to sit across the table at a Board of Trade event from Janet Austin. It was a pretty big turning point for me in my career, personally and professionally.
After that, I worked at the YWCA. I'm running advocacy and building out their communications and strategy. I got to do some great work collaborating across sectors and working with private sector organizations and government agencies as well as our nonprofit partners. All around the mobilization around advancing systemic change, looking at barriers to equity and gender equity. That's where I found my footing in this sector. I moved around a little bit more and ended up in this role.
One of the common themes in your moving around a little bit more is that you do bring people together to have a conversation about systemic change or about doing things differently. Your early experience in the private sector PR communications role gave you the foundation to be able to bring people together in such a convincing and repeated way.
My early boss, his name was Robert Simpson, and he was an amazing communicator. From him, I observed and learned that you can always bring people together around a cause, and influencing people in ways that you can find common ground means getting to know them, understanding where they are coming from, and what their interests are but also being clear about what the goals and objectives are.
You can always bring people together around a cause and influence them in ways where you can find common ground.
Click To Tweet
It was through mentorship from someone like him that I observed that early on, and then meeting different kinds of communities and seeing how they work. I did a lot of work with indigenous communities and then the private sector, corporate sector, mining, and financial institutions. It was a whole breadth of how people work and do things differently. I picked up a lot of different styles along the way.
Meeting people where they are to get them to move in the direction you want them to move. You are relatively new in your role at Big Sisters. I would imagine that Big Sisters is an organization where everybody thinks they know what it does but they might not have it quite right. What do Big Sisters do?
Big Sisters is an organization that focuses on building connection through mentorship to unleash or ignite the potential in young girls. That's at the core of what we do in one-on-one relationships between a mentor and a mentee. We refer to them as a big and a little. That's meeting weekly and monthly over the course of many years and building a positive relationship with an adult role model. That can change the course of these young girls' lives in many ways.
We also offer tutoring. Mentorship is based on school and academic attainment. It's a tutoring-based model but there are many ancillary benefits that come again from that one-on-one relationship. We run programs in schools that promote healthy body image, confidence, eating, and balance in young girls' lives. At the core of it, it's about empowering and lifting up youth to achieve their full potential and doing that by supporting them through mentorship and guidance.
Given all that you've done, it's not at all a surprise to me that they wanted you as the Executive Director to fulfill that mandate. Was there anything about the organization that surprised you when you were first getting your feet on the ground as Executive Director?
Something that surprised me is that what we do is simple. It's the power of that personal connection. It's the root of everything we do, that one-on-one relationship. I've worked in big complex multi-service organizations. There are a lot of different things on the goal at all times. They are all moving towards a mission. That's great. What Big Sisters do is really simple. It's that mentorship relationship. It surprised me how simple it is but also how deep and impactful it can be. I witnessed the graduation of a big and a little that I've had a ten-year relationship with each other.
They start when they are seven and graduate from the program when they are seventeen. They have been through many milestones. You can't even imagine both of them, in fact. This is a relationship that will last well into their adult years and beyond. That has been wonderful. It doesn't surprise me now because I have been doing this work for a little while. What's so inspiring is the amount of people that come through as volunteers or participants in our program and become staff, board members, continue to volunteer, and donors. That full circle happens when they set foot into our organization. That's a constant source of motivation and energy.
I'm interested as a communicator. How do you shine a light on the value of simplicity? Sometimes to say we need funding, more support or volunteers, we see organizations communicating all of the problems, challenges, and barriers and then promising the world to solve all the problems in it. You went right to simplicity in your answer about what the organization does. How do you communicate that as a value, as a feature of your organization rather than something that might make you less worthy of funding?
In the last couple of years, the need for human connection has never been more apparent as a basic need for all of us. We have been without it for so long. Now, people can certainly relate to what that one-on-one relationship can do for us and what the absence of it means as well. Drawing on that is a good place to start, and trying to support people and getting to a place where they can see themselves in our programs a little bit and how they might have benefited if they have been a participant.
That's part of it. The other thing in my career is that I've had amazing mentors along the way. I was thinking about a theme in my development has been mentorship. For me, it's easy to talk about because I wouldn't be where I am without the people that have given me opportunities, opened doors, and guided and coached me along the way. I've done that for young women as well. The other thing is sharing the stories of the people we serve, stepping aside, and highlighting those.
You mentioned mentorship as a big part of your career in your life and that you sat across the table from the lefthand governor who has been on the show. I thought she did a wonderful job despite my clumsy questions. Can you think of another time or share another example of how mentorship has helped set the direction of your career?
Something that I find interesting that's gotten me through some challenging times and situations is peer mentorship. People are at the same stage in their development, whether it's career or personal but they are facing the same challenges. It's less about, "Here's how this worked for me and what I think would work for you." It's more about sharing experiences and having that space to navigate through these tough situations together. I have a wonderful group of women who I'm on text threads with and other EDs and CEOs who we share the ups and downs and the ins and outs of the day-to-day. No one fully gets it like your peers sometimes. I find that helpful.
Having peers is something we recommend to a lot of CEOs and executive directors because, particularly in organizations where you have been at the VP or the director level, and then you get promoted to being boss, you can't have those conversations with your colleagues anymore. You need to be a bit more guarded. You certainly can't have those conversations with your board chair or your board just as they occur to you. Those peers can be important. How do you mentor the people that are on your management team and your organization's approach, bringing them along your learning journey and the journey of the organization?
This has been something that has been fun for me that I find. I'm a person that tries to focus on authenticity as much as I can. Sometimes I can't help it, and whether I like it or not, I wear my heart on my sleeve. I am pretty overactive and sometimes over-communicator. How I like to mentor my team is distributed leadership like sharing the work, understanding where they want to thrive and grow and develop, and then creating pathways for them to get there. Also, one thing that I'm learning is that not everyone is on the same journey as me, and not everyone has the same goals that I do. Getting to know what they want to do and achieve and helping them to move in that direction.
How do you work to keep your team understanding the North Star of the organization or the core purpose of the organization and understanding their role in helping the organization get there?
An ongoing thing that we need to live and breathe every day is to show up enthusiastic and excited about the work. I'm honored to be able to lead an organization that focuses on mentorship, and that's aligned with a mission. I remind people of that every day through my own experiences in enthusiasm. That's part of it, and then connecting with people.
We have a staff of about 33. Being able to do regular one-on-ones with staff when I first started was a great way to learn about them in the organization and build that camaraderie and connection and keep that going. Humor is another one. Being able not to take ourselves too seriously and realize that sometimes any job can feel like a job but it also can feel like so much more when we can have fun together.
Any job can feel like a job, but it also can feel like so much more when we can have fun together.
Click To Tweet
I often find, across the sector, telling your leaders that the work of our organizations tends to be quite difficult. It's not always happy stories. In fact, often, some sad stories are a part of it. Everyone working in our organization needs to understand that the work is serious. People are entrusting us in lots of different ways. That is a higher calling for us to be pleasant to one another, to get along, and to be light with our colleagues because we know that the work can be challenging.
It is easy to get bogged down in the realities that many of the people we work with that face daily. The last few years bled into our day-to-day lives as well. Challenges around mental health and income inequality, and the stability in our lives have tipped over as a result of isolation. Shining a light through that and uniting around a mission is important.
I was talking to someone about leadership and when it's time to use your voice and to lead and when it's time to sit back and listen. They said to me, "All of that is leading. It's just leading in a different form." Active listening, sitting still in the moment and being able to define and share values are all part of the work, but I find it fun and exciting, personally.
I've heard you talk in other places and at other times about the need to create space for an organization to understand itself. As a new leader at Big Sisters, how do you approach the creation of space for the organization to figure out what it means after COVID or what are next steps for Big Sisters are going to be? It's not easy as a new leader because you want to show that you know what you are doing and, "Let's get moving," but you are making space. How do you do it?
Leaning into ambiguity is an important thing that I have been trying to do. What I mean by that is that our common ground now is the unknown. Big Sisters is on the cusp of some pretty big changes. Leaning into that together and saying, "I don't have a vision yet. That should be informed by everybody. What do we all want for our future as an organization?" Doing team building and connecting like we did a team day. The simplicity again of sitting around in a circle, talking about why we are excited to do the work we do and what it means to us. It seems basic but that's what we need to be focusing on. That's how we move forward.
It's one of the things we see a lot in our work with leadership teams in particular. The ED will say, "We all know what our goals are and what success looks like as an organization." We will talk to all the members of her leadership team, and it will look like a scattered plot. They are all over the place. Nobody is bad and trying to do a bad job. In often cases, you got qualified quality people doing the work but are not aligned. I wonder how much of that could be fixed by sitting around in a circle and talking about, "Why we do this work and why it's important."
What you described I can completely relate. If someone were to ask, even me, "What are your priorities?" We all know what our goals and objectives are. I'm always like, "Do we know? Are we there yet?" When we are on the cusp of change. Coming together and understanding what we are here to do and not losing sight of that. Sometimes we can go down rabbit holes in this work.
We can have funding opportunities that present new and interesting ways of doing things. We can be approached about partnerships. We can look at new programming. Not losing sight of, "What it is we are here to do, who we are serving, and what's within the realm of possibility for us at this current moment in time."
I want to go back a little bit to something you said earlier, which was that, "Big Sisters is on the cusp of a lot of changes." You are part of an organization that's made up of over 100 agencies across the country. How do you maintain that balance between local what matters here in the Lower Mainland that is in your purview to that connection to a national organization and your colleagues across the country?
I'm in my first 90 days. I'm learning about this federated structure that we are in. There's so much value in being part of a system like this because you have peers. I talked about the peer mentorship model. You have peers across the country and the province dealing with similar challenges and opportunities. It's great to be able to bounce ideas off of each other but remain true to who we are serving and that the needs of the communities we serve here across Metro Vancouver could be different than what's happening, for example, in Prince George.
It's great to be able to bounce ideas off of each other. There is so much value in being part of a system because you have peers dealing with similar challenges and opportunities across the country.
Click To Tweet
Also, being aware of that. Big Sisters is the only Big Sisters in Canada. Every other agency is a Big Brothers Big Sisters. That means they have Big Brothers programs and Big Sisters programs and everything that goes along with that. We are a standalone stronghold serving girls and youth. Staying true to that is going to be top of mind for me. It has been for the agency for quite some time.
Peer mentorship is a way to test out things that work in other places that may work in your organization or learn from things that clearly didn't work in other places like, "Let's not try that."
It goes both ways. When I worked at the YWCA for a number of years, it was a similar model. What was great there too is that we had the autonomy to create programming and design initiatives and advocacy campaigns that looked at issues that mattered to us and aligned with our vision and mission but also could leverage the experiences that we were seeing with the people we were serving.
For example, there, I led a project called the Culture Shift Project, which looked at the hyper-sexualization of women in media and how that created tolerance in society around violence against women. It was pretty specific. It was innovative in the way we approached it because we brought a multi-sector round table of advisors together from business, government, community, youth-serving organizations, and youth themselves.
We asked them to help guide this project. It looked at policy and programming. That project then became something other agencies could use and not just emulate but benefit from in terms of creating youth engagement in their own community and not having to reinvent the wheel. The sharing of resources and knowledge is great. I have been communicating a lot with my counterpart in Toronto. She has been doing some amazing work around the theory of change that has been developed at a national level for the movement. Being able to benefit from that experience has been great.
In much of what you talk about and your past experience, there's a throughline relating to female equality and gender. Where did that come from as a passion for you? How have you managed to say focused on it through many changes?
I was talking to my mom. I have an older sister, and then there's my mom and my dad. My mom is saying, "You and your sister are strong-minded. Sometimes it can be a bit of a pain but I can see why you do the work you do." It's from having role models like her and having strong, empowered women in my life that I've always looked up to. I've seen them use their voice. That hasn't always been easy. That's part of it. Also, we haven't achieved equality for women. Until that happens, there will always be room to advance this work.
What I find inspiring about this is that the people that are involved in this conversation now are not just women advocating for women. There are men, folks, and the whole conversation around even gender in itself. The dialogue around gender equality has evolved in many ways since I started. That keeps me connected to this work as well. As we've seen, there's always an issue that feels like we are moving backward. Until this work is fully achieved, then the fight will continue.
When you hear that piece of news or you encounter, I'm sure, every day in the work that you do, situations where that lack of equality is right in your face, and it feels like you are sliding back, how do you keep pushing forward?
I sit with it for a little bit before reacting.
You make some space.
When we had that news about reproductive rights that came out of the United States, I was upset. I'm at the helm of an organization that works to support young women. I emailed all our staff and said, "I'm affected by this. What we are here to do is address these issues by empowering young girls. That work is foundational for a better future." I got a lot of great feedback.
That generated a lot of dialogue and conversations but it was a bit of a sharing circle of our collective anger, pain, and frustration. We were able to channel it through the work that we do. That reinforces why programs supporting girls are more important now more than ever. I admit to being angry and frustrated but I try to sit with it and process it.
In my house, my daughter is encountering a lot of issues around equality for the first time. There's a constant, "Did you have any idea? Did you know they can make laws that tell women?" It's inspiring to me to hear how upset and unjust she hears those things, and I hope that she has the strength, along with other young women her age, to continue to push through so that maybe they won't have to encounter those quite many in quite so often.
I love that because when it hits the mainstream, you know you are doing something right. That's what I learned in the early PR days. We are seeing discussions around gender equality at almost every level of society. It doesn't mean they are all moving as quickly as we might like and turning from conversation into action but even the fact that there are discussions at high levels of government about gender parity that's a big deal. It might feel like, "That's five years ago," but it still was a big step. We have to also celebrate those moments. Something that also keeps me going and doing this work when I hear these pieces of news is that we have to celebrate our successes and sit with those, too.
Not losing hope or perspective is a big part of those celebrations. When you think about both your organization and the part of the social profit sector where Big Sisters does its work, what are you most looking forward to over the next few years?
I find that with the social profit sector, we solve some of the biggest challenges through community-based programming, philanthropy, and innovation in policy. What I'm excited about is the support that we are getting but also the more coordinated and collaborative approach to addressing some of the big challenges that we see in society that are being talked about in business, in government, and across other sectors as well. What I'm finding is that other parts of our society and other sectors are coming to us for solutions or at least for thought leadership.
I find that important that we can leverage our collective voices and experience addressing some of the challenges that our societies face with real-world examples and ways and avenues for people to be able to support this work and keep moving it forward. I'm excited about that. There are certainly challenges in our climate but I'm an optimist. I believe that if we can get people excited about making a difference and they can see themselves in work through thought leadership and leveraging our voices a little bit more is an excellent place to start.
If we can get people excited about making a difference and see themselves in the work, then thought leadership and leveraging our voices a little bit more is a good place to start.
Click To Tweet
It is a great place to start, and it's a good place to leave our conversation. Thank you so much for being on the Discovery Pod.
Thank you. It was a pleasure.
Important Links
About Chantelle Krish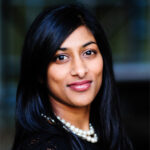 Chantelle is a passionate and experienced community leader known for building partnerships and increasing awareness on key social issues, always in the pursuit of equity and inclusion. Most recently, Chantelle has held leadership roles within the non-profit sector and provincial government, where she led strategy and designed and executed award-winning programs that influenced policy change. She is dedicated to serving the community and grateful for the opportunity to lead Big Sisters, an organization committed to fostering life changing mentorship relationships for girls across the lower mainland of BC.
Throughout her career, Chantelle has remained committed to creating better futures for women, children and families and has been a thought leader and driver of social programs that build strong, equitable and resilient communities. She is an active community volunteer, sitting on the Board of Directors with BC Women's Health Foundation and on the Vancouver Foundation's Honourary Governors Council. Her background in leadership, communications, programming and community engagement has helped to mobilize diverse stakeholders and generate broad-based support