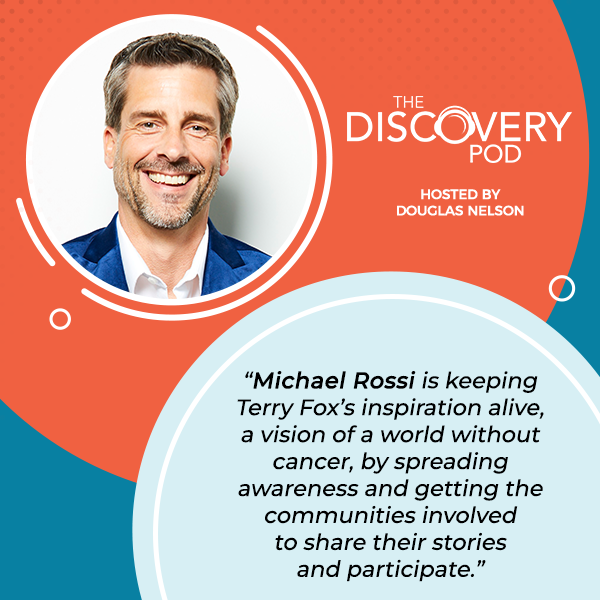 Uniting for a common cause, the Terry Fox Foundation transforms community spirit into groundbreaking cancer research, proving that together, we can conquer any challenge. In this episode, we have Michael Rossi, the Chair of the Terry Fox Foundation, to share the foundation's enduring legacy and the remarkable impact it continues to make in cancer research and treatment. As an experienced leader in both the corporate and social sectors, Michael sheds light on the parallels between sports and charitable work. He reveals how creating emotional connections and engaging narratives can elevate not only sports but also the charitable sector. He shares how to align visions, create impactful stories, and drive positive change within your organization, all while nurturing meaningful connections with supporters. Michael also offers valuable advice on recruiting passionate board members and fostering a culture of trust. Tune in to discover how Michael and the Terry Fox Foundation are driving change, uniting communities, and making a lasting impact on the lives of countless individuals.
—
Listen to the podcast here
Terry Fox Foundation With Michael Rossi, Chair
I am thrilled to welcome all of our audience back to what will be the most exciting riveting season in the history of the show and we start with a bang. Our first guest this season is Michael Rossi. He's the chair of the Terry Fox Foundation. He's going to talk to us about the Terry Fox run happening on September 17th, 2023 all across Canada. A number of important examples of how to recruit volunteer leadership to your organization. The importance of balancing control and trust. His suggestion, not surprisingly, is to emphasize trust and the relationship between an Executive Director or CEO and the board.
We learned a lot about the movement behind the Terry Fox Foundation, the great work that they are doing in partnership with the Terry Fox Research Institute, and why it has been such an inspirational and lasting legacy across Canada. In his personal life outside of the social profit sector, Michael is the president of Voice Leadership. I encourage you to check him out on LinkedIn. You are going to enjoy this conversation about leadership in action. Terry Fox, a great Canadian. Thanks for reading the show.
—
Welcome to the show, Michael.
Thanks. Nice to be here.
We have been looking forward to this conversation, not only because it's the first episode of season eight, but also because of your background, your career, and your role with the Terry Fox Foundation. I want to spend a fair bit of time talking about your background, but first I want to dive into the Terry Fox Foundation. Most of our readers are familiar with the name Terry Fox. The Terry Fox Run, especially all of our Canadian readers. Tell us a little bit about the foundation, what it does, and who it serves.
Most people are familiar with what Terry endeavored to do many years ago. Terry didn't finish the Marathon of Hope, but the foundation was formed to carry his vision forward of a world without cancer and to create an organization that fundraises in his name and organizes the runs that so many Canadians would know. What people may also not realize is the foundation fundraises. That's our primary objective. We then enable the events, whether they are school runs or community runs across the country. We help organize all of those things.
We have a sister organization called the Terry Fox Research Institute. What we do is we then allocate funds to the institute and then they determine where the funds go and what research we support all under the Terry Fox umbrella. It's a nice partnership between the two organizations all in the name of realizing Terry's Dream.
There are a lot of advantages to that division of responsibility. You don't have researchers charged with fundraising and fundraisers choosing what the right research projects are. I know a partnership that's lasted for a long time with the institute and the foundation. How do you keep the lines clear?
Communication. Both organizations had our AGMs, and our Annual General Meetings, one after another out in Vancouver. We had dinner together after the meetings were done. The Fox family members are the members of both organizations. It's distinct and they are professionally run, but we also have a lot of touch points to ensure that we are on the same page, we are working in the same direction, and that we are doing and vice versa. It's been just a wonderful partnership that we just keep getting better at.
I was getting ready for our conversation. I was thinking about all of the interactions that I have had with Terry Fox with the family throughout being a kid in Canadian schools, doing the run, and being the parent of two kids who do the run every year. In my professional life, I have had the chance to work with the previous CEO of the research institute, Dr. Victor Ling, and members of the Fox family who have been very involved in that.
One of the things that jumps out at me when about that is the power of the story and the hope Terry inspired in so many millions of us in Canada. I'm curious from your perspective. How do you keep that inspiration alive now many years past the first Marathon of Hope and pass it along to that younger demographic that doesn't have a direct memory of Terry?
We are fortunate that we have such an established foundation in the school systems across Canada. We have the opportunity to teach the story and to have it be part of school programming each year. That's fantastic. First of all, it keeps it fresh, but also Terry always inspired other people to get involved. When I think of the runs that happen across the country, those are happening in communities where there's a run organizer who's got a connection to cancer. Maybe they are a survivor and they have taken up the challenge to organize the event in their community. Those then become news stories that are told.
Unfortunately, due to the prevalence of cancer, it feels like everyone's got a story somehow. In many ways that allows us to connect. I lost my dad to cancer. It will be 13 years on 2023's run date. That's part of my story. That's part of my connection to Terry. Everyone has got one. The ability to always respect what he did, but then also modernize it and carry it forward and do the work for our reasons and our own stories as well. It's a nice way to balance the two.
You think that balance is important. The urgency of the mission and the longevity of the reputation of Terry Fox work so well together. One of the pieces that's also interesting, if you have had a number of guests last season that we are talking about the changing face of Canada and the rich cultural tapestry that makes up our country. It's getting richer, bigger, and better in so many ways. How do you engage the changing community that is Canada made of newcomers and immigrants that ensure that this message for Terry Fox is inclusive and welcoming?
What's interesting about that question is most new immigrants to Canada learn about Terry Fox. That's part of what they learn about the country. We have fantastic awareness with students. Young kids who never saw Terry, but that's part of their educational upbringing. For new Canadians, that's part of what they are taught about the country. We are well covered there. Inclusivity is such an important and timely topic right now.
When you think about it, Terry was an ambassador for inclusivity many years ago. We tend to strangely, almost overlook the fact that he was a role model in terms of overcoming barriers and he always wanted the run to be inclusive. When the run, the following year was born in communities, part of our mandate was there was no minimum donation. You have to donate $1,000 to get out and run. It was anything that you could give that made you a Terry Foxer. If you gave a $1, you were one of us.
Terry always had that eye towards bringing people together making it inclusive and removing barriers. Even for people who are differently abled, that wasn't a barrier to Terry. He's always been a role model for that inclusive approach. We see, and it's wonderful to see the run organizers, the communities all across Canada, no matter where you are, there's a run there. There's someone who will welcome you. I do it up at my cottage. I meet people from my community that I would never meet before by going out and doing the run each year. It's one of the most inclusive events that Canadians can take part in.
As you say that, I'm thinking of the number of times I have heard the phrase, "Toonies for Terry." The run predates toonies, but the idea that anyone can participate does have residents and it makes what is a difficult concept to explain sometimes in terms of cancer research. You don't need to explain the importance of cancer research. It makes space for everyone to participate. As an organization that has the run is recognized as the run, I assume you do more than an AGM in August and run in September, and then call it a day for the rest of the year. How do you keep that message continuing throughout the year when the national focus may not be on the organization as it is in September?
Most charities struggle with that. They have their tent pole event, but then it's how you make sure it's top of mind throughout the year. We tend to look at it as a full year of programming. As an example, April 12th is the day that Terry dipped his foot in the Atlantic Ocean and started his Marathon of Hope. We have now made that the launch of our annual registration. We launched the run T-shirt each year and that has become a big event. I will tell you a story about 2023's launch, but we launched the T-shirt and that is the first call to action to remind people that, "This is when Terry started his run and this is when you can now start your fundraising."
Throughout the course of the year, we will mark whether it's Terry's birthday or when he came to Toronto and went to Nathan Phillips Square and that iconic moment with Darryl Sittler in Toronto. We will mark those occasions. We have a holiday campaign that every year Canadians are incredibly generous around Christmas and we also have childhood cancer events in the springtime before the run registration starts. Lots of opportunities where we can celebrate scientific research that's happening and where we can announce new projects. There's no shortage of news and ways to continue to tell the story. September with the community runs followed by the school runs that give us that final push each fall.
There's no time for a break in organizing all of the work that the foundation does. I want to hear the story of the T-shirt launch. I want to hear what you have got in store for National Run Day on September 17, 2023.
In 2023, we were fortunate. One of the nice things about being associated with Terry Fox is generally, and it's not universal. Generally, when you reach out and ask someone if they'd like to be involved, they are positive and want to help. We approached Ryan Reynolds to help us select a T-shirt design. I'm a former Adidas guy so I understand production timelines and everything that goes into getting a T-shirt made and it doesn't happen overnight. Ryan was so excited about the design that he announced it a little bit earlier than we were expecting. We went into creative mode and all of a sudden, it's like we were thinking we had a little more time to get the digital assets ready and to start taking orders and we had to pivot and start taking presale orders in a month and a half in advance of when we expected to.
One of the nice things about being associated with Terry Fox is that when you reach out and ask someone if they'd like to be involved, they are positive and want to help.
Click To Tweet
The good news is record-breaking results. We sold over $1.6 million worth of T-shirts. All the proceeds go to cancer research. Not only that, but it's a great way for people to register for the run and to start to get their friends and family thinking about it as well. When we have people like Ryan who help us out, it's just amazing the reach that they can add for us and the impact that they have. As far as where we are headed, it's so nice to get back to the regular rhythm of our runs. COVID made it challenging for a couple of years there, but we are back in over 600 communities across Canada.
We have got wonderful registration traction. We are tracking ahead both in funds raised and also people participating. It's Sunday, September 17, 2023. If people are interested, guarantee there is someone in your community who's got the run organized. They would love to have you out. It's a great way to meet your neighbors and hear stories of the positive impact that our work has.
It is about the community coming together. I was talking to my neighbor as we were both trimming the hedge between our house and he's been in Canada for years now. I said, "I'm talking to the chair of the Terry Fox Foundation." He always asks about my show. I'm certain he's never tuning in to it, but he's polite. I said that I was having you on. He said, "Terry Fox is in the citizenship test. I know Terry Fox, he's in the citizenship. You have to study him to become a Canadian." It gave me goosebumps. What a great thing to have to study to become a Canadian.
A lot of our audience are people who are in the sector, in the social profit sector responsible for raising lots of money, and a lot of them do it through events. You can share candidly behind the scenes the challenges would imagine the logistical challenges of organizing 600 runs across the country, present more than a few headaches. Where do you start?
It starts with great people. That's the short answer because, in every one of those 600 communities, there's more than one volunteer. There's a volunteer who puts their hand up to be the run organizer, but then there's a committee behind them. These are the folks who figure out how to get permits, how to secure the space at the park, and how to get someone who might donate hot dogs. The sound system and all of the different things that go into the picture. Any event that you go to that's well organized, it's all taken care of. The root is blocked off. People do that and people are doing that twelve months in advance. They are collecting things for the silent auction and additional ways to raise money. We are fortunate that we have so many years of institutional knowledge.
It does get tricky because at some point, especially your readers, people who work in the charitable space, you understand it takes a lot out of you. For many people who are volunteering, it's on top of your day job. At some point, people decide they are ready to move on and maybe to a different cause or they just need a break.
For us, when the run organizer leaves, how do we make sure there's someone else who can step in? How do we make sure we keep that knowledge intact? We have started to document it so that if someone moves away or if someone says, "I'm ready to pass the baton here," we have got a playbook that helps that next generation come in. It's a challenge. It's one of the things that keeps us up at night is how we make sure we have always knowledge and enthusiasm in the wings if needed.
That's the thing we are seeing across the sectors, that people are no less committed but they have far less time to commit. It's a crisis for some organizations. That reduction in the number of hours that Canadians are volunteering I'm sure is a concern. Part of what keeps you up at night. What are the elements that allow to Terry Fox Foundation to continue to keep those people coming back year after year?
It starts with Terry. Whether you saw him run or you learned his story in school, there is something there. We have no shortage of bad news and difficult things that surround us. What Terry and the foundation have always represented for people is hope. That is an opportunity for us to engage people. I mentioned the prevalence of cancer. The fact that we hear different numbers. It could be that 1 in every 2 Canadians is going to be impacted somehow, either themselves or someone they know and love.
It's a top-of-mind topic and there are lots of charities and causes out there. Sadly, cancer continues to be one of the ones that hits us all. When people see a well-run organization with accessible events, a cause that has touched them, and a rich history of doing good it tends to get people nodding and saying, "I'm engaged and I'd like to help."
I'm pivoting from community volunteers, which are so important across the sector, and especially to the Terry Fox Foundation. I want to talk a little bit about volunteer leadership at the level of the board. You have been involved with the foundation board for years now. We hear from a lot of our clients and a lot of the organizations that we work with. They are challenged to recruit high-caliber board members who are mission-committed and are going to do great work.
If a board was trying to recruit someone like you, this isn't a LinkedIn job for you to take on more responsibilities, but if someone was wanting to recruit someone like you, what advice would you have for organizations to make someone more likely to be involved and to take on a leadership role like a chair?
I would say there are probably a few things that would help. Number one is being clear about your purpose as an organization. The people who are being recruited for boards are being recruited by many different groups. They are going to be selective in which organization they want to partner with. Be clear about the direction you are trying to take the organization in and therefore what role this volunteer could play. I have a personal bias. I know there are some boards out there that are quite large and I would tactfully say not everyone is pulling the same amount of weight on those boards.
A good and effective board is one where people are selected and almost matched specifically because of their skills and experience and what the organization needs at that time. If you can clarify where you are trying to take your organization, where this potential board member can fit in and specifically it's not just that you want their name, but it's the fact that they know how to do X or they have relationships with Y. That is important.
The third part is the people who do want to pull their weight, they want to be involved and they want to create impact. They don't just want to sit through a board meeting and have that on their resume. They want to feel like they are contributing. If you can specifically tap into their skills and help them see the role that they could play so that it feels meaningful, that's going to increase your chances of landing them on the board.
That's great advice and I couldn't agree with you more, especially on that last point. One of the things that makes me cringe is when I hear people say, "I was recruited to the board and they told me I didn't have to do much. I just needed to come to four meetings a year and learn it to get on board and figure it out." That is not how you recruit people to a sector that is based on passion, commitment, and hard work. The people that you want to help uplift your organization are the people that want to do the work. If you are recruiting people who don't want to do the work or like, "I got too much on my plate, but I will take on your board too," you are not going to get a lot out of them. It's going to be a loss for everyone.
I like your point about making sure that the work that needs to be done is clear and that there's a clear role for the volunteer leadership to the leaders to do it. You were on the board first as a board member and then you made the transition to chair. What was that transition like? How did you get ready for the big seat?
I was fortunate because our previous chair, we had succession plan discussions so I knew that I was being considered for the role. I had worked with the family even before I joined the board. I had worked with the Fox family in my capacity at Adidas. I had a little bit of exposure there and I knew the plan going into our previous chairs 2022 on the board. I always pay attention in a board meeting, but you are paying a little more attention when you know that this might be your role in the future. It doesn't mean you do everything the same way. There are opportunities. I did interviews with all of the directors and some other stakeholders just to find out what was working well and what we made even better.
I have been a leader in the corporate space my whole career, so I always had certain things that I wanted to do and bring as well. I was reelected at the AGM for my second year as chair. My first year was a bit of a whirlwind. There's a lot going on. You are just trying to make sure that the organizational rhythm and cadence are flowing, and that the meetings are being run well, but you are also starting to look long-term at where you want to take the board.
I loved year one and then it's funny how quickly the year is over and now we are on to year two. It was great because this time I got to bring the board together at the AGM for a workshop beforehand. In 2022 I didn't get to do that because I had just been installed leaving that meeting. It's fun when you can start to get your arms around the team and start to talk about where you want to take things.
It is that being able to help set that direction. A couple of things you said there are important. The chair's role of setting a direction for the board and the organization but they are separate things. They are very closely aligned in the best-case scenario. They are perfectly aligned, but they are different conversations. In our work, what we see a lot of is the very healthy tension between the board chair and the CEO or the executive director and making sure that the roles and responsibilities are clear.
One of the red flags we are always looking for when we start a conversation with a new organization is if anyone says the word control, we know there's a problem. In healthy organizations or where the tension is at a healthy level, it can be described as dynamic. For the most part, it's good. If the word control comes out of either the chair's conversation with the management lead, we know there's a lot under the surface and it's an imperfect measure, but it's pretty accurate. How have you approached this relationship in your first year as chair and moving into your second and do you have any tips for other CEOs and chairs? Just tips for other CEOs.
The first thing I would say is, it's so important to have the right people on board. Our executive director has been with us for a few years now and is wonderful. He's fantastic. When you say the word control, I think of the flip side, which is trust. When you have great people in the organization and as you said, when the visions align and you trust them to operate the business, the charity, or the foundation, then your role automatically is a different one. It is advice, it's guidance, it's strategic oversight. It's very different.
It's so important to have the right people on board.
Click To Tweet
We are fortunate that we did an extensive search to find our executive director a few years ago. It took a lot of time for the board to find that individual, but we are now seeing the benefits of that. It means that the board can do what we do best and bring our expertise to strategic topics. We always, I would hope the organization and the ED would say they always feel supported by the board and they can always come to us with anything. It's not that feeling of us reaching into the organization poking around, which to me can be a distraction.
The dynamic between control and trust is the other side of the coin of the other. That's a good piece for the audience to think about in their organizations. Are we leading with trust or are we leading with questions of control? I had a conversation with a colleague or a friend and he said, "The problem on this board is that the chair doesn't trust the CEO." I said, "That's the only problem you need to focus on. It doesn't matter what else is going on. You cannot fix the symptoms if you don't fix the cause." It's great to hear you start that way.
I want to change gears a little bit and talk about your life outside of the Terry Fox Foundation. If you can remember what that looks like, given your commitments as chair, you spent most of your career in sports marketing. Started as an associate with the NHL and eventually became president of Adidas Canada. How did you get involved in the business of sports in the first place?
A little trivia question and answer for you. I am a two-time World Series champion with the Toronto Blue Jays. When I was sixteen years old, I was a bat boy for the Blue Jays. I loved sports. I still play sports, I play hockey and slow pitch. My passion was to get into sports. I was lucky to get that job when I was a kid. I did it through university and it sparked that passion to work in sports if at all possible. When I graduated from Western's business program, I was unemployed. I was an unemployed valedictorian, which was an odd position to be in because I was holding out. My classmates were getting amazing jobs with big corporations and I wanted to see if I could get into sports.
I got into the NHL through two classmates of mine who had done summer internships there. They were going on to full-time gigs and the first role was to be an executive assistant. I said I will take it. It got me in the door and four years later I moved up through the NHL. I met the company I went on to work for because they were a licensee of the NHL making licensed apparel. Funny how sometimes those small stepping stones lead to things down the road and it led to several years with various divisions of Adidas.
It's funny how sometimes those small stepping stones lead to things down the road.
Click To Tweet
I'm left-handed so I can play professional sports a lot longer than a righthand, particularly baseball. I wanted to be the first baseman for the Jays. When I got into my 30s, I decided I was going to be a situational left-handed reliever because John Franco pitched into his 40s. I was saying that to a friend of mine who pointed it out to me, "Yes, but John Franco was a good pitcher in his twenties. You were not."
Maybe you just peek later. We will see.
I'm still holding out. Given you have had that long and very successful career in sports, what do you think the social profit sector can learn from the sporting world? What are some of the parallels that you see?
I was just thinking about sports. The thing about sport is there's that emotional tie. There's the on-field performance, but when you watch a great story of an athlete overcoming adversity, maybe they came from a tough upbringing or they have persevered through injury to make it to the big leagues. People love those stories. When you can emotionally connect with people and when there's an emotional connection to that player and their background and where they have come from, you just look at them differently. You are more likely to tune in and watch. You are more interested than if it's just transactional.
The thing about sports versus so many things that we stream on demand now, it's still the fact that it's happening live and there's some immediacy to it that connects people as well. I would say in our sector, how do you create great stories? How do you connect people to what you are doing? There are so many wonderful charities, but it comes down to connection.
There are so many wonderful charities, but what it comes down to is connection.
Click To Tweet
Ultimately, we don't like to use the word competition in this space, but we are competing for donations. Particularly when the economy is tight as it is with inflation and interest rates, people are not able to give as much as they have in the past. They may spread it around the same way, but it may be less. Parallels I would draw is how do you create the emotional connection that helps your organizational cause stand apart? How do you create, whether it's events or just those moments that are like a sporting event where you have to watch it or you have to be there? That's what people lack in their life right now.
That's what you are giving people on September 17, 2023. Michael, as we come to the end of our conversation, I get to ask for the first time this season, my favorite question. What are you looking forward to?
You asked a question about the diverse makeup of Canadians in our culture. To me for so many years, we have been doing wonderful work in Terry's name, and we have been creating great impact. One miss is that we haven't fully brought the Canadian scientific community together around cancer research the way that we can. The way that Terry would want to see us do it.
We have a project called the Marathon of Hope Cancer Centres Network which has never been seen before in Canada. It's 30 organizations, hospitals, institutions, and foundations working together. We are adding more every day. The idea here is we are going to start capturing data on patients and treatments, and we are going to start using that in an anonymized way to predict what the best precision medicine solution would be for you.
What's important about that is whether you are in the Yukon, in Quebec, the Prairies, or in BC and whatever your background is, we are going to be able to tailor that treatment to you based on your genetics. It's bold, visionary, ambitious, complicated, and not easy. What Terry set out to do many years ago was all of those things as well.
To me, it's something he would be proud of. It's something Canadians should be proud of and aware of, and I'm excited to see it come to life. We have supportive funding from the federal government, $150 million of matching funds. We have got work to do to raise our half, but we are doing it and Canadians will benefit from that work.
Before I let you go, could you please let our audience know how they can become involved with the foundation with the run on the 17th of September 2023 and where they could learn more?
If they visit www.TerryFox.org and all the information is there, you can either register you can look up the local run in your community, and register yourself. You can create your team. If you have friends who want to join you, you can donate to a friend or family member participating. I know oftentimes parents will also contribute to their child's fundraising at school. Lots of different ways to get involved. Or if you want to buy the T-shirt that Ryan Reynolds leaked a little bit early, it's also available for sale on the website.
Thanks so much for being on the show, Michael.
My pleasure. Thanks very much.
Important Links