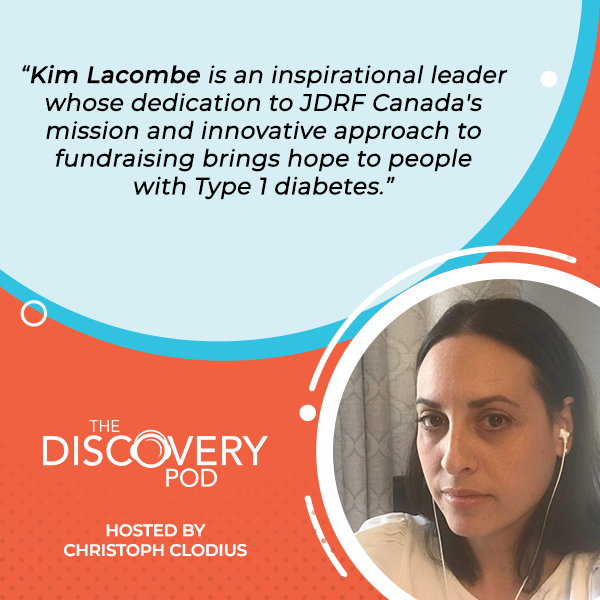 JDRF has a bold vision of creating a world without Type 1 diabetes. It does that by funding the best research anywhere around the world that will lead humanity to better management of the disease for the ones that have it. In this Opportunity Spotlight episode, Christoph Clodius is joined by JDRF Canada VP Development, Kim Lacombe. In this conversation, Kim talks about JDRF's history, its vision to create a world without Type 1 diabetes through research funding, and the ongoing fundraising campaign to accelerate research. The role of regional directors is discussed, emphasizing their responsibility for relationship-building and meeting fundraising goals. Kim emphasizes the importance of collegiality, innovation, work-life balance, and staff growth within the organization, offering compelling reasons for candidates to join JDRF's mission to find a cure for Type 1 diabetes. Join in for all of these and more!
—
Listen to the podcast here
JDRF With Kim Lacombe, VP Development
I'm delighted to be joined by the Vice President of Development of JDRF Canada, Kim Lacombe. Welcome, Kim. Nice to be speaking with you. We have the opportunity and the pleasure in fact to talk about two regional director roles with JDRF, the Regional Director BC & Yukon and the Regional Director Alberta and the Prairies. I'm looking forward to our conversation and we can just dive right in. Let's start off with the organization itself, Kim. For someone that may not be familiar with JDRF, can you tell me a little bit about it?
JDRF has a fantastic history. It was founded in Canada in 1974, but the US had founded a few chapters before that in 1970. From Montreal basement, it all started in 1974 with families and parents that wanted to find a solution for their kids that were diagnosed with type 1 diabetes. At that time, they used to call it juvenile diabetes because people get to be diagnosed at an early age, between the age of 5 and 8. It started from there.
We are a relationship-based organization and it grew from Montreal to all across Canada these days. We are present in so many markets, and our vision is to create a world without type 1 diabetes. We're trying to do that by funding the best research anywhere around the world that will lead us to better management of the disease for the ones that have it. A cure ultimately, but also trying to prevent the disease from more people getting diagnosed.
That worldwide impact is quite compelling. The fact that JDRF Canada is part of this global movement to eradicate type 1 diabetes and then go from there. Kim, you lead the Regional Director team nationally from coast to coast. Can you tell me a little bit more about that team specifically? How does it fit into JDRFs' national goals?
The regional directors are relationship builders, internally and externally. Internally with their own team, but also with the senior management team that they are part of, trying to have vision strategies for our business, making sure that fundraising is met with whatever we need for research funding. Externally, it's about connecting the different communities, the donors, and researchers with our research team, making sure everyone that is involved with the T1D community gets to be connected. We expand as much as possible, creating great opportunities that will lead to helping our mission to fund research and have a cure for type 1 diabetes.
JDRF expands as much as possible, creating great opportunities that will lead to helping its mission to fund research and have a cure for type 1 diabetes.
Click To Tweet
I know one of the ways or methods that JDRF is using is in fact the Campaign To Accelerate. The fundraising campaign that you have is underway right now. Can you tell me a little bit more about the campaign specifically?
The campaign is an amazing adventure. The base of it is the relationship and the partnership with the invested lead volunteers that we have across the country and with the many communities. The goal of the campaign is to raise $100 million. The name of the campaign is Campaign to Accelerate. It tells you everything. We want to accelerate the pace of research in the past few years, then go fast, but there's more potential. It needs more funding and that's why we created this campaign which started in 2021. We're expecting it to be closing in 2025.
In 2021, we celebrated 100 years of the creation of insulin which was invented here in Canada by Banting. To honor this milestone and promote the campaign, one of our lead volunteers, the late Peter Oliver, was a visionary, and we decided to create the event, Let's Make History Again. We had across the country volunteers sitting on flat poles, like 40 feet high. With that event, we were able to gather 100 communities across the country of supporters. Families came together and we were able to raise a lot of funds and inspire a lot of people to give. Now, we are around $76 million for this campaign and we're closing in 2025. There's a little bit to go through. That's excellent and very inspiring.
Kudos to you and the team. That's compelling to have a campaign that has a specific target, is measurable, and be so close to the finish line. It must be so exciting. As you say, it's an amazing adventure to be in that campaign, for sure.
Kudos to the volunteers and donors, because without them, there's nothing.
Let's talk about the regional directors themselves. What are these people going to be doing? You've alluded to a couple of things here in terms of the relational work, the donors, and the volunteers. Tell me a bit more if you can about the regional director roles.
The regional director role is to have a vision for the region to have knowledge of the different markets, because not all strategies and tactics work the same way in all different markets. Having a vision that will lead to maximizing fundraising, but also maximizing relationships. The regional director role also oversees its own team, making sure that they're pushing and putting the team towards the right path, achieving the fundraising goals, and the proper tactics.
Things change as we saw with the pandemic. We have to spin around quickly and go in a different way. Always adapting throughout the campaign. Having a lot of relationship building with the different communities and also with colleagues from the other departments like major gifts or marketing. Making sure we're all working together as a big team, and we're achieving the goals.
Another thing that is important at JDRF is staff growth. The Regional Director will be coaching his own team, making sure that every year people are getting new skills, brewing within their own roles, and expanding. With the plan in their career, we want to prepare people to take the next steps. This is important for JDRF and I'm an example of that. I started JDRF many years ago, as a coordinator and grew all the way up to VP. At the end of the day, JDRF cares about its employees. This is something the Regional Director is working on with their team.
That's an excellent description, I appreciate that. You mentioned the markets, maybe we can talk a little bit about each of the two markets in turn. Can you tell me more about the unique situation for each of those two regional director roles?
In BC, we do have a lot of success with the major gift campaign. We do have some great staff working on major gifts. My colleague, VP of Philanthropy, and a Director of Leadership-Giving, as well as someone that works with the corporate side of Philanthropy. We're well-equipped and they're well-underway, creating great relationships. There is so much opportunity in the BC region for the Regional Director. Their goal will be to expand on that. We have a few walks, great ones. There are tons of money, attracts a lot of new families, and new fundraisers, so this is great. We have a gala/soirée as well. We have a new innovative plan for 2023.
I'm looking forward to seeing it come to fruition. We have a great relationship with the business community. Post-pandemic, the BC region has a lot of opportunities to grow all these fundraising programs and to create more opportunities and new ideas that could be out there. That's the case for the BC region. We do have great volunteers that are always all hands on deck helping for connection, making ask on the day of the event, and fundraising. We do have a strong team of volunteers there.
What about Alberta and The Prairies? How does that look?
Alberta Prairies is different from the BC Yukon markets. It's more about the different communities, given that this region covers three different provinces. There are many different communities across those provinces. It's more about building strong relationships over time with those communities, making sure that we always have supporting families and donors. It's more about creating longevity in this specific region.
I see that theme or I'm hearing that theme of grassroots volunteer engagement, recognizing the roots of the parents and volunteers that started JDRF and continuing those relationships is certainly important. I appreciate the emphasis on that and the uniqueness of each of the regional areas as well.
Canada is a great country with many different communities that we have to give. Embrace it and that's what makes us say very special place.
Speaking of embracing community, that's a bit of a segue to the community or the culture within your team. You've described your team. You've described your goals. As a national leader in JDRF, what is the culture that you are trying to create within your team? When you think about your own leadership and your own management, what is it that you're hoping to achieve amongst this team?
My style of management is more on the collégiale style. More working together as a team, making sure that together we can face different challenges, create opportunities, and make the right decisions. I like when the team comes back with different viewpoints so that we can analyze what's the best decision or the best tactic or best strategy moving forward for the organization. As a team putting the organization first and doing together what's best for JDRF and the Type 1 community. That's more of my style.
JDRF is an employer that like creates a great family and work balance. The number one top value in my personal and professional life is family first. The team supports one another. If there's something like you need to go, something happens, the rest of the team will get your back. We're there to cover for you, you can go take care of your family or whatever challenge you have, and no worries, we'll be there when you're back. You can close your eyes or have peace of mind if you need to step away. The team will be there for you. That's the type of work environment that I'm trying to pursue within my team.
What struck me is everyone I've spoken to at JDRF nationally. I've spoken to people across the country, in leadership roles, and other regional directors and they all talk about that, the family first, the values of the organization. Particularly coming out of COVID and with everybody, it should be said, everybody at JDRF is working from home, so has some built-in flexibility but still needs to get the job done fundamentally. Anything you want to talk about from that perspective, from the national culture, the national working environment for that matter that you think a new Regional Director might want to know about?
Touching on career growth, this is something important at JDRF. Collaboration is also key value innovation. JDRF has been very innovative over the years. Changing the trajectory of their fundraising, the pandemic put us against the wall, changing things. That's how we came up with the $100 million campaign like it was the time to change our strategy and move into major gifts. Nationally, I would say career growth, innovation, and work-life balance. It's what the JDRF is all about. At JDRF, many staff members, including myself, do have a direct link with type 1 diabetes. The understanding and empathy towards staff are something exceptional at JDRF, I would say.
Career growth, innovation, and work-life balance. That's what JDRF is all about.
Click To Tweet
You've reminded me, even for these people that don't have that personal connection, you alluded to the research at the beginning as well. What I've heard consistently and witnessed in your documents as well is that the research community and the groups that are being funded by JDRF and others nationally and globally for that matter are good at reporting results, and reporting impact, many grassroots volunteers can see the progress being made and see progress in their lifetimes for that matters. That's exciting and quite a compelling piece with the organization.
When I say internal collaboration, it's the same thing for research. JDRF was innovative in putting different research teams together. Trying to piece the different portions of different research projects that could work together and go faster in terms of finding solutions. Forcing collaborations and changing the culture on the research side, we're also there. It's something that JDRF excels at, collaboration.
Speaking of excelling, how would a new Regional Director excel on your team? What would they have to earn a gold star and get some accolades for working with you on the team?
Everyone gets a gold star because there's no superstar there. What I'm looking for is accountability for the region. Someone that can drive and be in charge of the development, the collaboration, setting the goals, meeting the goals, and making sure everything runs very smoothly, would be my sticker like the teachers used to give us stickers on our grade tests. That would be the thing I'm primarily looking for in Regional Director.
Also meeting the fundraising goal because, at the end of the day, we're trying to fund more research to advance the pace of research. It is important. I don't want to sound too much aggressive toward the fundraising, but we're so passionate about our mission. When you meet all those families that have a connection and what they're going through in their life, you want to reach those goals and fund more research. Someone that is accountable for meeting those goals.
Fundamentally, it's a fundraising job, so you have to have fundraising goals.
The majority of HR people would say, staff do stay with their employer, in their role, and they're happy. Another star would be taking care of their team, making sure everyone is good. We do care so much about our employees. Someone that will follow our culture for that.
In closing, what are the most compelling reasons for someone to join you at JDRF? This is your opportunity to speak directly to candidates. What would you want to say to them to say, "Please join us?"
They would get to work with me. Just joking. JDRF is a great school. When we're looking for a Regional Director, they already have great achievements in their career. JDRF is a very special place where you get to learn to work differently outside of the box but in a very structured way. That's most of the feedback we get from new employees. It's a great school for learning innovations and working differently. Also, they get to be part of something historic.
A cure can mean different things to different people. There's so much improvement right now for the management and we're looking into prevention and great pathways. Being part of this historic journey towards a cure for type 1 diabetes would be the biggest motivation. If we find a cure, we'll be out of a job. That's good. We'll go work towards another mission for another disease or organization but be part of that historic momentum for type 1 diabetes.
That opportunity to have that line of sight, that direct impact for people coast to coast. I know people across the organization feel that and are pleased and impressed and happy to be a part of the team. Hopefully, we'll bring a few great new team members forward for you as we move ahead in this search. For anyone that is interested in learning a bit more, please feel free to reach out to me. Christoph@TheDiscoveryGroup.ca is my email address. You can certainly check out www.JDRF.ca to learn more about the organization and about us and you specifically. Kim, I enjoyed the conversation and going on this amazing adventure with you. Thanks again for your time and looking forward to working with you in the coming months.
My pleasure. Thank you, Christoph.
Thanks.
Important Links