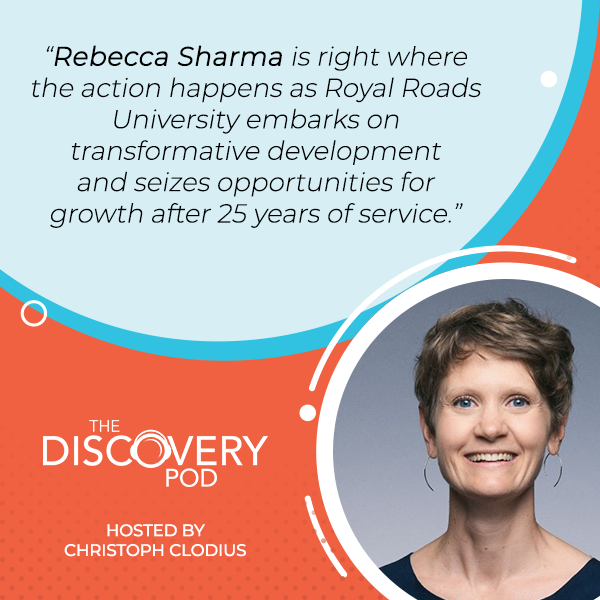 Discover into the inspiring world of Royal Roads University as your host Christoph Clodius sits with Rebecca Sharma, the Director of Advancement. Today, Rebecca discusses the dynamic team culture, transformative projects, and the crucial role of equity, diversity, and inclusion in creating an inclusive and diverse workforce. She shares her journey as a former student at the university, where she discovered her own leadership practice and redefined her approach. She shares how Royal Roads University fosters a culture of appreciation and leverages the strengths of each team member through appreciative inquiry, empowering them with a distributed leadership model. The conversation takes an exciting turn as Rebecca details the fundraising and major gift efforts. She shares how her team collaborates with various stakeholders to cultivate strong relationships and philanthropic contributions to advance strategic priorities. EDI then takes center stage as Rebecca dives into Royal Roads University's commitment to equity, inclusivity, and accessibility. With exciting new projects on the horizon and a team of caring, creative, and courageous individuals, the opportunity to contribute to something truly meaningful awaits. Join us in this exciting conversation and prepare to seize your opportunities for growth.
—
Listen to the podcast here
Royal Roads University With Rebecca Sharma, Director Of Advancement
I'm delighted to be joined by Rebecca Sharma. Rebecca is the Director of Advancement at Royal Roads University in Victoria. Welcome, Rebecca.
Thanks so much. It's great to be here.
We're going to be talking specifically about the Manager of Major Gifts role that is going to have responsibility for major gifts, planned giving, and the pending campaign for the university. We're going to talk all about those wonderful things over the next few minutes. First, we're going to start with a bit of a big-picture overview, Rebecca. Starting off with Royal Roads University, for someone that isn't familiar with it, can you tell me a bit more about the university itself?
Royal Roads University is a relatively young university. We were established in 1995. At that time, we were established to provide market and applied programming for the province of BC. It was a specific mandate. Since then, the organization, the university has evolved and grown. We now have 33,000 alumni around the world. Our programming has embraced a focus on change-making with a practical and flexible approach to education.
The strengths of programming focus on the areas of leadership and on climate action. This connects specifically to our vision of inspiring people with the courage to transform the world. On a more geographical background, we're located on the lands of the Lekwungen ancestors and families, which is just outside of Victoria, BC, on what is perhaps one of the most beautiful campuses here in the country.
I'm glad you brought that up. It is a gorgeous spot to work and live in and play fundamentally, isn't it?
It's a pretty special place. I've had the pleasure of being both a student and now a staff here. Coming to a place that includes old growth forest that includes a national heritage park with a castle and being right on the ocean is something that every staff person that I've worked with sites as being one of the big pieces to celebrate about this space.
The other thing I would say is that we've got some exciting new developments as a university. We celebrated our 25-year milestone this 2023, and with that, launched a new 25-year strategic vision for the institution. That includes some exciting opportunities, one of which is a new and collaborative campus that we are developing in partnership with the University of Victoria and with Camosun College alongside the Justice Institute of BC and School District 62. I'm sure we'll talk more about that when we talk about the campaign, but a lot of exciting new developments on the horizon, a lot to be excited about.
I like how you put the transformative piece, transforming the world. There's so much happening at Royal Roads and a lot of different directions and lots to take in, that's for sure. Thinking about you and your team, tell me a little bit about AARO, the Advancement and Alumni Relations and Operations Group. Tell me a little bit about your team. How do you contribute to the life of the university? What are you trying to achieve in your group?
As you said, our unit includes small teams and focuses on advancement, fundraising for the university, alumni relations, which is the engagement activities with alumni around the world, and then an operations team, which is the backbone of the work that we do. Our team sits within a larger portfolio that includes marketing, communications, and campus services, which are our signature events. Together, we're focused on creating meaningful opportunities for our staff and our alumni and donors to join us in that vision of inspiring people with careers to transform the world and high-impact opportunities for our key stakeholders to affect change.
I've been working for the university for over a year now. In this past year, we hosted a series of round-table discussions and some comprehensive surveys and data collection to develop a new three-year strategic plan for AARO, for Advancement Alumni Relations and Operations. Out of that, those conversations and that data we developed is that strategic plan.
I'd say that within that plan and the focus of our team is centered around three themes. The first is internally facing and ensuring that the work that we do has a solid foundation. The first thing is focused on cultivating the people, the tools, and the resources that we need to be successful to achieve some significant growth over the years ahead and recognizing that we're in a context and an environment that is complex and fraught. Not the university, like in the world globally, and making sure that we're sound and on solid footing.
The second theme is about facilitating exceptional and high-impact philanthropy. The manager role plays a key part in that as we work to develop a much more robust major gifts program, which is relatively new, believe it or not, to the university, as well as establishing solid annual giving and donor relations programs with a comprehensive campaign on the horizon. The third theme is focused on fostering alumni relationships for both local and global impact. All of these areas are about change-making, celebrating, and creating opportunities for positive change to be realized in the world.
I'm impressed. I have to keep reminding myself that you've only been there for a while for that matter. These foundational pieces that you talk about between the university's plans and the strategic plan, I've seen the work plan you have for your unit and your staff, it's impressive, the direction you have, and the thought and the rigor that's gone behind the work, which means that the manager can step into a program and understand that there's clarity and specifics about what is both in place and what the future holds. Let's pivot a little bit to the manager role itself. What is this person going to be doing? What do you need them to do fundamentally?
This position will be focused on the second theme of our three-year strategic plan, facility, and exceptional high-impact philanthropy, and more specifically in building outer major gifts and planned giving program. We have a solid portfolio of major gift prospects and donors that they will be taking on and focusing on relationship building and stewardship. Moving towards the raising of major gifts in support of our strategic goals will be the primary focus of the role. It is a major gift piece.
I'll also share that we're at the very early stages of developing a planned giving program. This is something that we've seen early success on a very passive approach. With some intention, we have the potential to raise fairly significant revenue, given the diverse alumni community that we work with and are in a relationship with. This position will have the opportunity to shape that program. There'll be lots of opportunity for growth and some easy wins early on, which I know as a major gift fundraiser is nice to realize some quick momentum.
You talked at the very beginning about Royal Roads being a relatively young university for that matter too, but you're also old enough to be at a stage where with some intentionality, with some strategy around a planned-giving program, there is a tremendous opportunity for growth with fairly reasonable, not limited, effort. With some fundamentals in place, you can have a significant impact there. That's great.
You've mentioned a couple of times the campaign, so the cat's out of the bag I suppose, to some degree. You're getting into campaign-planning mode there, thinking strategically about what that's going to look like. Can you tell me more about the campaign itself as much as you can for that matter, I know it's early stages, and what role the manager would play in that campaign?
We're in the planning stage for the campaign. We are about to launch a planning study. We've hired an agency to help us with both an internal assessment and external consultations to refine and define both the strategic priorities that we'll be fundraising for, and the fundraising target, and to develop a clear action plan for the campaign launch itself.
We've worked across campus to identify what we believe, at this point in time from an internal perspective, those strategic priorities will be for the campaign. I won't go into the details because it will shift as a result of the planning study. It is what you would expect. There's a focus on student awards and bursaries, some exciting research positions, programs, some neat capital, and projects as well, including the new campus that we're developing, as well as the establishment of a farm here at the university in relation to our climate action program, lots of neat initiatives that we'll be fundraising for.
The fundraising target is still pretty fluid as we go through the planning study. It will represent significant growth for the university and will be one of the more ambitious campaigns that we've undertaken in organizational history. Again, it represents an opportunity to transform the advancement program here at the university with what is achievable potential.
It certainly offers the opportunity as well to galvanize these various streams of the major gift work, your work. We haven't talked necessarily too much about this, but the institutional support behind advancement is quite significant or seems quite significant to me with the vice president that you work closely with the president and the board of governors.
There's a group, there's institutional support, and there's a little bit of, "Why have you waited so long? Let's get going on this thing." There's excitement, doesn't mean that expectations are unreasonable. It's a pragmatic group or it seems to me to be a pragmatic group, certainly. Anything you want to say around the institutional support and what you're seeing in terms of a culture of philanthropy across campus, for that matter?
The reason why I feel so optimistic about this is that there's an organizational commitment to doing this campaign right, taking a best-practice approach. We have members of our executive team and leaders across campus who have experience with fundraising campaigns, who understand the transformative impact that it can have on the institution, and who value the role of philanthropy.
At this point, only because we have that leadership support and buy-in. in 2022, the process that we've undertaken to develop the campaign priorities and develop the three-year strategic plan has resulted in a strong socialization of this initiative. That's what's going to help us be successful going forward. You were right when you mentioned we're trying to do here is have things be foundation-laid so that when the manager comes in, they're going to be set up to be successful in this role.
Candidates always want to know what's it like to work there. What's the culture like? What's this Rebecca person like? Tell me a bit more about the culture you're trying to build or the culture you have within your team. Hopefully, people hear the excitement and optimism you have in your voice. Tell me a little bit about what the dynamic is amongst the team.
I keep talking about all the work that we've done this past 2022 but focused on working with the team on creating a strong team dynamic that creates space for everyone to step into their own leadership practice. I shared that I was a student here at the university. In 2021, I graduated with my Master's of Leadership Studies here at the university. This was perhaps one of the most life-changing experiences in my career, was doing this degree as it helped me to better understand and define my own leadership practice and approach.
For myself, when we talk about the team culture, it's creating a culture that's appreciative, taking appreciative inquiry, identifying what folks' strengths are, and creating space for them to leverage their strengths is so important. The other thing is that distributed leadership model, ensuring that team members feel empowered to lead the work that they're responsible for.
One thing that can distribute leadership model is ensuring that team members feel empowered to lead the work that they're responsible for.
Click To Tweet
As a result of that, we see an embodiment of organizational values. Our values are caring, creative, and courageous within the university, and I see that show up. Every day within the team, look after each other, we have fun together, and there's a real commitment to doing good work in the areas of EDI, indigeneity, and reconciliation. We see that as a part of the larger Royal Roads community, but certainly within AARO.
I've spoken to your staff as well about you, and those are the kinds of things they talk about. I like how you put that distributive empowered leadership. You're very non-hierarchical and you're very adept at clearing out the roadblocks and not being tied up, particularly in the university bureaucracy, which sometimes can be the stereotype of working in a university.
That doesn't seem to be the case working in your team, trying to focus on the work and focus on the importance of things in that respect. Speaking of importance, I did want to pick up on the thread of EDI, equity, inclusivity, diversity, justice, and so on. I know the university does so much in that respect. Can you tell me a little bit about that piece as it relates to creating an inclusive and diverse workforce in your team?
I'll talk a little bit about what that work is within AARO, but more globally at Royal Roads. EDI and accessibility and our commitment to truth and reconciliation are part of the strategic goals of the university. Specifically with EDI, there has been the development of a very concrete action plan focused on EDI and accessibility that includes the establishment of many rich learning opportunities for staff to further their understanding of things like unconscious bias and the ways that it shows up in our work and what it means for us to embrace that social justice.
From an advancement perspective in our three-year strategic plan, in our work planning, we're thinking about how does the campaign itself advocate for EDI? How do we ensure that there's diversity represented in our senior volunteers who are engaging in our fundraising activities? How do we ensure that the strategic priorities that we're fundraising for advance the goals around EDI and accessibility but also around reconciliation and indigeneity too?
There's a very specific action plan. There are learning opportunities for staff and hiring practices that value diverse lived and living experiences. All of those things are working towards transforming an organizational culture. We have a lot to learn. I have a lot to learn in this area as well. I would not say we're an expert in this area by any means, but there is a genuine and authentic investment and commitment by staff and our leadership. It is part of what makes me excited to come to work every day.
I appreciate that. I appreciate your being open about your own journey in this respect and how pervasive you're trying to embed these practices across your work and the institution as a whole. It's quite compelling and exciting at the same time. Coming back to the manager, how would they earn a gold star in your team? Your team has a nice mix of people that have been there for a few years and newer people that are joining and bringing in some best practices and creating some foundational work. For the manager, how do they earn a gold star? How do they show off their abilities and successes?
In any major gift role, your primary focus is on cultivating good relationships that generate philanthropic contributions to strategic priorities. That's your starting place when describing the gold star for fundraising. That doesn't happen in isolation, but an entire team effort. They're not the only ones doing major gift fundraising. They'll have me, our VP of Advancement, and the President's office all supporting this work. Collaboration is going to be key, so working alongside and together with the team to realize those fundraising targets that we've set.
Good relationships generate philanthropic contributions to strategic priorities. That's starting place when describing the Gold Star for fundraising. But of course, that doesn't happen in isolation.
Click To Tweet
As I said, we're pretty young in terms of our major gift fundraising approach. Historically, the team has raised anywhere from $1.5 to $2 million per year total in philanthropic contributions. This coming 2023, we've increased our goal to $3 million and that's inclusive of our annual giving efforts and the major gift target. Each year, we are targeting an increase in that revenue so that we can start to grow the team. That gives you a sense of what the revenue targets are but not necessarily. Gold star is all-encompassing.
It sounds like very much a collective effort in many ways. This person's got to be a true team player, and that's come through in your comments across conversation for that matter. In closing then, thinking about the team, what are some compelling reasons for someone to come join you and your team at Royal Roads?
Some exciting new projects on the horizon that we know are compelling for donors to participate in. We're already seeing early interest. The opportunity to contribute to a compelling vision, which is inspiring people to careers to transform the world at a time when there's a lot of complexity as I was saying in the world with some practical applied initiatives that are being championed by the university, like the collaborative new campus, but also some of the other components that will be included in the campaign. In terms of work, there's the opportunity to contribute to something that's meaningful and is directly impacting and affecting change in the world.
The opportunity to contribute to a compelling vision is inspiring people to careers. It transforms the world at a time when there's a lot of complexity.
Click To Tweet
Second is that the team is fantastic to work with, a caring, creative, courageous bunch, very skilled, and relatively new. We've hired a couple of new staff and strong vision for what's ahead. Third is the opportunity to come to a beautiful place in the world. We have a flexible work agreement, so there's a hybrid work environment. We've got flex days. We have that whole package, but when you're on campus and you're in this space, it's a pretty inspiring place to be around.
This has been an inspiring conversation. I like the talk of transformation, meaningful work, and impactful work. These are the things that are compelling for a lot of people. I would encourage anyone with some major gift experience and some availability to live in the Island Victoria area if they're not already there, to reach out to me, Christoph@TheDiscoveryGroup.ca to learn more or have a look at the brief, wherever it's posted. Look into the Royal Roads University itself. Do your own due diligence, but would certainly encourage people to be curious and interested in this very compelling opportunity for the future of the university. Thank you again, Rebecca. I enjoyed our conversation. Anything to add in closing before we sign off?
No, we've covered it all, but appreciate the opportunity to share a little bit about Royal Roads and the position.
My pleasure. I'm looking forward to introducing some exciting, compelling candidates to you and vice versa, for that matter.
Thank you.
Important Links