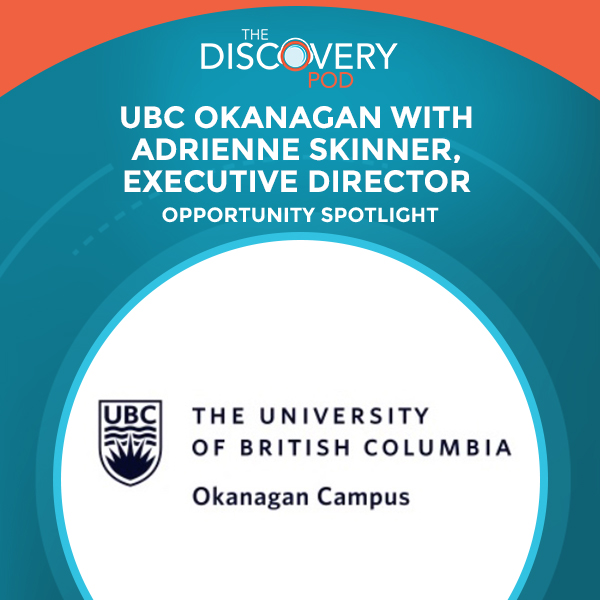 UBC Okanagan is in service to the goals of the Okanagan Campus to support its growth and success. Thus, the organization builds a team to seek alignment between the donors' interests and priorities of the Okanagan Campus. In this episode, Adrienne Skinner, the Executive Director of Development at UBC Okanagan, dives into the role of an associate director of development in their campaign. Since the organization needs to raise funds for its campaign, the Associate Director is the frontline of it. The pipeline development is critical for the position to ensure they work with the right person. If you want more information about the UBC Okanagan and higher education fundraising, tune in to this episode with Adrienne Skinner.
—
Listen to the podcast here
UBC Okanagan With Adrienne Skinner, Executive Director
In this episode, we're discussing the Associate Director Development role with UBC Okanagan. I'm delighted to be joined by Adrienne Skinner, the Executive Director of Development and Alumni Engagement at UBC Okanagan. Welcome, Adrienne.
Thanks for having me.
It's my pleasure. You're speaking to me from Kelowna. I'm in Vancouver. Maybe we can start with a little bit of a conversation about UBC Okanagan itself. Tell me more about it.
It's a fabulous place to start because this is a fabulous place. UBC Okanagan was founded in 2004 by the provincial government. We came out of the university college system and the government decided to invest in the campus to transform us into a research-intensive university. We have gone from 2005, our first academic year with 3,000 students. We are a community of 12,000 learners and 1,200 faculty and staff.
We are a story of tremendous success. We make valuable contributions to the region. We are deeply embedded in the community that takes a lot of pride in founding us. I like to say that what defines UBC Okanagan is the ambition and entrepreneurial mindset that we see playing out every day. It's the opportunity that we leverage in the work that we do.
Tell me more about the Okanagan community itself, given that the campus is located in Kelowna within the Okanagan community.
Our primary campus is located in the beautiful city of Kelowna in the Okanagan Valley. Anyone who knows the Southern Interior of BC knows that we are a four seasons playground known for our beautiful lakes, beaches, and our Okanagan wines that have achieved eminence. We have the second-largest ski hill in Western Canada and big white golf courses. We are a recreation playground. The Okanagan Valley is a beautiful landscape and serves as this extraordinary living lab for a lot of the research that we do in areas of climate, science, healthcare, conservation, and wildlife management. We have a very integrated approach to the work that we do in our fundraising program and research programs in the Okanagan.
The City of Kelowna has grown into the fastest-growing city in the country. When I moved to Kelowna many years ago, we were a community of about 65,000 people, and the city's about 225,000 people in the Greater Kelowna area. UBC has been a big part of its success. The community is very proud of the university. The city feels a great deal of ownership in our success and many people that we work with in development feel that they have been responsible for helping to situate UBC Okanagan in this community, helping to attract it, and setting it up for success.
I like the playground analogy and the appealing nature of the outdoorsy aspects and the cultural civic urban aspects to it, as well as the accessibility. It should be said as well. It's a beautiful drive from Vancouver and an easy flight from any number of cities and international airports. It's not a remote community at all. It's very highly accessible and very much a hub in the area as well.
There are many direct flights to Mexico and parts beyond. We are an important access point to our friends in Calgary.
Thinking about development and alumni engagement then and the team that you lead, when you put it in the context of what we've talked about regarding UBC Okanagan, what is the development and alumni engagement team seeking to achieve?
We're here to support the growth and success of the Okanagan campus and the three main priority areas, which are an investment in our people, students, and academics to help support our infrastructure because we have grown so rapidly. We find that we are increasingly out of space for both our academic and teaching mission but also, our student recreation and wellness operations, as well as our research is the key priority of our work. We do a lot of work in areas of critical importance to this region but more broadly to British Columbia and the world.
We are in service to the goals of the Okanagan campus. There is no end to the potential for donors to work with us to make an impact in areas that matter to them. Our team is always seeking the alignment between the donor interest and the priorities of the Okanagan campus. In many years, since the campus was established, our team has laid down a very important foundation of endowed support for students, undergraduate and graduate students, and students from underrepresented communities. We're doubling down in that work in the space of affordability.
Kelowna is one of the fastest-growing cities in Canada. Students who choose to join us and our academic community for their degrees do often face financial issues. We're working hard to address those as well. Maybe that's too comprehensive of a look but pretty much anything that you care about as a philanthropist or donor, we have something that we can direct you to.
Along those lines for that matter, can you tell me a bit more about the forward campaign, which affects all of UBC, with a particular focus as well in your area with UBC Okanagan around priorities, philanthropic support, and some of those areas? Tell me a little bit about the campaign itself and the associate director's role in that campaign. How they'll be contributing to it?
The associate director is a frontline fundraising position and we'll dig into the priority projects for our campaign. I'll highlight for you where the focus is for the campaign for UBC and that is in thriving communities, healthy lives, and solutions for the planet. In those pillars of the forward campaign, we have many priority projects that amplify the impact that the university wishes to have. A great example is the solution for the planet. I would expect our associate director to be working on priority projects related to clean technology, innovations in batteries, and resilient infrastructure.
Many of our researchers in applied science are taking a deep dive into renewable energy and GHG reductions. We have a body of research that was growing through philanthropy and attracting donors to that. The associate director's portfolio will hold a number of our campaign priority projects and that individual will also hold a relationship with one or more faculties and deans to help them further develop their priority projects so that those can be brought to donors for investment to grow those faculty priorities.
That's very compelling. I love the examples of the solutions and projects that you've offered. There's a myriad more. We could spend all our time talking about those party projects but part of a great campaign orientation is providing lots of opportunities for donors to see themselves in the work. I wanted to understand how the associate director might see themselves as part of the team because team culture is so important. As the leader of the DAE team, can you tell me a little bit about the culture you're trying to create amongst your team and staff there?
DAE Okanagan is unique because we serve an entire campus. Many of our colleagues in Vancouver, their teams are situated within a faculty and they're working with the dean and the leadership team. Here we have nine faculties in schools. They include a medical school, faculty of science, arts and social science and more. The associate director role is our more senior frontline fundraising role.
As a centralized fundraising team, we all hold a portion of our portfolio for that direct faculty-based work. The associate director will do the same. We are a highly collaborative group because we are taking donors that we manage across multiple interest areas and in some cases, multiple faculties. By design, we have to be very collaborative and strategic in the way that we support donors' interests.
The associate director as a senior person will fully expect and demonstrate the high value we place on the entrepreneurial mindset of figuring out how to situate a donor's interest in our growing campus. They will be an ambitious fundraiser. This is a place where fundraisers can be successful. There is so much potential. We're looking for a senior person who brings strategy to the table and is very invested in moving fundraising forward. That's what excites them and gets them up every day to raise money.
That's what I've heard from you and others in the area about the potential for someone to come in and make an impact, not only because of the capacity of the community but also where you are. You talked about the origins of the Okanagan campus. It's at an age where the alumni are ready, perhaps in their age and stage in life and career to give back in essence or make more significant contributions in some ways.
I don't want to get too technical but I do think from a pipeline perspective, there is an endless possibility in the way that we work with the data that we have available. We have an abundance of data. Pipeline development is going to be critical for the associate director and coming in with fresh ways to look at how we use the information that we have to ensure that we're working with the right people.
Likewise, on the alumni side, we have 26,000 graduates of this campus, many of them coming of age. We can start to think about how to engage them in our development program. That beginning to develop that integrated approach for our pipeline is a huge opportunity. The DAE team is three distinct teams. We have our frontline fundraising team that focused on major gifts. We have our advancement and alumni teams. The frontline fundraisers are officers, a director that the associate director will report to and then the advancement team supporting all of the backend support.
Speaking of integration, I did want to ask a little bit about diversity, equity, inclusion, and justice. These are such important elements when building a workforce. What is UBC Okanagan doing in terms of creating an inclusive and diverse workforce?
We do much in space as a portfolio. The DAE portfolio has developed an outstanding curriculum of learning to support the diversity, equity and inclusion objectives of UBC, which are fully integrated and embedded in the work that we do day-to-day. If a new person comes into our program and onto our campuses right away supported in a curriculum of learning, that helps them understand UBC's goal in this space. How we live those values in the DAE Okanagan portfolio is that by design, we are a highly inclusive and collaborative team committed to learning in the space of inclusion.
The DAE portfolio develops an outstanding learning curriculum to support the diversity, equity, and inclusion objectives of the University of British Columbia.
Click To Tweet
The work that we do supports the community that we would consider underrepresented in higher education. We prioritize and take out opportunities for donors to support populations of students who would be historically underrepresented. We've done a tremendous amount of work on this campus to develop goals toward reconciliation. We have many donors supporting that. I feel like we live the goals of UBC and our portfolio in our work as a team. We also live it in the frontline work that we do in bringing donors into projects that support historically marginalized populations of learners.
I've seen that in your numbers and the research that I've done in regard to your successes in supporting marginalized groups. I like the two sides of that, both internally and externally at the risk of oversimplifying. Last couple of questions here. How would a new associate director earn a gold star on your team? We've talked about what they're responsible for. What would you want them to achieve to be best in class?
It's somebody who comes to the team with ambition and enthusiasm to learn. The critical piece of the DNA of a successful fundraiser here is an open mind and the ability to synthesize information and bring it in so that we can find ways forward with fundraising opportunities. It's somebody who is ready to grow their career or is committed to taking their next step in higher education fundraising. It is an outstanding opportunity to demonstrate leadership in the fundraising space, our campus community and our team of fundraisers here.
They come in owning what they don't know, not afraid to speak up and share new ways of doing things and new ways of engaging and building projects. That's the DNA of somebody who loves to fundraise. I loved my fundraising career. I love fundraising. The team loves fundraising. It is the best part of this work because we are changing the trajectory of the Okanagan campus. We are changing lives in many of the projects that we are successful with.
In summary, why do you think someone would want to leave their organization or come join you? What do you think is the most compelling opportunity or reason for someone to come to join you at UBC Okanagan?
When we launched our campaign in September 2022, the Okanagan projects on the campus were such a shining piece of our campaign launch. The way that we positioned it is our unstoppable momentum. That is what this campus has. Anybody who loves fundraising is curious about higher education fundraising or is a higher education fundraiser.
This is an incredibly compelling place to work because you are part of the wider globally ranked University of British Columbia in this incredibly unique part of British Columbia. UBC aspires to be a provincial university and a global university. We are such an important part of that provincial reach. You're situated on an extraordinary campus in an extraordinary region of BC and part of a world-class research-intensive university. Who wouldn't want to join this amazing campus and team?
That's come across from the conversations with you, your team members, and faculty members. I've had the privilege of speaking to a few faculty and program leads as well across campus. There's a union, and people are speaking fondly in the same way about this tremendous opportunity and work that's being done at UBC Okanagan. Kudos to you and your team.
For anybody interested, I would encourage them to reach out to me. For more information, I'm at Christoph@TheDiscoveryGroup.ca, or connect with me via LinkedIn. You can check Adrienne and her team out on LinkedIn and through the UBC DAE site as well. I would certainly encourage curious major gift fundraisers to step up and come forward.
I can't wait to meet them. Thanks, Christoph.
Thank you so much for your time. We'll talk soon.
 
Important Links