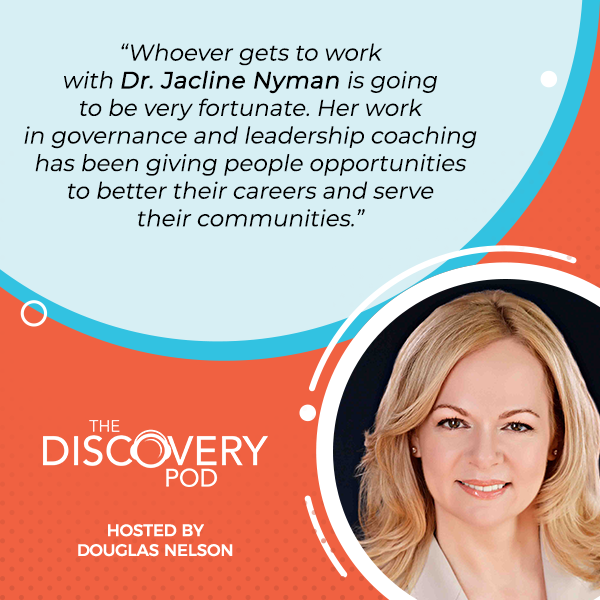 Leaders in social profit have a unique opportunity to drive positive change and create a better future for all. Through philanthropy and education, we can inspire the next generation of leaders to make a difference in the world and leave a lasting impact on our communities. In this episode, Douglas Nelson speaks with Dr. Jacline Nyman, Vice President of External Relations at the University of Ottawa on the importance of philanthropy in higher education and how it can drive positive change in society. Tune in to learn from one of the most respected leaders in Canadian higher education.
—
Listen to the podcast here
University Of Ottawa With VP External Relations Dr. Jacline Nyman
In this episode, we have Dr. Jacline Nyman. She is the Vice President of External Relations at the University of Ottawa, where she announced that she would be leaving that role and returning to her position in the Telfer School of Management in Marketing and Philanthropy Research and Teaching. She talks about the bookends of her career at the University of Ottawa and a great adventure in between, including when she was my first boss in post-secondary fundraising a few years ago.
She has been a great friend and mentor ever since. I'm immensely grateful for the conversation and for the wisdom that Jacline shares in this conversation. I think you will enjoy it. Please read, write comments, and send a note of congratulations to Jacline as she wraps up her time at the University of Ottawa. Thank you all for reading.
—
Welcome, Jacline.
How are you?
It is good to see you again. It has been a few years since we have worked together and a few months since we have seen each other in person. It is a treat to have you on the show. For those of you who are seeing your bio for the first time, as they are tuning in and clicking on the link, they will see a lot of designations, education, and a unique path that you have taken to your role as Vice President of External Relations at the University of Ottawa. Take us back to how you got started because one of the things that are fascinating is your career in advancement starts at the University of Ottawa.
It is a story of bookends. I started there and will end my active career in terms of full-time positions as Vice President of External Relations at the University of Ottawa. The University of Ottawa is my alma mater. While I left my undergraduate Business degree, I went out into the private sector for a couple of years. I returned as a student recruiter at the University of Ottawa back in the early 1990s.
I slowly made my way over to the Alumni and Development Office, where the AVP at the time brought me on as the Director of Advancement Services. I was one of the youngest directors. I was turning 25 at that time. They took a real chance on me to be their Director of Advancements. That is what I have been doing for the few years since graduating. I was a little bit early out of the gun. I was about 21. I had several years by then of running operations and backroom work. My degree was in Marketing. Those were the things I loved to do came on as Director of Advancement Services.
Slowly thereafter, I took a big trip out West and ended up at the University of Calgary, where we met. It was such a great opportunity. I remember working with CCAE. I was on the board of the Canadian Council for the Advancement of Education. I got to know a number of senior leaders. I was the editor of The Ensemble Newsletter, as it was called at that time. Through the conferences and networking, I was able to meet with a number of senior leaders.
When I was ready to move, and I knew I wanted to move out of Ottawa, I put my shingle out and let people know through CCAE, those leaders, that I was interested. The VP of External back then at Calgary scooped me up and brought me in. That is when I started frontline fundraising. I'm picking on roles in stewardship and eventually migrating to be the executive director at the business school there. The Smith School of Business, as it turned out, was one of the great campaign gifts that we worked on. I'm going to guess that we don't want a full many-year CV through the show, but I have made my way back East.
I appreciate this because I had the honor of being able to say that you were my first boss in fundraising. When I work for you at the University of Calgary doing development communications, one of the things that jump out at me from that is you and I sitting in your office and saying, "We are going to put all of these cases for the support online. We will put it on the website." I had no idea what any of that meant. I was like, "I will go figure that out." You are like, "You should go figure that out."
Bonnie Morris, at that time, was the AVP. She said, "Do you know anything about editing a newsletter?" That is when CCAE was looking for an editor. I said, "I can figure that out." It was that can-do spirit. That is a hallmark of my career, and I know yours as well. It is putting your hand up and saying, "I can do that." You can paddle feverishly under the water, pulling your network together and your knowledge learning more, and making it happen.
Put your hand up and say, "I can do that." Paddle feverishly under the water, pull your network together and your knowledge to learn more and make things happen.
Click To Tweet
We don't need to go through the full years. It was a great many years. When you went back East, you eventually left post-secondary for a while and worked with United Way. I'm curious. What did you experience as the difference between leaving the hallowed halls of academia and going to the United Way? What was the difference as a leader in the sector?
I'm sad to say it was 30 years in. When I think of it, it is not 20, which adds another 10 years to that.
I know the years, but I was going to let you go with twenty.
One of the biggest differences is that in a post-secondary and particular university, we are quite privileged with a prospective donor base that is fairly ready-set-go and terms of access to alumni who are often proud and connected. They have that affinity to cause. They are interested and connected. They are highly engaged stakeholders. Whereas in other charitable organizations, the prospective donor pool is less obvious sometimes and less connected to the cause. You have to do more development work to get that connection to the cause.
When I was the President and CEO of United Way Centraide Canada, it was a national office, and they are the federated United Ways in most communities across the country. Developing that connection to cause took extraordinary effort in building that case and compassion with everyday individuals on the ground and, in their case, through the workplace. In healthcare, we might have access to patients through healthcare provision. In the case of charitable organizations, it is the connection to cause. With United Way, it is the connection to the community. Universities are privileged, and other charitable organizations that I truly believe have to work grassroots in efforts to develop those kinds of relationships in creating that connection to cause even more.
One thing in my own experience and I have heard this from other leaders who have moved from post-secondary into a CEO role is that you report directly to the board. You are changing your relationship with the board when you are the head of the advancement. You interact with the board. They ask, "Could you raise more money with less budget?" You say no or yes, depending on where you are in your career. You have different interactions with the board. In your experience at United Way Centraide Canada, you are on the front line with the board. What was that adjustment like for you as you made that transition?
Governance is crucial to the smooth functioning of an organization. Governance is making sure you have a strategy. You are implementing it well and monitoring that fiduciary responsibility for a CEO and their team to be implemented from a management perspective. That is a mind switch. Reporting at a board meeting is different than having 8, 12, to 15 people on your team of bosses. They have a legal and moral responsibility to the greater public to execute those operations.
I had a terrific relationship with my board. The key to that was working in partnership and making sure that it was highly collaborative. From my perspective, highly transparent. I work and always have a no-surprises rule. I'm making sure that the leadership to whom I report is well aware of challenges and opportunities. I build that case for how and why we should move forward and what the operating risks or gaps are.
When you work directly for a board, that is your purview. When you are a VP reporting to a president, you must respond purposefully, intentionally, and honestly, but it is not your direct reporting relationship. There is a leader there where someone else is calling the shots and often a team as to what is managed at the board.
This doesn't mean there is a lack of transparency. It simply means that in and of itself, you can't be working, speaking, and reporting to the board on every last operating detail. You get dragged down into massive board meetings that would be endless. There is an art to governance. Respecting that bridge is crucial to the smooth function of the managerial team and the board itself.
One of the things we see as I work here at the Discovery group with organizations is a lot of time working with leadership teams and CEOs. Their challenge is to get their board at a more strategic or higher level. We talk about getting to 10,000 meters in the plane, but the board is operational. We say, "Let's look at some of your board packages." What they are giving their board are operational details.
They are smart people who care about the cause. They are receiving a package of information. It is the responsibility to read. That is operational. The management team is frustrated that they are not being more strategic. I was like, "You are doing this to yourself. Raise the sights of the information you give. Make it clear the conversations you want to have or you want them to be giving you advice. You are going to find that the tone, temperature, and level of the conversation will change significantly." It is a learning curve.
There is a saying there, "Noses in, fingers out." If you can, as a leader, promote your board package and your transparency agenda toward noses in, fingers out. How can my board members ask the right questions? How can I propose to them what the risk dashboard looks like that they are not being asked to do?
As a leader, promote your board package and transparency agenda toward noses in, fingers out.
Click To Tweet
That is tricky with charitable organizations because often, they have started with their volunteer board members being operationally focused and helping to execute the mission. Hardly ask them to take a step back and to be looking into the organization peering in and asking questions but not executing the mission. I see that as a challenge. Some chaired organizations may opt to have an operating board, a volunteer group, and a governing board.
This is a frustration of mine, but a number of organizations say, "We have a governance board." I say, "You have a marketing and fundraising committee. You do not have a governance board if you have operational committees. Those things do not fit together." They were like, "We want to be a governance board." I say, "That is different. That is a process and a journey. It is not a switch to flip, but if you have operating committees, you do not have an operating board."
Looking at what is a standing committee is and what is an ad hoc committee. Doug, to your point, those can be great ad hoc committees for the time-limited strategic plan of a big strategic planning exercise. You might have to have an ad hoc committee, but that could also be a subcommittee of your executive committee or a subcommittee of the governance committee. It is all in the structure. That is the art of governance.
You are in that role at United Way Canada. From there, you come to the other bookend. As you started the conversation, what was it like going home again? Did it feel like going home again, leaving as a Director of Advancement and coming back as the vice president?
It did feel like coming home. It was explicit. When my predecessor left this role, I was living in the City of Ottawa. I still had a fairly young daughter at home. I was traveling 40% of the time with the United Way Canada role. I loved my time with United Way, but as I thought of the rest of my career, I thought, "What about coming home? It is such a wonderful role to be a VP of Advancement at a university."
What made it feel like coming home was that there were still a number of people who were there when I had left several years prior. There were people with whom I had worked many years ago and who were in different levels of positions. They had taken on all these new challenges, and they had grown professionally. It was a welcome back by many people with whom I have worked and lost touch. I had gone from Calgary, Toronto, Kingston, and back to Ottawa. I lost touch with many people throughout my professional life. It was a homecoming. It is such a tremendous privilege to make this contribution to my alma mater. That felt like a homecoming.
In 2021, the University of Ottawa launched a reimagined campaign that is based on the strategic framework of the organization. It is Transformation 2030. Coming in, you don't start a campaign to start a campaign. It is about changing the life and the work of the institution. Can you tell us a little bit about the campaign and the impact you think it is going to have or will have on the University of Ottawa?
That is a unique challenge because we were running a campaign called Destination 2020. It was kicked off by the previous president and the previous vice president. My now president came on board roughly in 2016. I came on board in 2018 and close to 2020. The original campaign was set on a strategic plan for ten years ending in 2020. He came in the last third of those years of that plan. I came in the last eighteen months, and the campaign had not yet reached its goal. There are a couple of lessons learned there. I would say that the goal was probably overly ambitious and more based on ambition and branding value than perhaps pipeline. As a fundraiser, we know pipeline. That was one analysis that I was able to make.
The second would be that as you are ending a ten-year plan, it is hard to continue the momentum on the case for support to raise funds for those priorities. What we were able to do was work on the Transformation 2030, the new ten-year plan, and reboot and relaunch a campaign with a new pipeline analysis. We are now in a $500 million campaign that will end roughly in 2025 and tease up the first half of a ten-year campaign.
It is aligning with more or less the end of our president's mandate. What that does from a leadership perspective is give our president time to raise funds during his mandate, under his strategic plan, with all of us being able to make that contribution but with plenty of line of sight toward 2030 as the long-term plan. Allowing a new leadership team to come in and launch the next campaign in keeping with their ambitions. We have done well by reimagining and even the title of the campaign in French. Who knew the pandemic would hit, which was a whole new challenge within that timeframe.
I would have thought there was a third lesson there, which I am astounded that our colleagues across the country and in our sector have not learned, which is do not put a year in your campaign title. It ended up driving strategy and my own experience at the University of Alberta in concluding the campaign in 2008. The campaign was finished well before 2008. We extended in it and kept going. It exhausted the institution. We had to keep campaigning because it was the number in the campaign title.
Let me jump in there because the campaign was called Defy The Conventional. It was in alignment with the Destination 2020 strategic plan. To your point, prior to my time, we did the entire branding around the campaign tagline Defy The Conventional. When things start to go awry as they always do in the universities, you may have some ebbs and tides of good and challenging things that happen on campus.
The hashtag for everything going wrong at the university became Defy The Conventional, which was our campaign tagline. Worse than having Destination 2020 at that time, it was also Defy The Conventional, which became a bit of a meme for some negative aspects of what was going on the campus. I agree with you fully. We kept it away this time and tried to keep things as flexible as possible and not use the tagline of the campaign. We couldn't be brought into a lovely hashtag situation.
I don't know that you can avoid the hashtag issue or the memes, but one of the things that's interesting to me and looking at how the University of Ottawa is presented to the country has shifted over the last several years. There is confidence. It is not a bilingual university. The good University in Ottawa, not the other one. There is real confidence in what the University of Ottawa is as a place for research in the country. As Vice President of External Relations, I know you have probably had a significant role in changing the way the institution talked about itself. How has that confidence in elevating the brand supported the campaign work that has been happening at the same time?
When I left, we were not a well-known university for research. We didn't even have a VP research until several years ago. A massive investment on the part of the university strategically in its mission to focus on teaching and research. Research is one of its primary mission mandate legs. In that time, we have risen to be, depending on what school we are talking about, in the top 8 universities in the country in terms of research and certain fields, even when the top 1, 2, and 3. The legitimacy of those rankings, be they national or global, there is a lot half to that. The research funds pouring in for key areas of specialty are extraordinary. It back that up.
For the campaign, we are always looking for the legitimacy of the case for support. When you are speaking with donors who want to take things from good to great, in my experience, when we are looking at donors capable of seven-figure plus gifts, no one is looking to make an incremental change at this point. They are looking to knock it out of the park.
Being able to demonstrate what we have been able to do with the investment and that their investment then compounds and leverages what we are already doing from an institutional perspective, government funding perspective, and big tri-council funding, we are able to then provide a much deeper and legitimate case for support. It has been a real boom. We have been able to leverage that in terms of our branding of the campaigns. When we talk about our tagline, Reimagine, we can look at legitimacy research.
During the pandemic, the University of Ottawa started the wastewater analysis. It is our researchers who developed that. That is something that is used not only locally but domestically and internationally as one of the key ways of tracking and monitoring COVID, but also other diseases both now and in the future. That is an example that we can speak to, but one that resonates with people now where donors can see that it is not esoteric or something theoretical that we can't grasp but something that we use every day. Other areas like cybersecurity and ethics in AI are interesting, topical, and timely research. That is what it has helped us to do in terms of building our case for support.
It is interesting to hear you talk about that connection to the margin of excellence or that big difference that donors want to make and the transformation they want to make. We haven't talked about this yet, but it is incredibly impressive. You are also a faculty member. You have your PhD and are on the faculty at the Telfer School. Does your role as a faculty member factor into how you think about the conversations with donors, or do donors talk to you differently than they would to a fundraiser who doesn't have that appointment?
I have kept up with my research to some extent. I have a research assistant. I read a lot and I'm able to keep current with a lot of what is going on in the field, but not as much as I like. That has to come. What is interesting is some people use their doctor title and some people don't. I chose to use it. There is a perspective that is like, "That is arrogant. Why does she bother? It doesn't matter" I will tell you why and it has nothing to do with ego or arrogance. In some circles, people diminish you because of it. It is not necessarily they think of you, "She understands theory but she doesn't understand the practice."
The fact of the matter is donors find it interesting. It is a great conversation starter. It has little to do with on campus or with me, but when I'm speaking with donors, they ask me about it. My academic home is marketing in the business school but I apply it toward philanthropy and charitable giving. I'm able to speak about research, be it mine or others, in the context of their giving and what they are trying to achieve. It brings some legitimacy to the table of what philanthropy can do.
For most donors, you don't have to give them a big long story. It can come in easy bites, but donors are deeply interested in how their funds will be used and the difference it will make. When you can bring data, facts, and theory and help them to understand the legitimacy of what they will do to boost or categorically change the standing of the areas in which you are investing their donation, it is a game changer. That is the unexpected. I knew from past lives that donors find it interesting. So be it. I have enjoyed those conversations along the way, and the donors have too.
If you have done the work to get the doctor, you should use the doctor title.
It is funny. I didn't have it on any of my social media. All of a sudden, I don't know if you remember the bit of the backlash that Jill Biden, the First Lady of the United States, had when she started to use her doctorate title. A number of my female colleagues who were like me who didn't put it out there, we all categorically changed in support. We earned it so why should it be taken away from anyone? The original doctorates were not medical doctors. They are academic doctors. It ties back to the concept of mentoring, learning, and bringing others along. There is a lovely story there that we should celebrate.
You mentioned mentoring and teaching, which I know you have done. Teaching is such a different skillset than managing staff. How has the work you have done as a professor informed or changed the way you approach the leadership of the advancement team that you lead?
They are hand in glove. Coaching is coaching. It is one thing to think of things hierarchically and top-down. To me, even the word teaching is like a professor as if you are bestowing upon someone. You are a great piece of knowledge. It is an exchange. It is not that. I think of myself more as a coach. I'm in the center of the room, not top-down, and we are able to build on experience. I might bring theory to the table and years of experience and practice to the table as do others and students. They bring their inquiring minds, questions, and experiences.
For a young student and an undergraduate classroom, that might be high school and a couple of years out in practice. It is valuable and interesting. It sets the stage for input. To me, the best coaching, call it teaching or professing, all come from that same place of wanting to collaborate, increase the knowledge base, learn from one another, and build out that experience.
It is the same approach I have. It is attempting as much as possible and as time permits to listen first, gain consensus in the room, and understand the points of view. You have to make a call and make decisions. Be decisive and follow through. There are times when time doesn't permit a full stakeholder engagement approach. We all know that as leaders. You got to act and be swifter and more decisive. As much as possible, coaching mentality is universal across the bridges.
I can attest going back to when I had the chance to work for you at the University of Calgary. You are whatever the opposite of a micromanager is. Here are these big things, whether it is to figure out how to do website programming, which at that time was a radical thing or at least it felt that way to me. A lot of responsibility and opportunity that you gave me and others that had the chance to work with you in subsequent roles. You are giving people a lot of space to learn and grow. I'm speaking only for myself. Some days worked out well for you and some days did not as well. That is where the coaching came in.
I'm feeling nostalgic in this conversation and leading up to the big reveal here that is already public. We don't make news on the show, but you are coming to the end of your term as the Vice President of External Relations. You are going to be taking some time for the sabbatical coming you as at finishing that position. I'm curious about what you are thinking about as you come closer to the end of the role, how you want to leave the role, and what is coming next for you.
Lots of golf.
I don't believe that.
I'm finishing my five-year mandate. It is a long reflection to come to the conclusion that I wanted to go and pursue the next part of my career, being a professor and dedicating more time to the classroom to research. I will also be doing some coaching consultancy and governance consultancy. I'm thrilled to do the things I love.
What's occurring to me now is April 24th, 2023, is a Monday morning, and I don't have to go to work for the first time in forever. I'm not facing a 60 to 80-hour week plus. That is occurring to me. Legitimately, I have one bit of work that I have committed to finishing up for the University of Ottawa. Other than that, I don't have a lot of plans other than the excitement of doing what I love every day. It is to work with people who are positive and bring a positive mindset to work. I can only imagine the collaboration that will be built and the new heights that we can take in our profession as I work together with others on studying, learning, and coaching.
Just think of the new heights and collaborations that can be achieved when people with great skills and a positive attitude work together.
Click To Tweet
I'm excited. It builds on all of my personal strengths and curiosities. I like that. It is probably, for the first time in my life, that I don't have a fully baked engineered of what comes next. April 24th, 2023 will come. I will wake up that morning. I have lots of ideas. I got an idea notebook of many different connections to the dots that I'm starting to make myself.
In all honesty, I'm also serious about playing a lot of golf. I have been playing golf for many years. I have been terrible at golf. I have been a lot better than I am now, but I have started taking it seriously in the last several years. If anybody is coming up to Ottawa and wants to bring their clubs, I will likely be available for a lot of golf.
You are going to be a shark at the golf club. That is what you are going to do next, at least for the summer.
Not to be in tears a lot, either from the tendonitis in my arm or the shame of not being able to get any better.
Jacline, I will be looking forward to seeing what you do and the work that you are going to be doing on governance and leadership coaching. It is going to be important. Whoever gets to work with you is going to be fortunate. You meant so much to me and my career. You gave me an opportunity. I have forever been grateful for that. I'm grateful for you coming to the show.
Thank you, Doug. What a privilege to be speaking with you and watching your career. It is extraordinary, and what you have built is making such a contribution to our Canadian landscape. Joking aside about April 24th, 2023 onward, our profession needs your type of expertise and gathering of stakeholders and others who care about the sector. I hope the contribution that I can continue to make to your ideas or others is to the research and the learning on our landscape.
The opportunity can come from this and, hopefully, a continued close connection with us. What do we need to study more in terms of charitable giving in Canada and beyond? What do we need in terms of executive education for our field? How can I make a contribution to that as I step into this next phase in my career? I will be watching not so much from the sidelines as to what you do next and hoping to bring lift with you to our profession and beyond.
That is going to be great. Thanks a lot, Jacline.
Thanks, Doug.
Important Link
About Dr. Jacline Nyman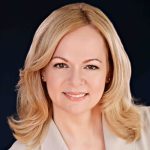 Dr. Jacline Nyman was appointed vice-president, external relations at the University of Ottawa for a five-year term beginning August 13, 2018.
As vice-president, external relations, Jacline advances the goals of the University through a diverse portfolio of activities that focus on raising the University's profile, establishing strategic internal and external partnerships, fostering stakeholder engagement, and growing revenue to support the University in its research and teaching mission. In this role, she is responsible for the offices of Alumni Relations, Communications & Government Relations, Development, and Marketing & Brand Strategy.
Jacline is an associate professor at the University of Ottawa's Telfer School of Management and was formerly an assistant professor at Queen's School of Business (Queen's University) teaching marketing, marketing ethics and social responsibility. She actively researches in the fields of marketing, philanthropy and corporate social responsibility.