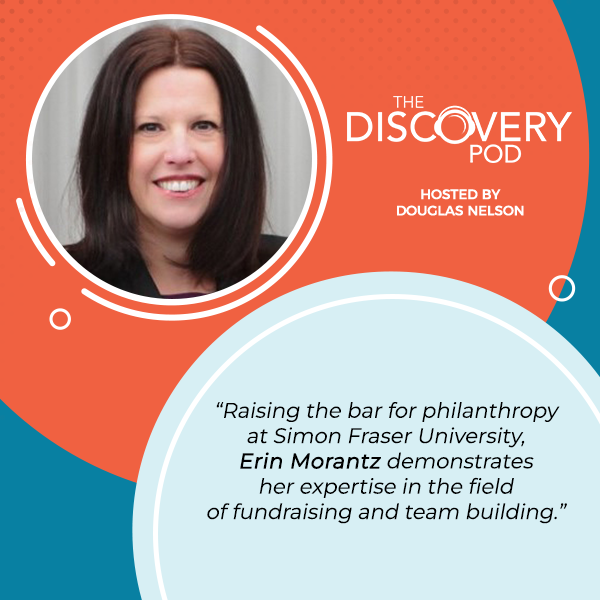 "As a fundraiser at a university, there's everything…It provides this incredible opportunity to be matchmakers between the needs of an institution and the philanthropic aspirations and goals of our donors." – Erin Morantz.
Erin Morantz, the Vice President of Simon Fraser University, shares what it's like to build a coalition of collaboration and philanthropy for a significant comprehensive campaign. She highlights the value of the connection between leaders and those outside the organization to share experiences and gain advice. If your interest is knowing what it takes to lift a campaign and build an exceptional team, then don't miss this opportunity. Tune in to find Erin's expertise in fundraising and team-building in this episode!
—
Listen to the podcast here
SFU With VP Advancement And Alumni Engagement, Erin Morantz
On this episode, we have Erin Morantz, Vice President of Alumni Engagement and Advancement at Simon Fraser University. In our conversation, Erin goes deep into what it takes to build a coalition of collaboration and philanthropy as she and the university prepare for a significant comprehensive campaign. Erin also talks about the importance of leaders connecting with those outside of the organization to share experiences and gain advice. Through it all, she demonstrates her expertise in the field of fundraising and team building. If you're interested in knowing what it takes to lift a campaign off the ground or build an exceptional team, you don't want to miss this conversation with Erin Morantz.
—
Welcome, Erin.
Nice to be here, Doug. Thanks for having me.
When we are looking at who we could have on the Discovery Pod and have on as a guest, we're always looking for people with interesting stories and unique elements that they can share about the work in the social profit sector. You're the Vice President of Simon Fraser University, but this isn't the first time you've worked there. Tell us a little bit about this boomerang career you've had.
I'm also an SFU alumnus, so it's my third go-around at SFU. I had the opportunity to work at SFU from 2013 to 2017 in the Faculty of Applied Science as the Director of Advancement. I knew nothing about Engineering and Computing Science. I'm an Arts grad, so I learned a ton. I was so appreciative that faculty members and others were willing to teach me about what was going on in that faculty.
I had the incredible opportunity to go to the Canadian Cancer Society and work as a VP there, first in British Columbia, overseeing the fundraising for the province. As the organization nationalized, I moved into a national VP role, overseeing major gifts for the country. After about five years there, Joy Johnson, our now president, was taking office. I was reached out for this role and I had a ton of respect for Joy, having worked with her when she was our VP of Research. The opportunity to come back to SFU, work for Joy, and have that broad overarching role across the institution was super appealing. Luckily for me, it all worked out.
It's working out very well. You had the opportunity to work across the sector as a consultant and work with a number of organizations. You talked about President Johnson being the one who helped draw you back post-secondary. What is it about the work of post-secondary fundraising and advancement that was so appealing to come back in and go for round number two?
As a fundraiser at a university, it's a bit like being a kid in a candy store. There's everything. If you have a donor that's interested in health, we've got something for you. If you have a donor that's interested in the environment and sustainability, we've got something for you. If you have a donor with an interest in social service, we've got things for you. It provides this incredible opportunity to do what I think we do in this profession, which is to be matchmakers between the needs of an institution and the philanthropic aspirations and goals of our donors.
Here, we get to do that with every donor. We literally have something that we can offer to anyone. That's exciting. Drawing on what you mentioned about consulting, what I loved about consulting was the variety of working with different organizations and different causes. Here, I get to do that all under the umbrella of one institution.
That's a great way of looking at it. The old phrase is that you can't go home again. You found that. I'm curious, what was that first day back on campus like as the vice president or the boss of all the fundraisers you used to work with?
It's an interesting relationship to start changing dynamics with folks that you've worked with before. Luckily, I had some experience doing that when I went to the Canadian Cancer Society because I had been there as a consultant previously as well. Maybe boomerang is a bit of my nature. Working with people who had formerly been peers and colleagues, I feel like it worked out quite well. We have a team who I had strong relationships with when I left. For the folks that are still around, we've fallen into a new groove.
I think as well that they know I understand what it's like to be a faculty fundraiser and a frontline fundraiser at the university. I can empathize with the challenges they have. I hope I can help them address things in a way that someone who hadn't come up through the ranks in a faculty wouldn't be able to do.
Nobody is going to get away with, "Erin, you have no idea what it's like to be out in a faculty. You're stuck in central and you don't know how it works." They can't use that excuse.
No, they cannot.
The fundraising program at SFU has always been one that has so much potential, having watched it for a number of years. The university has such a distinctive role in the community, a distinctive set of alumni, a powerful message, progress and change to share with the world. The fundraising results haven't always matched that potential. When you came into your role, you were charged with getting ready to plan for a very significant comprehensive campaign and raising the bar for philanthropy at Simon Fraser University. What was your first step?
My first step is to analyze a bit of what had been done historically, as is always the case in those situations. I looked back at data and trends that had been in place over the last number of years. Also, focusing on pipeline development. It is something that had been a bit of an afterthought here historically. Not because people didn't care about building their pipelines. All the frontline fundraisers have always cared about building their pipelines.
Maybe for the last number of years, there's a bit of an erroneous perception that we're still a young and small institution, and we're not. A big part of the work we've been doing is changing that perception across the team, with our donors, and with our alumni. We'll be 60 years old in 2025, and we have 35,000 students. We're not a small institution anymore.
It's a mindset and perception that we've needed to work to change among our team and among the broader community. Changing that helps frame how we think about our pipeline development as well. One of our strengths is that even among our young alumni, many have gone on to become quite successful. We're seeing some big gifts not just come from that typical 65-plus age group, but from people in their 30s and 40s. That helped change how we build our pipeline as well. It's like, "We can go deeper into the prospect pool in our database."
One of the things I remember from the conversation you and I had quite a while ago was that you summarized the challenge as getting the ambition of the University Advancement program to match the ambition of the students and the faculty at Simon Fraser. How has that process gone? Your first step is, "Let's realize we're ready to be something more than we have been, build the pipeline, and have those conversations with donors." I always love it when people start with talking to the donors. It's the first step. That is always the first step. How did you start to build that culture of professionalism and philanthropy across the campus and within your own team?
In planning for our campaign, we've gone back to basics in terms of how we're going to build the plans for the campaign. That starts from I don't want to say a ground-upper approach, but maybe a spread-out approach. It's multiple rounds with consultations with deans to find out what their priorities are, to help them prioritize their priorities. Multiple rounds of consultation with colleagues in other areas of the university and some of the business units to find out what their priorities are or what their needs are.
We put together an internal steering committee that included a number of folks from my team, but a few deans, some senior administrators, someone from ancillary services, executive directors from our two other campuses, someone from the library, and someone from recreation, not just athletics. We tried to parse out how we brought distinct groups of people together to seek their feedback, input, advice, and thoughts, and to hear from them what the university needs.
We want to build a campaign that is for SFU. It's not just an advancement, go over into the corner, do your little campaign, and tell us when you're done and how much money you raised. We want to create a campaign that is going to permeate the entire campus community. We've done that by involving them from the onset.
You've hit a couple of important points there. The one that I want to underline and maybe go a little deeper into is making sure that the campaign is viewed as essential and at the core of the institution rather than something that's off to the side. A lot of that comes down to the work that you do on a daily, weekly, monthly, and yearly basis with academic partners, and being on the side of the deans and your fellow vice presidents, as well as the president. How did you approach building stronger relationships with those academic leaders? To get them to understand the role of your team and you as the vice president is to help them be successful through securing philanthropic resources.
For us, it was a bit of flipping the model on its head a little bit. We all want to raise as much money as possible for the institution. We have to raise money that is going to help move the institution forward and move the goals and priorities of the academic leadership forward. There's no need for advancement if there isn't an academic mission. If we aren't properly serving it, then what's the point? I think there have always been goals at the university to raise as much money as possible, and that's terrific.
We all want to raise as much money as possible for the institution, but we have to raise money that will help move the institution, the goals, and the priorities of the academic leadership forward. There's no need for advancement if there isn't an…
Click To Tweet
If we can raise money that perhaps offsets the budget in another area to free up funds that then our academic partners and colleagues can use for their other purposes or if we can raise money that enables something that the university wouldn't otherwise be able to take forward, then it's simple for our academic colleagues to want to work with us. They can see the value of the work they're putting in. Luckily, we have a tremendous group of deans right now. There has been quite a bit of dean turnover, and the group we have are all keen to be involved in advancement activities. They like meeting with donors and connecting with alumni. I feel like it's the time when we need to capitalize on this and ride that wave of enthusiasm as well.
That wave of enthusiasm may be a result of the deans being new. I suspect there's probably more in your messaging that's encouraging them to be enthusiastic. This message about working with our academic partners and putting philanthropy at the core of the academic plan or a faculty for the university, is there a time you thought it was starting to work like, "They're hearing us?"
There was a moment not too long ago at a senior leader's meeting, so VPs, deans, AVPs, and the president. One of the deans stood up and said, "I want to share with my colleagues that I feel like we can see ourselves in these campaign plans. I can see my voice represented in these campaign plans. I can see the words that some of you have said in previous meetings that we've had with the advancement teams reflected in these campaign plans. I'm all in." It was pretty great.
Did you wait until you got home to open the champagne or did you do it right there in the meeting?
I told them I'd pay them later.
Those moments are rare, even when you get everything right for them to be willing to stand up and endorse in front of their colleagues. That's a big step. We're talking about working with academic partners. The other new part of the academic plan coming out for Simon Fraser University is the new med school and the second medical school here in British Columbia. Tell us a little bit about how that's rolling out and what you see as the role of alumni engagement and development in making that a reality.
We're so excited about the new medical school. It's the first new medical school in Western Canada in over 50 years. How it's rolling out is we're planning to do things differently. We're planning to do things in a very Simon Fraser University way. Our goal with the new medical school is to train primary care physicians and work to increase the number of family docs that the province has. That's a huge need within British Columbia and right across Canada. We're in the planning phase of that school.
From my side of things, my plan is to start getting a team in place. We'd love to launch the medical school with some great scholarships and some research chairs in place. We're building out a team early to help start working on that as one of my goals, as well as to start planning for alumni programming and alumni cohort right from day one. It is so that students feel like they are future alumni from the day they walk into that program and build cohort-based alumni programming right from the get-go. That was the pieces we're tackling in my portfolio right now.
When you are having conversations with existing donors or perhaps potential donors to SFU about this medical school, donors that maybe are graduates who've known or supported the university for a long time, there is going to be that element of nostalgia associated with SFU's Medical School. How are the donors approaching this? How are they viewing it as a part of the future of Simon Fraser?
Our donors and our alumni are excited about the medical school. It's something that the university's been talking about for at least a decade. They're so excited to see it come to fruition. Particularly our donors that have a bent toward healthcare or their philanthropic priority relates to healthcare, they're so excited to see this come forward and to address a need within the province. I think the fact that it's going to be done in an SFU way is bringing a lot of excitement. Our goal is to work to train indigenous doctors and to incorporate indigenous ways of knowing into medical school training. It will be a unique SFU-type school.
You've mentioned "in an SFU way" a couple of times in our conversation. What's the SFU way?
SFU was the instant campus, so the province decreed that there would be a second university and started building in 1964. The campus opened in 1965. We were known as the radical campus. It was the place where people protested and students still protest and drive the university and the world to be better and do better. We've always been a scrappy underdog a little bit, but it's made us nimble, flexible, and open to partnering widely with the community. That flavor will carry through into the medical school as well. All of that.
You mentioned flexibility. One of the things that's interesting about this campaign you're planning is you've got three campuses. The role of philanthropy is very different in each of those three campuses, historically. How do you connect the experience for students and faculty in each of those places to the work of you and your team in this eventual campaign?
As I mentioned earlier, we start by including our colleagues from the other two campuses, right on our campaign steering committee. It goes deeper than that. My team tries to spend time at every campus. I try to spend a day, a month or so at each of the other campuses to understand the distinct needs of those communities. In Downtown Vancouver, we have the School for the Contemporary Arts, but then we have the Charles Chang Institute for Innovation. We have a huge divergence of programs taking place downtown in Surrey. Most faculties are represented with some programming in Surrey, but there are distinct needs of students at the three campuses.
There's graduate student housing downtown. Graduate students have distinct sets of needs in Surrey. A lot of newcomers to Canada, a lot of students who live at home and do commute to the Surrey campus. Burnaby campus is this growing on-campus community. We've opened new student residences. There's residential space for private residences as well. It's a burgeoning living on-campus community. It's about understanding the needs of each community and trying to determine how we best support them. The staff from those campuses know the best. They tell us what the needs are.
You have three campuses each with its distinctive culture and needs. It feels different to be there as a student because of the different offerings, who the students are, and who the faculty are. When you're meeting with donors, how are you expressing the unity of the three campuses? How do you bring it all together into a single story when you're talking to donors?
It comes back to what you were asking about what that SFU-ness is. It is the fact that we serve a diverse group of people. We are nimble and we are creative. We find interesting ways to interact with all communities. Our value of being a community-engaged university is something that is distinctive. It's something that resonates with donors. The story that we tell is the impact that we have as an institution on each of the communities we serve but on the broader community in Metro Vancouver and the broader community across the province and across the country. Of course, we have alumni in 145 countries around the world as well. What we put out into the world, most of it is in British Columbia. Donors are drawn to that. That's something that they see the impact of what we do right here at home.
Much of what you've had to do or the challenge you've been able to undertake and address over the last couple of years has been about uplifting the role of alumni engagement and development and advancement at the campus and with donors. Looking back over your time, is there something you would've done differently over the last couple of years to move things forward faster or maybe in a slightly different way?
I don't know that I could have moved things forward faster. Change management is hard and it takes time to do it well. I suppose there are some things I could have pushed through more quickly, but I'm not sure that it would've generated the type of buy-in and coming together that we've been able to create. It's not just me, Doug. I have a fabulous team and leadership team. They've embraced this notion of bringing people along and working on getting buy-in before dropping something out into the world or out into the university community. It's worth putting in that time. I think it saves you time in the end because there's a lot less to fight back against.
You're not wasting time and energy in otherwise avoidable conflict. You're not begging for buy-in. You're giving opportunities for people to make a choice themselves. As you've been going through that change management process, who is it that you've looked to for advice when you're having a particularly difficult day or getting ready for something, a meeting, or a stage of the evolution that's particularly challenging? Who do you look to for advice?
I'm blessed to have a group of colleagues across the country who are all VPs of advancement. I get to reach out to all of those folks. We get together three times a year and share challenges we're facing and things like that. That's helpful. Not my immediate predecessor, but the VP who was here when I was here before retired a number of years ago. I have quarterly calls with Cathy Daminato. She was fabulous when I worked for her and is still a tremendous mentor of mine. I get to ask her like, "Is this how things were? What did you do in this situation?" She gives me very straight answers, which is amazing. I'm so grateful.
I also have a small group of colleagues who work in different sectors that I get together with from time to time. In confidence, I get to share some of the challenges I'm facing and get feedback from all of them. I find that immensely helpful to hear thoughts and feedback from folks who work in completely different sectors. On a peer level, it's very helpful to know that the challenges we face are the same.
One of the things that you recognize having been a faculty leader is you can always get together with people who lead other faculties in the university and complain about what the central offices are doing or what changes they're doing. In your role as vice president, you can't complain. You can't complain to colleagues or peers. VPs got their own problems and things they can't complain about.
Certainly, you don't want to be taking those issues to the president unnecessarily. Reaching out and having those groups outside of campus, different industries across the country, and people who share the same or similar challenges to you are good advice for leaders. What advice would you give to somebody who's coming in as a vice president charged with supercharging an advancement program? Now that you've been through patiently building and building, what advice would you give to somebody starting on day one?
Don't think you're going to fix everything at once or right away. Take the time to do a bit of a deep dive into what's working and what's not across the department. Map out a plan for how you're going to make the improvements necessary. What needs to be fixed first? Fix the most broken things first, or the things that are hampering the department from doing good work or being successful. You're never going to fix everything and you're never going to fix everything right away. Start with the biggest rocks first. Hire good people and have good people around you. Trust your good people to do their jobs.
Take the time to do a bit of a deep dive into what's working and what's not across the department and map out a plan for how you will make the improvements necessary.
Click To Tweet
That advice is bang on. Years ago, I worked with a fundraiser who was exceptionally good at being a fundraiser. Moving into the VP role, he found everything that he touched, he could make better. He touched everything, which meant that spending time on things that weren't as important, weren't as urgent, and weren't as broken, and then didn't have time or bandwidth to address those things that were most important.
The sum of that over a couple of years was a program that underachieved what it could have, and certainly well underachieved what his vision for it was. It's that ability to take the time to identify what the big issues are and then spend your energy on fixing those or addressing those to the extent you can fix them. That's how you're going to build credibility with your team and with your peers around the VP table. We solved it. That's how you start out being a VP. You've solved it. Let's check against delivery and SFU's results. You're doing a heck of a job there. The final question is my favorite question, so I save it for last. Erin, what are you looking forward to?
I'm looking forward to a vacation in Greece with my family. I'm looking forward to that. In the longer term, I'm looking forward to diving into this campaign, recruiting our campaign cabinet, building a fabulous team of leadership volunteers, and knocking it out of the park to double SFU's revenues over the next ten years. That's our big, hairy, audacious goal.
You've taken some great strides to get there. I thank you for sharing your perspective and your approach with us. I think our audience will get a lot out of it. Thanks for being on the show.
Thanks for having me, Doug.
Important Links
About Erin Morantz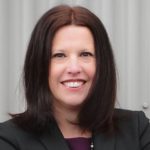 Erin Morantz is the Vice President, Advancement and Alumni Engagement at Simon Fraser University. Erin is an SFU alumnus and was previously Director of Advancement in the Faculty of Applied Sciences. She has had a life-long desire to give back to the community, and has spent her entire career raising funds for non-profit organizations.
As Vice-President, Advancement and Alumni Engagement, Erin is responsible for proactively engaging with University champions, patrons and alumni to build support for SFU's mission, vision and key priorities.
Prior to re-joining SFU, Erin served as Vice-President, Leadership Giving at the Canadian Cancer Society, where she led a nation-wide team of major gift and communications staff. Prior to this she was Vice-President, Revenue Development at the Canadian Cancer Society, where she led a team of over 50 fundraisers in BC and increased revenues while decreasing expenses.
Erin resides in North Vancouver with her husband, two sons and Nova Scotia duck toller. She enjoys hiking, trail running and watching her kids play sports. Erin is an avid reader and has been part of the same book club since 1999.