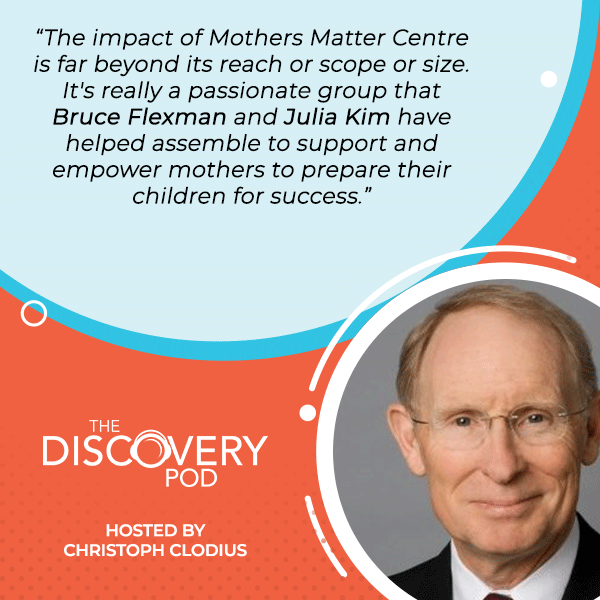 "Mothers are the first teachers" – they are the initial figures in a child's life who nurture and prepare them for the world. In this episode of Opportunity Spotlight, Christoph Clodius is joined by Bruce Flexman and Julia Kim Chair and Vice Chair, respectively, of Mothers Matter Centre. Together, they share the important work being done across Canada in support of vulnerable mothers. They also discuss the exciting opportunity to lead the organization as they search for a CEO. Listen to this conversation and discover if this CEO opportunity could be your next role!
—
Listen to the podcast here
Mothers Matter Centre with Bruce Flexman, Chair, & Julia Kim, Vice-Chair
I'm joined by Bruce Flexman and Julia Kim, who are the Chair and Vice Chair, respectively, of the Mothers Matter Centre. The Discovery Group has the distinct pleasure of working with Bruce and Julia and the entire board and staff of the center to help find a new president and CEO as their outgoing CEO, Debbie Bell, is retiring after many years of leading and founding the organization. Big shoes to fill. We are delighted to work with Bruce and Julia. Welcome to the show.
Thank you for having us.
For people that may not be familiar with Mothers Matter Centre, let's start with you, Bruce. Can you tell me a little bit about the center? What exactly does it do?
We sponsor a program, HIPPY International. It is a program that takes children 3 to 5, and gives early learning coaching. The magic in what we do is that we do it through the mother. The mother is the teacher of the child. We support the mother in that process. We have this international program, which we run in Canada. We run it all across the country for new Canadians and refugees, in some cases. We have an indigenous program, which has been modified for indigenous children.
Julia, anything you want to add about the other services or programs?
One of the strengths of this organization is that the core program, HIPPY International, that Bruce mentioned, is a fantastic program. It has a cognitively-based program specifically designed to prepare preschool youngsters when they start school. It is a well-vetted program. One of the strengths is that we are able to tailor that to meet the needs of the population that we serve, which is largely newcomers to Canada, others as immigrants or as refugees. They are dealing with some specific situations of their circumstance and try hard to meet their needs where they are.
I love that tailoring piece particularly, and Bruce alluded to this as well, the fact that you are working with partner organizations across the country. They can both be on the ground. You are on the ground, local representatives, to understand the local dynamics and the needs of your communities. It is a wonderful program. It is compelling. It is one of many programs you run, but it is the flagship program.
As Julia said, "We are culturally sensitive." If the mother comes from Syria, our home visitor who is supporting the mother will be Syrian. They have the same language and cultural background. That is an important element of allowing them to feel comfortable with the program.
HIPPY is an acronym. It stands for Home Instruction for Parents of Preschool Youngsters. That is important to convey because I have been using the term HIPPY, but those that aren't familiar with it may want to know. Let's talk a little bit about the two of you. What brought you to Mothers Matter Centre? You are both on the board and have illustrious careers in your own right. How did you get involved? Julia, let's start with you.
I first heard about HIPPY, and I was struck by that name first when I was having a get-to-know-each-other session with another board member. I found out throughout the discussion or that meeting that she was passionate about being on the Board of Mothers Matters Centre. What struck me was when she mentioned how helping a child or preparing that child for school readiness was the outcome or the outcome done through the mothers, which is highly unusual.
A lot of the early education or child education programs are based targeted directly at children. The mother is the center of the delivery of that program. Through the multifaceted aspects of this program, in that first and foremost, the mom gets trained, she delivers to her own child, and she gains a lot of self-confidence throughout the process and thus becomes involved throughout her child's educational process. The child and mom bond in different ways. The child respects the mom as a teacher and an instructor.
A lot of the early education or child education programs are targeted directly at children, but the mother is the center of the delivery of that program.
Click To Tweet
The third piece of that is the home visitor is typically a mom who has been through this program. For a lot of the newcomers here, that is their first entry into a job. We have a training program for them to further develop their leadership program. We are doing a program in partnership with Minerva Foundation for BC women. This multi-sectionality of what we do excited me when I first heard about it.
Bruce, what about you? What drew you to Mothers Matter Centre?
I got involved through my wife. She had some good friends when I was working in Toronto. I'm an accountant. I was a senior executive with KPMG. Every so often, they would ask me questions from a financial standpoint like, "Can we get an audit of this? How do we deal with that?" I always knew about the organizations through my wife and would attend some of the events.
Her good friend was on the board. He was the Chair. He came to me and asked me if I would join the organization, be the treasurer, and take over the treasurer role. I said, "I have been involved with lots of organizations. I'm an accountant, but I'm more interested in what the organization is doing. I will join the board, but I don't want to be the treasurer. I will go and find somebody who is current and young who could be the treasurer for the organization." I joined the board. My first job was to go and find somebody to become the treasurer. I didn't have to do it. It was a twofer in the sense. We got two individuals involved with the organization. The person I'm talking about is the person whom I think Julia is talking about who recruited her.
I'm going to jump ahead a little bit here. I want to hear a bit more about the board's culture. What is the board like amongst your board peers? What is the dynamic amongst the group? It is quite an illustrious, well-regarded group, a classic board governance model. Tell me a bit more about the board and how they interact.
We have had a challenge with our board in the sense that we are a small charity organization. Our board members come from all across the country. We don't have the opportunity to have everybody come into one place for a board meeting. We don't have the resources to pay for that. We used to move our board meetings around to try and make sure we were national. We got to see the people.
One of the positives coming out of COVID is the technology around meeting as a group has improved considerably. One of the issues I made for our board was to make the board more collegial and more sense of their fellow board members. Even through COVID, we had a retreat. Half our board was able to attend in person. We have a much stronger board that is much more committed to their fellow board members. I'm feeling good about where we are at with our board.
It is not easy because it is a national organization where we have proper representation and diversity of geographic as well as other diversity factors in board members. I have to say what draws people to this organization is that not one of those flagships or star organizations that people might necessarily want to join. It is a small organization. We call it a small but mighty engine.
What we do is impactful and unique. People that join the board or volunteer are joining because they also believe passionately about what we do and the difference we can make. We have collected over the years an amazing amount of information about moms and how best to help them. Mothers are the nucleus of any family. If moms are strong, the family is stronger for it.
Mothers are the nucleus of any family. If moms are strong, then the family is stronger for it.
Click To Tweet
It is one of the things we haven't talked much about. One of your key programs is the research, the academic backing, the knowledge base that you have developed as an organization in partnership with your programs, and the fact that you as an organization. I have heard a few people describe that you, as an organization, know more about women in poverty and life-changing interventions than anybody.
I like how you put the impact of the Mothers Matters Centre far beyond its reach, scope, or size. It is a passionate group that you have assembled. It is a great summary. I like how you put that. I will pivot to the president and CEO because that is what we are here to talk about, the search for the president and CEO. Let's talk about this person. What is this new person going to be doing? What do you think is top of their to-do list and what are some of the initial priorities they may be having?
We have an excellent strategic plan together with Julia's direction. We have a 4 to 5-year plan that lays out what we want to accomplish. There are a lot of aspirational initiatives. You refer to the research center. We look to try and expand our reach internationally. One of the issues that all charity organizations struggle with is increasing our stability around funding and looking to open up some avenues of fundraising that we haven't capitalized on in the past. Those three issues would be the key reaching issues. One is the research center. The second is to expand our reach. The third is in fundraising.
Julia, anything to expand upon there?
The opportunity lies in expanding our reach across Canada in terms of trying to build awareness. That is one of the key things. We have HIPPY sites in 40 different locations across Canada. The headquarter and the core staff resides in Vancouver, which has worked well. That is one of the key reasons why we tried to recruit board members in different geographic locations as a way of reaching out and building the brand.
That is one of the key things that the new CEO has to be able to focus on. It is a small organization. People tend to wear multiple hats, especially a president and CEO. Debbie knows the organization inside out without any questions. The new CEO coming in will have to keep the internal culture strong because every person, every piece of what makes the organization run, is critical. That is important, but also be able to reach out beyond that and have the bandwidth to make him or herself available to be able to do that.
The classic leadership traits of adaptability and responsiveness are going to be important. You got a great strategic plan. I would encourage anybody that is reading to give it a look. Your community reports are excellent and thorough. The hallmarks and the pillars have changed for the organization of scale, inspire, and lead is quite effective. It captures the essence of the organization and what you are looking for in the next little while. I appreciate the language you have used there. Thinking ahead for a new CEO, how does this person earn a gold star in your organization? What do you think they would need to accomplish or look to? What are the traits you are looking for in this new person? Julia, let's start with you.
Debbie founded this organization initially off the side of her main job at SFU. She became passionate that she came out of SFU and established this independent organization. There is no question that right off the bat, the new person would have to get to know the people and embrace the culture, what the key programs are, and who the key stakeholders are. That will be key things for the field. Beyond that, quickly getting up to speed on where the opportunities might lie in terms of reaching out to potential external stakeholders where the potential funding source could be explored and be able to continue to think outside the box.
Bruce, anything to add there?
I would reinforce what Julia is saying in terms of the traits. Our organization is tremendously effective with our program. The program has a tremendous impact. What we struggle with is people don't know us. We don't have any presence within the corporate or foundational fundraising world to any great extent. There is tremendous potential for us to raise our level of awareness and allow us to be more impactful with our program, but that would be the gold stars if we could move to that level.
What I'm hearing is there is a common theme here that there is a tremendous foundation of support. There are years and decades of tremendous impact across the country, with families, new Canadians, and indigenous peoples doing tremendous work in that respect and now the foundation is in place. It is the opportunity to build, enhance, and thrive in the new dynamic. The organization under Debbie's leadership did tremendously well through COVID, for that matter, pivoting to online programs. Before we close out, is there anything else you wanted to add that I may have missed or anything else I should have asked you about but didn't?
I wanted to explore the one issue that I find is impactful for me with respect to Mothers Matters Centre and the HIPPY program. There has been a lot of research done on return on investment or return on effort in terms of different programs to help disadvantaged low-income individuals or families. There is an individual in the States called Professor Heckman. He won a Nobel Prize because he did a 40-year longitudinal study of what happened to children who got free school training at the ages of 3 to 5. His research was all about if you wanted to make a real impact, the age group 1 to 5 is the time to give these children special skills.
His research led to a Nobel Prize and he was able to demonstrate the return on investment that you put in early childhood education for marginalized families gave you a 10% to 12% return. I won't get into all the details of how he did it. He was an academic. What we have done is we are in that space providing that rate of return, but as Julia pointed out, we are doing it with a second outcome. That is bringing the mothers, the new Canadians who are naturally isolated when they come to a new country because of language and culture.
We are providing an avenue and a road for them to move out of that isolation. All of our work is to measure that movement during the period that they are in the HIPPY program. That is what makes me so passionate about this organization. We are making changes with respect to the fundamental challenges of integrating new Canadians and indigenous families into a better future with their children and their mothers.
That quantifiable piece is important for many funders in some ways because many social profit organizations have a classic debate and conversation about measuring impact. How do we measure impact, and what does that look like when dealing with some of these things that are intangible or much about quality and quantity in some ways?
If somebody wants to look at our annual report, which is interesting, as I said, I'm an accountant. There is an outline of all the different steps that the child and the mother take to improve and move into Canadian society. There are things for the mother, like as a mother attending a PTA meeting as a mother, meeting the teacher, meeting the principal, and been to the graduation. There are different measuring points to see how that mother is integrating or having more confidence in moving out into society.
On that note, many not-for-profit or social program-oriented organizations do great work, but it is hard to measure the outcome. Mothers Matter Centre has put in a measurement program from day one. We have a great amount of data available on that as an ongoing piece to which we devote quite a bit of our resources. We attract grad students as part of their field study to work with our organization. That is a great thing to end on.
It is tremendous work. I can see and hear the tremendous passion that you both have for the organization. Thank you for the work you do. It is a pleasure working with you both. You pointed to the strategic plan. We have talked about the annual report. Your website is a tremendous resource for anybody that is thinking about the organization or wants to learn more or perhaps get involved.
Your website is MothersMatterCentre.ca. I encourage anyone to take a look and learn more. For that matter, if anybody is interested in the president and CEO role and wants to learn a bit more, they can contact me at Christoph@TheDiscoveryGroup.ca or visit the Discovery Group's website for more information. Thank you both again for your time and your participation, and everything you are doing on behalf of your communities and constituents.
Thank you. Take care.
Important Links