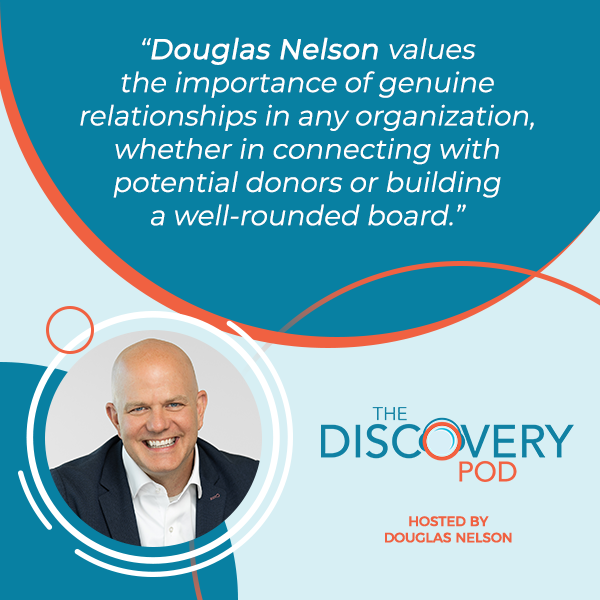 In this Ask Me Anything episode, Alex Wilson, the Director of Communications of The Discovery Group, sits with Douglas Nelson who shares his insights on different things. Doug discusses how clear communication with donors can create a significant impact on your organization when dealing with a recession. The two also touch on the right approach in recruiting and retaining qualified talent in your team.
—
Listen to the podcast here
Special Episode: Ask Me Anything With Douglas Nelson
In this show, we have got very special ask me anything. These are questions that you our readers have sent in to us about what's issues are burning in your mind, what issues you are facing on a day-to-day basis in your organization, and some of the questions you have about the future of our sector. To do this, I have invited along my colleague Alex Wilson, who's our Director of Communications here at The Discovery Group. Alex, welcome.
Thank you for having me. I'm excited about this very different episode that we have.
I'm looking through all the questions that came in. The first question I have for you is, how did you convince me to do this?
I'm still surprised that I got you to agree, but each week we have the tremendous opportunity to speak to leaders in our sector. Part of the great component of my job is being able to work with you, our team, the guest, and their communications team and come up with the questions that we want to get to the bottom of and ask them. I thought, "What better way of giving our audience a little taste of the roles that we have than by allowing them to submit the questions that they would like to ask you?"
I have the privilege of being behind the scenes and seeing the wealth of knowledge that you share with our clients. Your tremendous history of raising over $1 million in our sector. You've interviewed almost 150 guests now, and I thought that you have such great knowledge-based that I would love to be able to share with our audience, so why don't we get them to be the host and you be the guest this time?
The answer to my question is flattery. Flattery is how you convince me to do this. I'm ready to go.
First of all, I want to thank all our audience members who participated. It was a tremendous response that we got. I started seeing some themes of questions that were coming in. The first question I'm going to ask you was the one that we got the most common theme about and it was about the recession. What does the recession mean to our sector?
This is challenging for everyone. The first challenge for most organizations is figuring out what the recession will mean for their organization. Across our sector, there'll be different duplications for different types of organizations just as there were when the pandemic first struck in 2020. It's a disproportionate effect on frontline social service organizations whereas universities and hospital foundations are less likely to be affected by the recession.
Everybody's going to be having different conversations with their donors. Those conversations with donors making significant gifts or gifts of securities may take a little longer. It comes down to the very basic point of the more you are communicating with your donors, the more you are showing the value of your organization. The more often you are leading with the purpose of your organization, the less likely the recession is to have a significant impact.
The more often you lead with the purpose of your organization, the less likely you will be impacted by the recession.
Click To Tweet
It's unclear whether this is going to be something that is temporary and short-term or something that's going to be a little deeper or a little longer. Until we know that, the only thing we can do in our organizations is to be mindful that revenues may end up a little lower over the course of 2023 and govern our granting, programming, and service delivery accordingly to the extent that we can and emphasize double, triple, or quadruple down on being in front of donors and sharing the purpose of your organization. It comes down to being willing to talk to your donors even when the news isn't always great.
The second question that I'm going to ask and this was a common theme. How do we recruit more qualified and engaged board members?
I want to add a little bit to my answer to that first question about the recession as a way of jumping into this, which is one of the great things that CEOs and executive directors can do to understand the potential impacts of the recession on their organization is to ask their board members what they are seeing in their businesses and in the organizations that they serve in their professional capacity.
There's a tremendous amount of advice and expertise that are around the board tables across the country that can help guide leaders. Ask that question about the recession that Alex asked me. Ask that of your boards and go deep in that conversation on what the potential implication might be for your organization.
In terms of recruiting more qualified and engaged board members. One of the big challenges that organizations face is what we want. Our people are immediate fellow travelers with us and our organizational purpose, our mission, vision, and values. Values and alignment are important but assuming that our board members need to know everything about the organization or a lot about our organization can be challenging.
The work of boards is not seeable and knowable from the outside looking in. They may not know what the board's role is. Anytime we can shine a light on it, it's important. One of the things we have learned from our colleague, Christoph Clodius, who's done a number of searches looking for board members for a number of our clients is this.
The organizations that are getting activated, diverse, and experiencing cultural backgrounds, individuals applying are those that are being proactive and putting out a job description and making a real call for nominations. They're being out front not days or weeks before their AGM, but months and quarters before their AGM. They're using the risk register as the way to build the advertising around it and being in front of those individuals.
The organizations that are struggling the most are the ones that are still looking around the boardroom saying, "Who do you know? Recruit your own replacement." There are some great people that come through that process. It's going to be hard to evolve your organization. It's going to be hard to address issues of equity, diversity, and inclusion that you want to see reflected around your board.
If you want your board to reflect the community you are serving, and you need to change the makeup of your board in order to do that, that who do you know type of approach simply isn't going to work. The other part is I would encourage organizations, particularly medium and large-sized organizations, to do away with very outdated idea that you have to have at least an accountant and a lawyer on your board.
Lawyers and accountants are great. Get them on your board. We are not in a situation where most organizations are professionalized beyond the point where they would be relying on a volunteer board member to provide legal counsel. While that's nice to have, it's certainly not essential. Often when we are working with organizations, we need to make sure we have this and a lawyer.
It simply doesn't reflect the level of sophistication and professionalism of many of the organizations in our sector that that's a requirement. Be open-minded about the types of professionals that you have on your board. The more open-minded you are, the wider net you are going to cast, and the more reflective board you are going to get.
On this subject of boards, we had several questions about boards. This one was one that I have heard you've been asked by our clients in some of our meetings, and so I thought I'd put it in here. How do I get my board into the role of governance and out of operations?
This is the number one question many CEOs, particularly CEOs in their first few years of being CEOs or being in their role with a particular organization. A lot of the organizations that we have the opportunity to work with and serve, many of them have had some challenging times and we are helping them get back on their feet or help them find their direction.
Others are doing exceptionally well and they are wanting to take some big ambitious swings as a part of their next strategic plan or their next fundraising campaign. In both cases, the boards are often not quite where everyone wants them to be. One of the important things in understanding this if you are in a management role is the board probably doesn't feel like they are in the right place either.
Taking the time to have the conversation about that right place is invaluable. One of the tools that we use, and you are welcome to borrow it. If you want some fancy slides about it, send Alex or me a note is understanding what level our plane is flying at. When organizations have something challenging happen or there's a turnover in the CEO role, the board comes a lot closer to operations.
If something's been bad where you've got a board member stepping into an executive role like an interim CEO or CFO role, the board is probably in an airplane that's flying like a crop duster. It's not very high over the ground with real clear line of sight to each plant growing in the field, how straight the rows are, and how the plants are growing. It's very close.
It's more like a harbor plane where you've come up a little bit. Making the twin otter jump between Vancouver and Victoria maybe, where you can still see a lot on the ground, but you can also have a view to the horizon. It's a typical plane jet you'd get on where the board is at 10,000 meters. That's where we want to see our governance boards operating.
It can be helpful as a CEO, as an executive director, or even as a board member to say, "How do we get comfortable with the idea of pulling this crop duster up to that 10,000 meters? What is it we need to see as an organization? What do we need to see as a board to feel comfortable in making this change?
The question does and the way that works is that it centers the conversation on how we can get to that 10,000-meter level and how can we get to that appropriate governance level rather than saying, "What you are doing now is wrong." That's where I see a lot of executive directors and CEOs in challenging positions.
Alex, you've heard me say lots of times, "When we are talking to an organization or starting our work with them if we hear the word control, who's in charge of or who's in control of in the first five minutes of the conversation, we know that's a significant problem in the organization." If you are hearing the word control or in charge of around your board table, rather than trying to say, "Stop. This is mine, not yours," and being defensive, look for a way to have a conversation about how the board can feel comfortable, how the board can feel ready, or how the board can start taking strides to get up to that 10,000-meter level and governing at that governance level.
It's not a light switch. It takes a period of time and with many of the organizations we work with, where the board isn't that low-level checking the straightness of the rows in the field and the crop duster. To get them to 10,000 meters is a process that takes a couple of years and a real commitment on the part of the chair to help the board level up and a lot of work by the management team to build the confidence for the board to feel comfortable with their ascent to that appropriate governance level. Get started now.
Switching gears here. We have seen a number of huge capital campaigns being launched in the last several years and throughout your career, you've been involved in many of these mega capital campaigns. This question is a great one for you to answer. What's the biggest mistake you've seen when launching a capital campaign?
We have seen this tremendous rush to the marketplace across Canada. Readers who are in the Greater Toronto area know for sure there has been an unprecedented series of announcements of campaigns at the 9 and 10-figure level that the community hasn't seen before and it's true right across the country.
We have seen a number of big ones in Winnipeg, Saskatchewan, Saskatoon, Alberta, and here in British Columbia. The biggest mistake is not understanding that it's not just what you do on your feasibility or your market survey and understanding how your donors are going to respond to the campaign. It's understanding how that next layer that annual donors or may have been passed significant donors to your campaign or organization. Not understanding how they are going to perceive the credibility of the number that you put out into the community.
I would encourage anyone reading to notice the difference between campaigns that lead with their number and those campaigns that lead with their purpose or their described future outcome. If you are leading with the $1 billion, $500 million, or $100 million figures, the first thing out of your mouth when you are talking about your campaign, you may see those organizations run into issues around credibility with their second-level of relationship donors.
The successful, regardless of size, large campaigns do this well. A lot of university campaigns do this very well both at UBC, the University of Toronto, and others who lead with the purpose. They lead with the tagline of the future that donors can make a reality through their giving and that the organization will make a reality once the campaign's successful.
Rather than focusing on the dollars where donors may feel like their gift is and all that significant. What's my $100,000, $50,000, or $500,000 gift going to mean in a $1 billion campaign? The organizations that lead with purpose, branding, discussion, and their volunteers lead with it in their conversations with colleagues.
Those purpose-forward organizations are going to be a lot more successful because they show their ambition through the work they are going to do and the aspirations they have rather than trying to brag about the size of the number or the campaign that they are running. There's a balance in there and there's room for both of those arguments in telling the story of a campaign, but focus on credibility. Focus on what it's going to sound like not to those closest to you, but to that next layer out, and it will be a good guide to be for your campaign to be successful.
Purpose-forward organizations are more successful because they show their ambition through their work and aspirations rather than bragging about the size of their campaigns.
Click To Tweet
That's great advice. Recruiting and retaining qualified talent has been a hot topic in our sector and in all sectors in the last few years. The question from our audience member is, "Should we be looking at hiring talent from the private sector?"
That's a tough one. What do you think, Alex?
I think that there are a lot of skillsets that can be applied across various sectors. It comes down to the person or to the role. Going back to what you said about qualified and engaged board members, if you are casting a very narrow net, you are going to get a very narrow net of candidates coming back. If we are already in a challenging market, cast a larger net. There are some skillsets that the private sector can provide candidates that the social profit sector may not be providing as much. That's my personal opinion. I come from an area that has worked in private as well, so maybe I'm a little biased but my opinion.
One of the opportunities that we have across our sector is all of the discussion around quiet quitting and people wanting purpose in their roles, and corporations needing to find their social purpose to engage their employees. All of which is great on the part of the employees to be forcing that change. It's only good news for our communities and our society.
It's also good for our sector because it gives us the opportunity to recruit those people who are socially motivated that maybe aren't finding their place or are no longer fully comfortable with their place in the private or corporate sector to jump into the great pool of the social profit sector and join us in serving these incredible organizations that make up our sector.
There is a tremendous opportunity. There are four organizations that are looking to diversify their teams in terms of skillset, cultural background, or geography. There are opportunities for promotion within the social profit sector that in many ways often quick and move faster for young employees or new professionals in their mid to late twenties. In our sector, they can move up the ladder faster in the social profit sector. That's an opportunity to bring a lot of talent in and to contribute to an important diversification of skillsets and perspectives.
On the other hand, I have seen it work lots of times and I have also seen it not work lots of times. When it doesn't work, it's often the attitude of the person saying, "I'm going to teach you how to be like the private sector." In the case of hiring fundraisers who've been in sales or who've had a banking background coming in and assuming, "This is just like sales," and it's not, it is similar but it is different. The people who've made the transition from private sector sales or private sector client services to fundraising do recognize the difference and embrace the learning that difference early on. The ones that don't, don't last very long.
That's well said. As I have mentioned several times, you have been involved in tremendous fundraising programs, very successful, and you've built your career around it. What is the common thread that you've seen in all these successful fundraising programs that you've had a hand in being involved in?
From the perspective of the hallmark of a successful fundraising program is one where the CEO can see how the development shop or the fundraising shop connects directly to donors at different levels of the organization. Whether it's the annual fund, planned giving, major gifts, campaign, or event fundraising, there is a direct connection between the work of the organization, whether that's raising money to support another organization, supporting healthcare or education, or providing services that the organization's already providing.
Being able to see the direct line between purpose and fundraising activity is critically important. Maybe you are a CEO and you can't see that connection and or you're hearing hints of something that sounds like, "We do this to raise money. We need to say this in order for this to be successful." A lot of organizations hear that mostly in annual giving programs. If you are hearing that, that's a yellow leaning toward a red flag and something you might want to address.
For fundraising leaders, I may be accused of being a bit old school, but the programs that are having direct connections with their donors, whether it's through face-to-face meetings or Zoom meetings, customized stewardship, impact reports, or handwritten cards, are the ones that are going to be most successful. All of that sums up to, "Do your fundraisers know why it's important that they are successful in their job? Is the work of fundraising integrated into the heart of your organization or is it treated as something off to the side? You guys over there, you go out. You folks go raise the money and give it to us."
Last question here. As the Baby Boomers continue to retire, what does that mean for leadership roles in our sector?
This is where I'm most optimistic. I am most bullish on our sector. Through our work, we get to see leadership at different levels of organizations primarily at the director level and above and in the C-Suite. I am so encouraged by the strength of the next generation of leaders. It's almost a stereotype to say that those that are retiring or those that are getting a little older say, "There's no one to replace us."
That's been true of every single generation going as long as there's been a social profit sector. As a sector, we have gotten a lot better every generation, every year. We are going to see new organizations form that have the unique combination of principles that form their organizational purpose. We are going to see greater cultural diversity in the leadership of our organizations. We are going to see a more equitable distribution of the senior positions in our sector between men and women.
Fewer men and more women are what equity looks like. I couldn't be more excited. The generation that is following the Baby Boomers and the generations following that are ready to lead in our sector. I'm excited by the changes that we have seen in the last years since the pandemic. The pandemic brought out some great leadership opportunities. That's a euphemism for the crisis that people were lurching from.
We have had lots of people who've been forged in steel and fire over the last couple of years that are ready to take on that organizational leadership role and it's going to mean great things. I can't wait. At the end of the show, I usually ask the guests what they are looking forward to, and when it comes to the future of our sector, this is change. This generational change in social profit leadership is the greatest source of hope and inspiration that I have in the work that we get to do in the sector.
Thank you so much for allowing me to twist your arm and participate.
This wasn't as painful as I thought it would be.
Absolutely not.
Thanks for reading. Thanks for joining us in this. If you have any other questions, don't hesitate to be in touch with Alex or me, and we can get back to you through LinkedIn, email, or however you choose to be in touch.