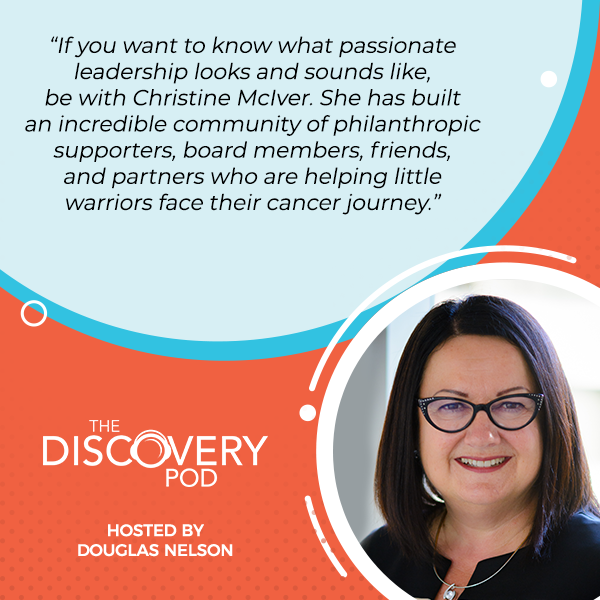 In this episode, Christine McIver Founder and CEO of Kids Cancer Care Foundation, shares how the programs she started over 28 years ago has helped thousands of kids and families on their cancer journey. She provides some insights on how she leads and sets the standards on board governance. Leading a social profit organization can be challenging, but Christine always gets the job done. Be inspired by this amazing leader by tuning in to this powerful conversation today.
—
Listen to the podcast here
Kids Cancer Care With CEO & Founder Christine McIver
In this episode, we have an icon of the social profit sector, Christine McIver, the President, Founder, and CEO of Kids Cancer Care Foundation of Alberta. She shares her story of why she started the organization. It's very powerful. You are going to want to miss it. She talks about her leadership journey moving from a startup organization to a sophisticated social profit organization. Just some interesting thoughts and advice on the future of her organization and our sector in general. If you are interested in what could passionate leadership looks and sounds like, you are going to want to read this episode.
—
Christine, welcome.
Thanks. I'm happy to be here.
It is so great to have you on. I have been looking forward to this conversation. For our readers who maybe aren't or not in Alberta and haven't had the chance to learn about your organization, tell us a little bit about Kids Cancer Care, what you do and who you serve.
First instance, we serve only children affected by cancer, but that doesn't just include children who have had cancer. Of course, it does that. It also includes children whose parents have or had cancer as well. We have been doing this for many years and it has been a remarkable honor and privilege to help children and their families through the cancer journey.
As a leader in our sector here, you are something of an icon as someone who has built an organization as the founder and built something incredibly special. It is unique. Can you tell us a little bit about the story behind Kids Cancer Care and how it came to be?
It was born of a very real and visceral need. My oldest son Derek was diagnosed on Christmas Eve, 1986. He underwent surgery that night to discover that he had a very large brain tumor. He spent the next month in the hospital undergoing radiation and lots of occupational and physiotherapy. We tried to bring him back to a place where he could walk, talk, and move again like a regular little boy that was five and a half and just starting kindergarten. There were no programs or services in Alberta at all for children battling cancer. The only thing that existed back there was Camp Goodtimes which was out on the Sunshine Coast in British Columbia.
A few years later, he went out on his own and I went on my own and learned how to do cancer camps. Derek battled cancer like the little warrior that he was for another four and a half years and lost his battle on April 26th, 1991, after undergoing so much treatment that involved the benefit that came from research and good hospital methods and treatments. I just couldn't bear the thought of another family going through what my family had gone through, so I started the camp programs just in his last year of life.
He didn't quite live to see the first camp happen in Alberta in 1991 because he had just passed away a few months earlier, but he did go to Camp Goodtimes and that was a wonderful start. It was his love of being able to just do something so normal as go camping that inspired me, the need to have good things happen for children with cancer in Alberta and then eventually throughout Canada and the world.
Anyone who hears that story, particularly any parent that hears that story, is just moved. I appreciate you sharing that. I can't imagine that, even after all this time, that's an easy story to tell. I know it's one you have told quite a few times. That deep emotional connection and motivation helped you start Kids Cancer Care, but you haven't been alone. You have built an incredible community of philanthropic supporters, board members, friends, and partners. Thinking back to those first years of the organization, how did you approach building those partnerships and bringing all of those people along on this journey?
When you say that you don't build something like this by yourself, there's no way one person could ever do that and it was only because I love to be with people and interact with people. The biggest thing about that was to share my dream and make it their dream too, so inspire them to want to get involved and show them that this could be done.
One of our oncologists at the time, Max Copus, said that I was a very poor listener because I could never comprehend or hear the word no. It was a good lesson for somebody that also couldn't hear the word no. Max inspired me to just take the bull by the horns and start our organization that would focus on children with cancer.
I guess we put aside adults with cancer because children just were not getting their fair share of the cancer dollars that were being donated. They weren't sharing in any of the good things that were happening in the adult cancer world. I started that by starting the camps in Alberta, going to DC, learning how to do it, and coming home and starting Kids Cancer Care here in Alberta, but bringing people on board.
My very first board was people that I went to high school with. "You got a Law degree? You are now the treasurer or secretary. You got an Accounting degree? You are now the treasurer." We were pulling in the docs, nurses, and psychologists from the hospital and saying, "We need to do this and this is what we do together."
Also, other parents that were battling cancer or had just lost their child to cancer or had in the past and just sharing the dream and making it theirs. Still, now, that's exactly what inspires people to want to help, making them feel what you feel and sharing your story. We talk about storytelling being so important in the world of philanthropy. That can never be more true in the world of pediatric oncology. We have so many wonderful stories, good, bad, sad, or joyous, but we need to share those stories to make people understand that this is not a death sentence.
Storytelling is so important in pediatric oncology. We have many wonderful stories, good, bad, sad, or joyous, but we need to share those to make people understand that this is not a death sentence.
Click To Tweet
Eighty percent of kids will survive now, whereas many years ago, that number was completely different. If anything is going to inspire you to want to do this work, it's the recognition that are the numbers that we are working with now. We are going to save 80%. Sadly, we are still going to lose 20% and that's where we have got to keep working, and then 80% of the kids that survive are going to survive. 80% of that 80% are going to have some long-term effects. Our battle is not over when they say, "You are cured." Our battle has just begun.
We have to keep finding cures that mitigate long-term effects. Things that will make sure that these kids are going to be the survivors and thrivers of tomorrow. That's what we are fixated on now. It's to mitigate it through good research practices and those long-term effects and then going on to make sure that when they survive that they have got the very best practices and services available for them.
I had the chance to work with you and the board over the last few years. Often when you are digging deep into looking at the future of an organization, you take some time to revisit the organizational purpose, but that never came up at Kids Cancer Care. The organizational purpose is right out for all the world to see the second someone engages with the organization.
It is a special community that you have built. You now have a very sophisticated, comprehensive fundraising program that looks like all of the best-in-class types of ways of raising money. Take us back to the early fundraising that you did, because I'm pretty sure that it wasn't always best-in-class right out of the textbook stuff. How did you get started with fundraising for Kids Cancer Care?
I learned how to write an ask letter. I didn't have a clue on how to write a letter except to maybe one of my kids' teachers. Learning how to fundraise was job one. Recruiting volunteers and creating the program itself was also out there as well because it was a one-person shop. Going back to school and learning how to fundraise. There are some great post-secondaries education places that are focused on helping fundraisers learn. Being a lifelong learner and I would still instill that in my team now of always being a lifelong learner.
I met people that could support me through these classes and learned how to do it right from the ground up. In some of our early fundraising events, we did everything. I did grant writing. I did public and private asks. My very first donation was from my mom. Thank you, mom. She was also my first volunteer. The first corporate donor was Pan-Canadian, which is now Synovis, because my sister-in-law was a VP there, so that was an easy one.
I didn't even have a charitable registration number yet and I was getting all these donations in because it was an easy ask. I had to get down to the real work of showing efficacy. Smiles, hugs, and love didn't translate well on somebody's corporate social responsibility. I had to show the efficacy. Keeping them off the psychologist coach was one of the strongest cases I always had for why donate to Kids Cancer Care.
You mentioned it there. Let's continue down that path that measuring impact is complex. Sometimes people try to reduce it to a simple ratio or a math equation. The real answer is much more nuanced and it includes some of that storytelling you were referencing. How do you measure the impact and how do you think donors in the public perceive that impact?
I think we do it very well through stories. We can tell how many the numbers of kids, parents, and programs, of people impacted throughout the years. Nothing shows impact like a letter or a testimony from a family about how their life was changed, how they have grown, how it's impacted them, how they got their self-esteem back, and how they want to try new things now that tells our story for us. We can talk and write about it until the cows come home, but nothing tells it like our families because they speak from their hearts.
We leave the grammar and the spelling errors in it because it shows authenticity and the emotion that comes across when we get a family telling us what it's done. Not only for the child that's on treatment, off treatment, or the family who's lost their child but the siblings and how it gave the lease on life back to their marriage. They sent both or all of their kids to camp one summer and they got to be alone for the first time since the kids were born or since their son or daughter was diagnosed. You can get a million accolades, but you get one of those letters, the whole team bursts. There are always tears when they get those kinds of letters. We share it with our public and we share it with our donors, sponsors, and grantors.
The other secret weapon you have in your fundraising is just getting people out to see the camp because it is such a special place, particularly with you as the tour guide of the camp telling the stories about what happens there and how fully animated it is when the kids are there. Being the founder and the CEO of the organization for so long, one of the things we see in our work with founder-led organizations is the board is often quite passive and wants to sit back and just let the CEO or the founder go.
That's not how I experienced the chance to work with your board at all. Very much engaged and leaning forward. A strong culture of accountability around that board table. That stuck with me because it is so unique in a founder-led organization to have that accountability. How did you let them get away with that?
I had a very exclusive front-row seat on everybody around that table because I helped to recruit them. I recruited the people that I wanted around the boardroom table. They had to be way smarter than me. Fortunately, that wasn't too difficult to find those people. As you don't want to be the smartest person in the room, you want to be surrounded by the smartest people in the room. Every one of them was recruited because they brought skills and they were door openers, great thinkers, or constructive challengers and they had to be 100% engaged.
You don't want to be the smartest person in the room. You want to be surrounded by the smartest people in the room.
Click To Tweet
We have this amazing event called the High Hopes Challenge and that's my farm team for our whole board. They had to show that they were able to ask for money because they had to raise at least $10,000 or $15,000 during their High Hopes challenge. They spend a day at camp and they get to do the high ropes and the low ropes course, and they have a kid showing them all around. They are in charge when they are at camp.
I could see that they fell in love with the kids. They fell in love with the work that we are doing and they knew how to make an ask for a donation. Everybody on your board needs to feel comfortable with asking for a donation because they have to believe in the cause. That's what you saw around our boardroom table. It's a bunch of very passionate, driven and committed individuals that only want the very best.
One of the striking things in your answer there and I'm sure you have heard colleagues say, "How do you get a board that is so active in fundraising?" One of the questions that we get asked here in the show quite often is, "How do I get my board involved in fundraising?" Your answer is, "They have to be involved in fundraising before they can be on the board."
That's a nice way to set that standard and that expectation. It comes through or you can hear your passion and your commitment coming through in your answers. You have been in the role of CEO for many years. What motivates you to continue and how do you keep fresh? How do you keep your energy up?
I have my days like everybody. The politics and the mundane responsibilities, it's been a challenge each and every day. There hasn't been the same day that happens twice over. There's no groundhog in my world, for sure. Keeping the focus the focus. Keeping the mission at the forefront every day helps to do that, but let's face it, you don't wake up thinking about your mission every day. You think about what's ahead of you and what's your to-do task.
I have a picture of my son beside me on either side and behind me all the time, so I'm always surrounded by him. I have his original artwork on my desk in front of my monitor. It's Derek that I keep in the forefront. Even after that, it's trying to keep it alive and real all the time. Let's face it. We all get faced with those mundane tasks that we have got to accomplish each time and it's hard.
Just by nature, the Energizer bunny. There are some nights I go home and I think, "I am so tired." I'm not the 32-year-old that started it those years ago. I have to dig deep sometimes. I guess it is simply the kids and their stories that keep it alive, fresh and renewed because it's a revolving door. Sometimes it's a little bit of postman syndrome. You see kids go on, get great jobs, get married, and have families, and yet there are more and more kids that are always being diagnosed. You do it for them. You do it for the kids that were diagnosed yesterday and today and the kids that you know inevitably are going to be diagnosed tomorrow. If you keep that at the forefront, it can circumvent that postman syndrome.
I think you did an excellent job there of explaining on two levels what it takes to lead an organization over a long period of time. You talked about keeping Derek front and center in your heart and soul and motivating you to do this work. You also talked about the politics of the mundane, those things that are on your to-do list that you maybe aren't looking forward to but you just need to get done and get out of the way. Sometimes it's hard to do both at the same time. When you are at those periods where you are feeling more tired and more days in a row, who do you turn to for advice? Who do you talk to keep that spark going?
I guess it depends on what the challenge is. Sometimes I take my own counsel, which is often not the best thing to do.
Max Copus has some experience with you taking your own counsel.
It depends on what the problem is. I often turn to my team. I got a great team here. They have got different ideas and insights into different jobs. As I said, you surround yourself with good people. Don't be the smartest person in the room because you end up taking your own counsel, which is often unfortunate. Going to the board, I have put experts on my board for that reason because I wanted to be able to reach out to them. They are my advisors and my kitchen cabinet.
I turned to my very best friend, my husband. That's also a good second sober thought of, "Am I on the right track here or am I just being me?" He will be brutally honest with me, which I love because he gives me the unvarnished truth, and a lot of people won't. He says, "You are doing good." I have had lots of leadership challenges along the way and I think that the argument that born leaders are made leaders and it's a combination of both born and made.
I have been pushy and bossy my whole life. I didn't come across these natural leadership tendencies, so I had to learn them. I had to ask for advice. You stop asking for advice or stop learning from other people, coursework or even if it's podcasts, blinks, or whatever it is that you like to listen to, to reach out just to get that re-energizing again. I know my very best way to get re-energized is to go camping or to go to one of our outreach programs and see the kids.
We are very fortunate in that we have kids come to our office for exercise physiology and child life therapy. Parents come in for counseling. We have got our education support which does a lot of tutoring. We get to meet the kids. We get to see the kids all the time, which helps with our fundraisers too, and our admin team.
People in finance and fundraising aren't often talking to the very kids they are administering and fundraising to support, so we are blessed with having these kids visit our office. There's nothing like the sound of a kid ripping down the hall on a bicycle to put you back where you need to belong. It's good. It's a great feeling to hear the sounds of kids when you usually hear the sounds of your fingers ticking on the keyboard.
You touched on a bit of your leadership journey there. Very few people set out to work in our sector as a career ambition. That's changing somewhat. You didn't set out to lead a larger organization at all. That wasn't part of your motivation. That wasn't where your life was headed until you started this. As you have grown as a leader and as the organization's grown, what are some of the big lessons you have learned? You referenced a few pivot points. Is there a story that you can share of when you are like, "I know we need to be different or we are at a different level than them?"
I think when we changed our name in 1999 from Kids Cancer Camps to Kids Cancer Care Foundation and expanded our mission from just offering cancer camps. We went on to buy our camp as well. It was that a-ha moment when we needed to become far more sophisticated. We were then starting to fund research and in-hospital programs, and then after that, we went to targeted therapeutics outside of the hospital as well. You are right in saying that I never assumed I was going to do this. I was in library sciences when my son was diagnosed. I was going to be a librarian. I just can't even imagine that now.
You would have been a terrible librarian.
I love to read, which is good, but it would have been weird. It never has lasted. I love being a fundraiser and I love doing the programs and dreaming big. My big a-ha moment came from our psychologist on the board at the time, Dr. Stan Whitsett. He said, "We are going to have to raise the bar from Oreo cookies and Sunny Delight and we are going to have to get some better food here. We are bringing in a far more sophisticated board." We went after that initially when we changed our name and what we were going to be funding, supporting, and granting to.
I always laugh about that. Oreo cookies and SunnyD. We had to up the ante there, but that was just symbolic. I had to become a far more sophisticated leader as well. It's hard for me. I had to tone my enthusiasm down and sometimes shut up and listen. Listen to people that knew what they were doing and that was hard to sit back and take advice and guidance. Listen, speak a little less, hear a lot more and become more sophisticated in everything that we do.
Listen to people who knew what they were doing. Listen more, speak less, and become more sophisticated in everything we do.
Click To Tweet
You spoke of our fundraising and that's just been a crazy and amazing journey we could do whatever the heck we wanted to because we didn't have a head office. We rode our boat and we steered our ship. We got to do whatever we wanted, and the board gave me enough rope to make a bright, shiny bow out of it to create something that we are fundraising events that nobody else was doing.
We thought that a cool hallmark of what we can do. Even though we could be lost in a sea of other social profits, we had the ability to do things our very own way. We created events like High Hopes Challenge like the Dad and Daughter Gala and Kindle Pursuit because we had this amazing camp that we turned into a very robust social enterprise after we served our mission-based, first of all, then we had a robust social enterprise.
We have got three big fundraising events that we do out there that help us in our quest to raise as much money as we possibly can. That's our fundraising goal. We are not going to ever lose sight of the fact that we need to spend it in the very best ways. We have to be careful stewards of every donated dollar and that's the culture that I built here too. Some might call me a cheapskate and I am tight with the dollars, but only because I know that for every dollar I don't spend on something else, I get to put back into the mission.
That's always been a big focus to make sure that we put as much money into the mission as we possibly can. However, not just put it into the mission. We have got to show efficacy in everything that we do. We are evaluating our programs and making sure that we can report back to our donors that we invested in this program and the results we got. How many learners have we got in our tutoring program? How many kids have been through a teen leadership program? How many participants have we got in a rec therapy program? How many kids and families go to camp? We do family camps as well. What's the result of that?
Back to Stan Whitsett. His big measure was how many kids we can keep off the psychologist's couch? That resonated with us. We even went so far as to do a social return on investment and we discovered through this wonderful exercise that we were getting $7 to $10 on the dollar in efficacy. It's a very complicated formula for this whole SROI, but it was an interesting exercise to go through.
You are definitely on the right track. I appreciate your answer there. You described the evolution of the organization and what was required of you as a leader. What does the future of Kids Cancer Care look like?
At the last board retreat, we decided to keep going back and forth depending on where we are in the trajectory of the organization because we have got some big mandates here. We are doing some major build at camp again because we have got some great things that we want to put in there just to last us for the next twenty years and then there will probably be another big build, if not before then, to have more places for staff to sleep. More indoor activities. Even though we are very outdoor-based, we want to get more kids out there in the winter.
We have a renewed focus on research. Back to my dear friend Max Copus, he said this out loud to me and I was so annoyed with him for saying that because a lot of what he said annoyed me a lot and you would agree. He said, "Dead kids don't come to camp." I was just so annoyed with that response and angry and put off. You know what he was saying is we have to fund research. We have to make sure that we cure these kids and not just some of them but all of them.
At our board retreat, we put a renewed focus on not just trying to get up back up to pre-pandemic levels because the pandemic kicked the bejeebers out of our research program because we are just trying to keep the wheels on the bus. What we did was to put it back up to pre-pandemic levels. We are up to a $500,000 contribution to pediatric oncology research and hopefully, that can keep growing as well.
We also upped our scholarship, which is named in memory of my son, and it's up to a $1 million endowment now too. We are making sure that the kids that are diagnosed today and tomorrow are going to have a nice sum of money to go to post-secondary because we want them to succeed in every way. The investment into children who are diagnosed today and tomorrow needs to keep continuing and it just can't stop. We are gaining more and more through immigration and migration to Alberta.
We need to keep adding to those endowments and to our commitment to research that is going to make sure that we are not just standing by and watching another researcher in another country or province get those eurekas. We want to have part of that eureka. We want to be part of that, "We discovered this."
As research goes, it's very multi-institutional, and rarely do we work alone in these things, but we want to be a big part of those successes in the labs. The lab isn't just the bench and test tubes. It's psychosocial research, translational research, and bedside research through new drug development. We want to be part of that too. Advocacy is another huge part. A big part of tomorrow too is advocating for children with cancer now and in the future.
That is an impressive scope and scale of work you are describing there. What does the future look like for you?
The Energizer bunny needs some new batteries. My retirement is looming. It's closer now than it's ever been and it's very imminent. I have to decide what it looks like for me too. It's going to be an interesting thought process of what I'm going to do next. I think we all need to have more than one career in our lives. This certainly wasn't my only career, but this one gobbled up many years of it.
I'm not ready to throw in the towel or retire, but I need to move on to get new ideas, blood, ways of doing things, and leadership skills into Kids Cancer Care. Let somebody else take a walk in this sometimes scary parks are full of wonderful things that could happen. Lots and lots of wonderful possibilities. It's like the brand-new playground to a child that has just discovered playgrounds. Some of the rides you want to go on and some of them are like, "I'm not trying that. I need to be much bigger and stronger before I try that."
I hope the next CEO is full of wonder and excitement and is a little bit scared, worried, and loses some sleep because that's the only way that you know that they are taking it seriously. I know that there's somebody good out there that's going to replace me eventually and is going to be able to take it to the next level, whatever that looks like. It's exciting to think about it. I can watch from my rocking chair and say, "Good job."
Building on your playground analogy there, I think you have set an incredibly high bar. It's going to be very difficult for her or he that follows you to pull themselves up to that level right out of the gate. It's going to take a while to get there. Christine, you set a high standard for everyone in the sector and I appreciate you sharing your story with us now. Thank you so much for being on the show.
My pleasure entirely. It's great to chat with you and thanks for all the work that we have done together too. It was a blast.
Important Links
About Christine McIver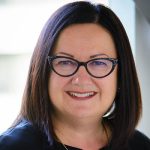 As Founder and Chief Executive Officer of the Kids Cancer Care Foundation of Alberta, Christine McIver is responsible for the leadership and management of the foundation. Beginning this work in the basement of her home in 1988, a couple years after her son Derek was diagnosed with a brain tumour. Christine has devoted her volunteer and working life to children's cancer programs.
She is the past president of Childhood Cancer Canada and served for 12 years as the secretary-general of Childhood Cancer International. Christine continues to serve in an advisory capacity on several boards committees devoted to childhood cancer issues. She also serves on the boards of Calgary Highlanders Regimental Funds Foundation and as the 2022 president of SKAL Calgary.
Although her son Derek did not live to see the work he inspired, Christine's work has touched the lives of countless children and families. Recognized by the Governments of Canada and Alberta with a Governor General's Meritorious Service Medal and an Alberta Centennial Medal, Christine was also recognized in 2016 with an Honorary Doctor of Laws Degree from the University of Calgary.
She is a recipient of a prestigious Canadian Hadassah-WIZO Woman of Achievement Award and was one of 10 Canadians chosen in 2002 to be on the Maclean's Honour Roll. Christine has received a YWCA/Global TV Woman of Vision Award, a Reader's Digest Canadian Hero of the Year Award and a Today's Parent For Kids' Sake Award. And, in 2010, she was awarded the Spirit of COCA Award from the Children's Oncology Camp Association International.