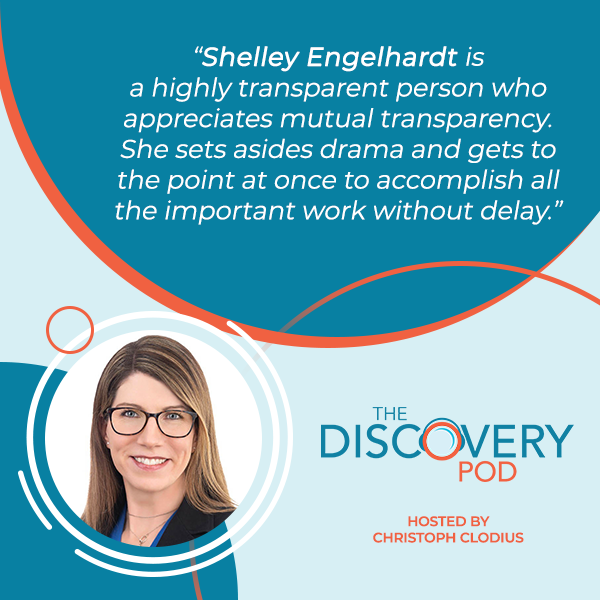 On this episode of Opportunity Spotlight, we shine a light on the Children's Health Foundation of Vancouver Island with special guest Shelley Engelhardt, Director of Development. Shelley Engelhardt joins Christoph Clodius to discuss an exciting new leadership opportunity – Events & Annual Giving Manager. Listen as they delve into the details of the role and the critical work that the Children's Health Foundation of Vancouver Island is providing for children and youth on Vancouver Island who are living with physical and mental health challenges.
If this role and organization align with your values and experience please reach out to Christoph Clodius.
Please listen, subscribe and review!
—
Listen to the podcast here
Opportunity Spotlight: Children's Health Foundation of Vancouver Island with Shelley Engelhardt
I have the pleasure of speaking with Shelley Engelhardt, who is the Director of Development with the Children's Health Foundation of Vancouver Island. Welcome, Shelley.
Thank you. I'm happy to be here.
We're happy to have you as well. For that matter, we're talking about the events and annual giving manager, which is a role that you are soon going to be hiring for and we will have the pleasure of working together on. I wanted to talk to you a little bit about that role and the foundation at large. Let's jump right in and talk about the foundation a little bit first. For someone not familiar with the Children's Health Foundation of Vancouver Island, can you tell me a little bit more about it? What does it seek to achieve? What's its mission?
Our main goal sounds fairly simple, but it's a little bit more complex. Our main goal is to enable access to health support for all families across Vancouver Island and the surrounding islands. We do that through the programs and services that we provide. Mainly, we have a Home Away from Home program, which is a safe and comfortable home for families to land in either Campbell River or Victoria when they're seeking healthcare for their child.
We have a family support program and provide support to families who are brought to us through referring professionals. We can provide them with financial support or any barriers they may be facing for healthcare for their child. That could be a piece of medical equipment for their child or in some families that are North Island communities or in remote areas of the island, that can be as simple as a tank of gas. They can access support through the Bear Essentials program as well. To wrap it up, in a nutshell, we're here to help all island kids to live their best lives regardless of their health needs.
That's quite comprehensive. That's called a full suite of programs. That's excellent. As you say, everything from a tank of gas to a Home Away from Home program. You're the only one of your kind as well on the island. You've serviced everyone on the island for that matter. Despite having children in your name, you are that full-service family support organization, aren't you?
Yes. I think of ourselves as the preeminent children's charity on the island. We're the only charity on the island and the surrounding islands that are doing this work. We have our Home Away from Home program as well as our Bear Essentials program, but we're always actively looking to the future and trying to discover those opportunities where the holes in the net are for families that are seeking healthcare. We want to be there to catch them and be that support.
That's fantastic. Speaking of the future then, what's on the horizon? Is there anything new and exciting coming up that we may want to know about?
We're focused on building greater awareness and fundraising island-wide for an organization that's almost 100 years old. We have a lot of work ahead of us and building awareness and fundraising for our mid and north-island communities. Our main base is in Victoria. A lot of our fundraising comes in through donors who live in Victoria, but we have a presence island-wide that we hope to grow and expand in the years to come. That's what we're focused on.
The Children's Health Foundation of Vancouver Island is focused on building greater awareness and fundraising island-wide for an organization that's almost 100 years old.
Click To Tweet
On the fundraising side of things, we're looking to grow our signature events. We host an annual Pancakes and Pajamas Event in December, which is a signature fundraiser here in Victoria. In 2023, we hope to offer a similar event in mid-island so that families can engage and have a little holiday fun. We also host an annual Radiothon in Campbell River and we're looking to do that again this 2023. We are focused on fundraising and building awareness and letting people know of all the wonderful programs that we're offering to island families.
That's fantastic. One of your colleagues described you as a 100-year-old startup that in many ways captures both the history and legacy of the organization, but also this great opportunity for growth and as you say, making everyone on the island aware of what you do. Maybe we can dive a bit more into the specifics of working at the foundation because for so many people, working culture, working environment, and peers are so important. How would you describe the foundation's working culture? What's it like to be there?
I'm biased, but it's fantastic culture as a whole. Everyone is supportive, collaborative, caring, and invested in the work and the goals that we have in supporting island children and families. We have a supportive and engaged board. Our CEO is a strong leader with a clear vision of the future and the fundraising team itself is collaborative and supportive of each other. In fact, all of the teams that we work with are collaborative and supportive. We all love children and believe in the work that we're doing and believe in supporting island families. We want families to know that whatever their child's health journey may be, we're here for them.
That mission-driven piece resonates with so many people and it's so clear in my conversations with you and others how committed everyone on the team is. I'm glad you mentioned the board and the CEO, which goes across the organization and through the culture of the staff and volunteers alike for that matter.
We all believe in the work we're doing,
Let's pivot to the manager role itself. I mentioned the title of it, but we didn't talk much about the role so far. Tell me more about the manager role. What is this person going to be doing?
The events and annual giving manager will be overseeing all of our direct mail initiatives. They will be working closely and collaboratively with our marketing partner on our fundraising appeals, our monthly donor program, as well as our newsletters. On the event side, I've mentioned a couple of our signature events. They'll be the point person on all of our signature events like Pancakes and Pajamas and the Annual Radiothon.
They'll also be overseeing and being a part of our third-party initiatives. We have a number that pop-ups throughout the year. We have some valued partnerships in the community that come back to us year after year. We have a partnership with McDonald's, so they'll be involved in McHappy Day, which is always a fun event as well as Tim Hortons and their Smile Cookie initiative. The person must like chocolate chip cookies with a smile. Also, there are smaller third-party events that pop up.
Additionally, on the event side of things, they'll be stewarding donors, building those relationships in the community, managing volunteers, and engaging with people who are donors providing in-kind donations. We have a lot of quilters out there, which is so lovely. Generally, growing awareness and support for all of these efforts. Needless to say, the person in this role will be busy, but it'll be a wonderful role with lots of different things happening, so a lot of variety.
The foundation manager is responsible for growing awareness and support for their efforts. Even though this person is always busy, it is a wonderful role that takes on a variety of things.
Click To Tweet
That's the one thing I was going to say, tremendous variety and a who's who of significant brands to partner with. You mentioned Tim Hortons, McDonald's, and chocolate chip cookies, I'm on board there as far as I'm concerned. Tell me about this busy and wonderful portfolio. What are the traits and competencies we are looking for in this manager? What do you envision as your ideal candidate here?
I would love to welcome a seasoned fundraising events manager to the role who comes with some direct mail experience. I imagine this person being a strong multitasker who is calm under pressure, outgoing, and passionate about supporting island kids, and that's at the heart of all that we do. We work hard at the foundation as you alluded to, but we also like to have a lot of fun. I see the successful applicant as someone who is warm, kind, engaging, and fun as well.
Those relationship skills are going to be important, both with the collaborative nature of the work itself at the foundation and all these events, event partners, and third-party partners that come forward are important. Some may take more work than others, in terms of the actual work, but they're all committed to children's health in such a profound way. This person's going to be working very closely with you. Tell me a bit more about your background and what brought you to the foundation.
What brought me to the foundation is the mission. I'm a mom myself and I know what it can be like when you're trying to access support for your kids. Knowing that we're part of bringing that to island families was meaningful to me. I love the nonprofit sector and the work that we're doing. The work essentially is what brought me to the foundation.
If I was to describe my leadership style, that might be something someone's interested in knowing. I'm collaborative. I care about my colleagues at all levels and roles within the foundation. I want them to feel comfortable coming to me with their ideas and suggestions, but also if they are struggling with something or need help with anything. I want them to feel like I'm open to hearing whatever they might need to say or need support for. I appreciate the ability to collaborate with my colleagues, but I also believe in having the autonomy to work independently. My leadership style would also be to try and instill and encourage that same autonomy in others.
One of your colleagues describes you as somebody that's highly transparent as well. You appreciate mutual transparency and there's no drama with you. You want to get to the point and focus on the important work. We've mapped out a little bit about the foundation. We've talked about what's coming up. We've talked about the culture and the role itself. What's the takeaway for curious candidates or people that might be interested? How do you think we can get them involved and excited about the foundation and the role?
I would encourage anybody who's curious to reach out. You can check out our website. Our website is IslandKidsFirst.com. They can reach out to you. You know about us as well. I believe they can reach you at your email, Christoph@TheDiscoveryGroup.ca, or via LinkedIn. We love meeting new people. Check out our social feeds as well and see what we're up to, learn more, and ask questions. I feel like we're providing a valuable service to the island as a community. I would love to welcome a dynamic fundraiser to the team who is passionate about helping kids.
I don't think we've mentioned it, but the person that's leaving the position is retiring. This opportunity does not come up often to join such a dynamic and collaborative team. I'd love to find the right candidate to fit in and help us to continue to do the great work that we are doing for island families.
You took the words right out of my mouth. It's a compelling one and a rare opportunity to join such a great team. Everyone at The Discovery Group are fans of the Children's Health Foundation of Vancouver Island. We've been working with you and your colleagues for years now in all manner of work. We're great fans and great admirers of the work that you do. The sky's the limit in terms of both the possibilities of the foundation and for this person specifically. We're excited to be working with you, Veronica, and the whole team. Again, to reiterate anybody that's interested or curious or has someone in mind that might be a great fit, please don't hesitate to reach out.
Thank you so much. I enjoyed this experience.
I always enjoy talking to you, Shelley, as well. Stay in touch and we'll talk again soon.
Sounds great. Thanks, Christoph.
Thanks. Take care.
Important Links