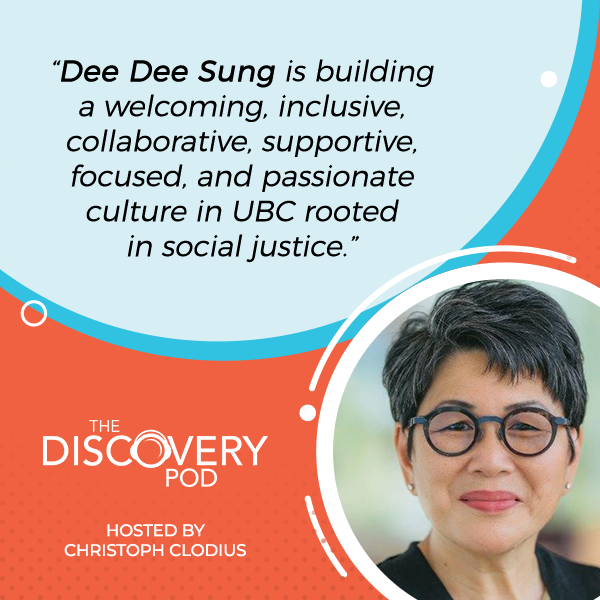 Join Christoph Clodius, Vice President at The Discovery Group, and Dee Dee Sung, Executive Director, Development at UBC, as they discuss UBC's campaign FORWARD and the important role the Assistant Dean, Faculty of Education, will play in this project. Discover if this role is right for you! The Faculty of Education at UBC was established more than 60 years ago. It is celebrated today as one of the world's leading education faculties. They are part of what makes UBC a global centre for research and teaching.
—
Listen to the podcast here
UBC Faculty Of Education With Dee Dee Sung
Happy New Year. Welcome to our first Opportunity Spotlight of the new year. I'm here with Dee Dee Sung, Executive Director of Development at UBC. Welcome, Dee Dee.
Thank you. It's lovely to be with you. Happy New Year to you as well.
Looking forward to our conversation. We are talking about the assistant dean in the Faculty of Education role, overseeing development and alumni engagement. Let's launch right into things, Dee Dee. Tell me about the Faculty of Education at UBC. For someone not familiar with it, can you tell me a bit more about it, what it does and what it seeks to achieve?
The Faculty of Education at UBC was established more than 60 years ago. It's one of the world's leading education faculties. In 2021, the QS World University Rankings placed the Faculty of Education 1st in North America and 3rd globally of which we're very proud. Interestingly, people traditionally believe that a Faculty of Education's core business is to train teachers.
We're recognized as a leader in this area by preparing more than 45% of elementary teachers and the majority of secondary educators in BC. In addition to a great deal of counselors, administrators, specialists, professionals and school psychologists, the faculty represents so much more as a leader on a local, national and international stage, as well as covering professional development opportunities on both campuses. That's Vancouver and the Okanagan campus.
In addition, we housed the School of Kinesiology, which is a part of the faculty. This particular school was ranked 1st in North America and 3rd globally in 2022. In addition, on an alumni note, we have more than 58,000 alumni that are located in 100 countries. It's fair to say that the faculty enjoys a global representation. Cristoph, you are a proud alum as well.
I was going to say that but you beat me to it. Fair enough.
I wanted to add that at the heart of the Faculty of Education are the extraordinary faculty and staff. For this reason, the faculty is an essential part of what makes UBC a global center for research and teaching, consistently ranked among the top twenty universities in the world and one of the largest universities in Canada.
The Faculty of Education is an essential part of what makes UBC a global center for research and teaching.
Click To Tweet
It does have a tremendous depth and breadth. I certainly experienced that firsthand when I was a student there. At the same time, it's evolved and changed quite significantly with a particular focus on social justice, equity and decolonization. Some wonderful work is happening there, both for the professionally interested and the personally curious as well. Knowing that the assistant dean will be working within that context and the faculty itself, can you tell me a bit more about the working culture there at the faculty? How would you describe it? What's the dynamic like within the room or the offices and amongst the faculty, staff and teachers?
I will speak from experience having served as the Assistant Dean of Development and Alumni Engagement in the Faculty of Education a few years ago. My experience of the culture and it continues to be my experience having education in my portfolio is that it is a culture that is welcoming, inclusive, collaborative, supportive, focused and passionate rooted in social justice. With faculty members doing transformative work in their teaching and research, for me, it was both an inspiring and rewarding experience working in such a culture.
That sounds certainly very compelling. I like what you've said there. Certainly about collaboration and passion. I certainly experienced that firsthand and I see that in my conversations with staff and faculty. Taking a little bit of a step back, let's talk about UBC in a bit more of a broader context. How does the assistant dean fit into the overall Development and Alumni Engagement team? We know that UBC has several staff working in this area. Tell me a bit more about that broader context.
The assistant dean will report jointly to and partner closely with the Dean of Education and myself as Executive Director of Development. They'll also be a member of the development leadership team, which consists of other assistant deans and senior directors who are leading both campus and central-based units. It's a strong peer group and it's going to call for somebody who is very comfortable coming in, learning the landscape quite quickly and forming strong peer relationships and partnerships.
Some of those partnerships. Not only am I an alumnus of the faculty but I'm also a former UBC fundraiser myself, putting my bias on the table there so I can appreciate the peer group. The opportunity to learn and share knowledge and experience with your peers and other faculties in other units is compelling.
Operative is not only learning but also the sharing of information. This is a role that cannot operate in a silo. It's very important to be collaborative and look for opportunities to help other units grow and learn as a result of what the assistant dean is carrying out.
Speaking of opportunity is the forward campaign. UBC announced a $3 billion fundraising and alumni engagement campaign. Can you tell me more about FORWARD specifically and how the assistant dean fits into that context?
We had an exciting launch in September 2022. It is our most exciting fundraising and alumni engagement campaign ever. FORWARD, the campaign for UBC, is a 10-year $3 billion campaign with 3 key themes, to advance healthy lives, create solutions for the planet and shape thriving societies. This makes it a particularly important and exciting time for the incoming assistant dean to work with the dean and the senior leadership team in both the faculty as well as development to guide and shape fundraising priorities and identify key donors, as well as to design and implement thoughtful strategies to achieve the faculty's ambitious campaign goals.
There are incredible opportunities at hand for the right candidate who, first and foremost, embraces challenges. It's innovative in its approach to building and executing a sustainable fundraising plan. One who recognizes the significance this role will play in contributing to UBC's fundraising success and more importantly, the incredible value we can deliver to the communities we serve as a result of our success during the campaign.
That's well put, Dee Dee. That's exciting. Knowing that the assistant dean has such a great opportunity in such a long-term horizon, a 10-year campaign, $3 billion. Building opportunity, building the team, shaping the opportunity. Can you tell me a little bit more about that focusing on the assistant dean within the faculty, please?
First of all, higher education is an interesting and exciting space to fundraise for. You know that. I know that. The successful candidate will be comfortable wearing a variety of hats. Might I add, most at the same time. First and foremost, they have experience and are comfortable in a leadership position. They will have a seat at the dean's leadership table and will partner with the dean on matters related to development and alumni engagement. They will advise, guide and educate faculty members on how to shape their priority initiatives and help position them to be fundraising-ready. The role will also call for somebody who is a skilled communicator and relationship builder.
Higher education is an interesting and exciting space to fundraise for.
Click To Tweet
Someone who enjoys and is savvy at nurturing and stewarding key donor relationships. In addition to being an experienced major gift fundraiser, they're skilled at building and managing a strong, cohesive and effective team. This is where I'm talking about wearing a variety of hats. In my estimation, this will call for somebody who values teamwork. This is critical. It's a skilled listener and a lifelong learner. The menu of attributes would read as curious, innovative, courageous, collaborative and confident, in addition to being adept at managing relationships, both internal and external.
There are lots to take in there. That's quite compelling. A variety of hats but not necessarily a big head. No big egos are allowed here by any means, coming back to that collaboration and that working together piece. Speaking of the team for that matter, you mentioned the joint report between working with you and the dean. Tell me a bit more about your leadership style. Tell me about how you will engage and work with this person to be successful.
As a leader, I'm a calm, amending conduit for inspired change. In leading from this place, my intention is to always encourage and inspire others to strive to be their best. That is my basic premise of where I lead from. As an executive coach and a senior leader, I place a high value on empathic listening and have a growth mindset. I serve as a sounding board to help people work out their challenges to get from point A to point B.
One of my favorite quotes is by Dr. Maya Angelou. She said, "People will forget what you said. People will forget what you did but people will never forget how you made them feel." I believe that people are at their best and do their best when they feel seen and heard and have the proper support in place to support their success. I've always worked best in this type of culture and my focus, as a leader, is on fostering this type of culture with the teams in my portfolio.
People will forget what you said and what you did. But they will never forget how you made them feel.
Click To Tweet
I've always loved that Angelou quote. Anybody that looks into your background will find your career path and your ability to coach, support and lead. Striving for others to do their best is a compelling one and an exciting opportunity.
Thank you for that.
You're welcome. Knowing that they're also working with the dean, there's an interim dean on board because there is going to be a dean transition at some point. Tell me about the dean pro tem, Jan Hare. How would you describe her style?
Dean Hare is a leader that encourages thoughtful consultation. What I particularly appreciate is that she is someone who is committed to and understands the importance of fundraising and alumni engagement. I'm sure you would agree with me. That is so important to the success of a fundraising program.
From my experience, forming a partnership with a dean who is supportive, collaborative, as well as open-minded is critical to the success of a development program. In addition, Dean Hare is very astute at applying a growth mindset. She's open to learning, which makes for a strong partnership. Interestingly, what I'm grateful for is that the dean's priority areas include indigenous education, mental health literacy, sexuality and gender-inclusive education, DEI or Diversity, Equity and Inclusion and decolonization, in addition to climate justice and supporting returning veterans. It's a wide array of priority areas and committed to advancing all of them.
I want to come back to a word you used and that is transformative. There's a transformative opportunity here for the assistant dean to make substantive change. Transform education, learning and social justice for the better through this work. For that matter, a question I get a lot is an important one for candidates and the working culture at large. What is UBC doing in terms of creating a fully inclusive and diverse workforce? Since we're talking about that theme, can you tell me a little bit about that piece and how that plays out?
UBC is working to build a community where Diversity, Equity and Inclusion are embedded in all areas of academic work and campus life. Through training, education and open dialogue around DEI, the Development and Alumni Engagement portfolio takes very seriously the importance of creating a culture of belonging so that all team members can thrive, which is critical to strengthening recruitment and retention strategies, as well as encouraging staff engagement. I would call this a journey of learning and unlearning and one which must be taken thoughtfully and respectfully.
In closing here, Dee Dee, what message do you have for potential candidates or curious people? We've touched on so many different areas here about UBC, the faculty itself and your leadership style. How do you want to close out with some key messages for people that might be curious about learning more?
For a seasoned, innovative senior fundraiser who is prepared for their next leadership role, this opportunity is a particularly exciting and compelling time to work at UBC. Be instrumental in driving sustainable change for the Faculty of Education's fundraising portfolio. In turn, contribute to the success of FORWARD, the campaign for UBC.
How can someone learn more? What's the best path forward for somebody interested or curious?
Number one is to contact you by email which I believe is listed.
Christoph@TheDiscoveryGroup.ca or via LinkedIn or other channels. I'm not hard to find, I hope.
For those of you reading, if any of what we've talked about during this time sparks an interest in you, do not hesitate. Reach out to Christoph. Go to our website. Read the brief. Form your questions and find out more if you are the slightest bit curious. We encourage interesting curiosity for this particular position. As a former Assistant Dean of DAE in education, I know the compelling opportunities that exist to make a significant difference in this important space. Work closely with donors to harness the power of philanthropy to change our world. I do welcome and encourage your expressions of interest.
You talked about your background there. I can say that as an alumnus and a former UBC fundraiser, my UBC experiences have shaped me for the better. It's a compelling and transformative place to work and be in an exciting and compelling opportunity. Hopefully, we'll get lots of interest and find someone wonderful to take on this opportunity. Thank you again for your time, Dee Dee. I appreciate this. This has been compelling and an articulate and concise summary of what's compelling about the opportunity in the faculty.
Many thanks to you as well.
Not at all. We'll talk soon.
Important Links
About Dee Dee Sung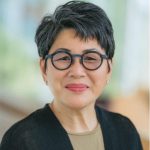 I am a collaborative leader with over 25 years' progressive experience in the social profit and private sectors. I've been recognized for nurturing long-term business and donor relationships and my talent for inspiring myriad stakeholders including academic leaders, senior management, donors, professional advisors, volunteers and boards of directors to achieve organizational outcomes.
I'm a conscientious and innovative thinker, who embraces new challenges, devises measurable action plans and marshals required resources to implement strategies. I stand for equity, diversity and inclusion and I'm committed to delivering first-class results that have meaningful impact on the lives of the individuals and communities I serve.
One of my key strengths is to embrace new challenges by determining intended outcomes and implementing strategic action plans for achieving those established targets.
As a certified leadership coach, I specialize in working with emerging and senior leaders in the areas of strategic thinking, performance optimization, personal development and maintaining work life harmony.